Class of 1992: Still Going Strong
Eighteen freshmen U.S. Representatives from the 103rd Congress remain in office – more than each of the subsequent four classes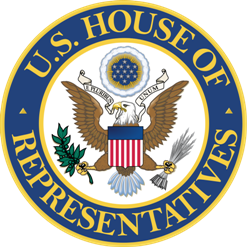 The number of retirement announcements by U.S. House members has begun to gather momentum in recent weeks with GOP moderates Dave Reichert of Washington, Charlie Dent of Pennsylvania, and Dave Trott of Michigan all calling it quits in the chamber after next year.
Through nearly eight and one-half months of the new congress, eight representatives have made such announcements (seven Republicans and one Democrat) plus 16 others who are not seeking reelection in order to run for higher office this cycle (nine Republicans and seven Democrats).
Many more names will be added to each of those lists in the coming months. And once the names of fallen incumbents are included after Election Day next year, there will assuredly be dozens of new faces sworn in at the start of the 116th Congress in January 2019.
But that isn't unusual in a chamber of 435 U.S. Representatives.
Over the last 25 election cycles since 1968, at least 30 freshmen have entered the chamber at its convening, averaging 59.6 new members during this span.
When including lawmakers who join after convening via special elections, there have been an average of 67.6 freshmen over each of the last 25 congresses.
[Note: A 'freshman' is defined in this analysis as a new U.S. Representative who has not previously served in the chamber. As such, a U.S. House member with interrupted service would only be counted as a freshman once – during the first congress in which he or she was seated.]
With this continual cycling in of new members via retirements, resignations, reelection defeats, and death, the attrition rate for a given freshman class can quickly become quite steep.
All 55 true freshmen to begin their service during the 115th Congress this year still remain in office, but that number begins to quickly erode for recent congresses:
114th (2015-16): 57 of the 66 freshmen remain (86.4 percent)
113th (2013-14): 61 of 86 (79.1 percent)
112th (2011-12): 56 of 99 (56.6 percent)
Freshmen from the 112th will see their ranks drop below the 50 percent mark after this cycle due to a minimum of seven departures of members running for higher office: Democrat Colleen Hanabusa of Hawaii and Republicans Raúl Labrador of Idaho, Todd Rokita of Indiana, Lou Barletta of Pennsylvania, Jim Renacci of Ohio, Kristi Noem of South Dakota, and Diane Black of Tennessee.
More than half of the freshmen elected in classes before the 111th Congress (2009-2010) are already out of office:
111th (2009-2010): 28 of 64 remaining (43.8 percent)
110th (2007-2008): 30 of 64 (46.9 percent)
109th (2005-2006): 21 of 44 (47.7 percent)
108th (2003-2004): 20 of 56 (35.7 percent)
107th (2001-2002): 13 of 49 (26.5 percent)
106th (1999-2000): 9 of 42 (21.4 percent)
105th (1997-1998): 15 of 76 (19.7 percent)
104th (1995-1996): 12 of 93 (12.9 percent)
Which bring us to the 103rd Congress (1993-1994).
There are still 18 members in office from that freshman class – more than each of the four congresses that followed it.
That is due in part to the extremely large number of new members that were sworn in during the 103rd – 117 true freshmen (109 seated at the convening on January 3, 1993 and eight winning special elections thereafter).
That is by far the largest number of true freshmen elected to the U.S. House over the last half-century and the most since before the start of World War II.
Prior to the 103rd, there had not been 100+ new members since the 81st Congress (1949-1950) when 104 freshmen were seated.
The last time there were more than 117 freshmen was during the 76th Congress (1939-1940) with 128.
In the 1992 election, a particularly high number of incumbents – more than five dozen – retired or sought another office while nearly three-dozen lost their reelection bids.
That cycle also occurred directly after redistricting which further carved out districts with larger percentages of African Americans.
As a result, the number of black U.S. Representatives increased over 40 percent from what was then a current high of 27 in the 102nd Congress to 39 in the 103rd.
Of the 18 first-term representatives remaining from the 103rd Congress, seven are African American and two are Hispanic – all Democrats and most representing overwhelmingly safe seats: Alcee Hastings (FL-20), Sanford Bishop (GA-02), Bobby Rush (IL-01), Luis Gutiérrez (IL-04), Bennie Thompson (MS-02), Nydia Velázquez (NY-07), Jim Clyburn (SC-06), Eddie Bernice Johnson (TX-30), and Bobby Scott (VA-03).
The other nine remaining members from that class are Democrats Anna Eschoo (CA-18), Lucille Roybal-Allard (CA-40), Carolyn Maloney (NY-12), and Gene Green (TX-29) and Republicans Ed Royce (CA-39), Ken Calvert (CA-42), Peter King (NY-02), Frank Lucas (OK-03), and Bob Goodlatte (VA-06).
None of these 18 men and women have announced their retirement in 2018, even though their average age is now 70.
The oldest members are Alcee Hastings and Eddie Bernice Johnson at 81 with the youngest being Frank Lucas at 57.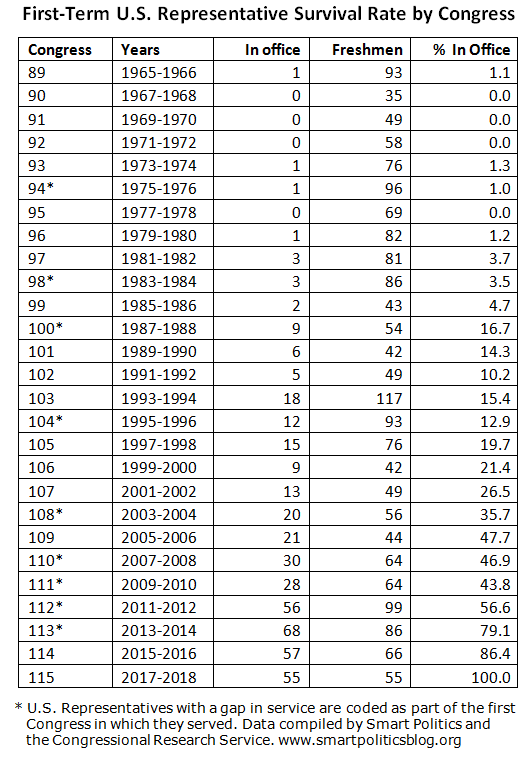 While they boast overall fewer members, the freshmen of the 100th Congress have survived at a slightly greater rate than the 103rd, with nine of the 54 entering the chamber from 1987-1988 still in office (16.7 percent vs. 15.4 percent).
That class will lose at least one member in the 116th Congress, with Tennessee Republican John Duncan, Jr. retiring at the end of the term. Another GOPer, Fred Upton, is rumored to be considering a U.S. Senate bid in Michigan.
Other well-known freshmen from the 100th include Democrats Nancy Pelosi (CA-12) and John Lewis (GA-05).
Follow Smart Politics on Twitter.