Mitt Romney Prepares for Unusual US Senate Bid
Only one statehood governor in U.S. history has subsequently served in the U.S. Senate from another state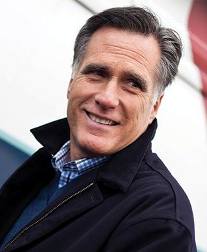 Utah Policy reported earlier this week that sources very close to Mitt Romney confirmed that he will run for the U.S. Senate in 2018 if Orrin Hatch retires.
Chatter of a Romney bid has circulated for months but has always remained contingent on the will-he-or-won't-he decision by Hatch, who stated in 2012 that his seventh term would be his last but has since flip-flopped and now suggests he may not decide until late this year.
Such a U.S. Senate campaign would certainly be novel in many respects for the two-time presidential candidate and former Massachusetts governor who was the GOP 1994 nominee for the office against Ted Kennedy in the Bay State. [Romney's 17.1-point loss was the closest any challenger ever got to knocking Kennedy out of office].
For starters, if such a campaign was launched and successful, Romney would be the ninth oldest elected first-term U.S. Senator in the chamber's history and the fourth oldest in the direct election era at the age of 71 years, 9 months, and 23 days.
Romney would trail only West Virginia Republican Hugh Shott (76 years, 2 months, 16 days), Massachusetts Republican Frederick Gillett (73 years, 4 months, 17 days), and Alaska Democrat Ernest Gruening (71 years, 10 months, 29 days).
But a victory would land him on an even more noteworthy list in the record books.
A Smart Politics analysis of gubernatorial and U.S. Senate biographies finds that Mitt Romney would become just the second U.S. Senator in history to have previously served as governor of another state – and the first to do so in more than 150 years.
[For this analysis, Smart Politics reviewed biographies from the National Governors Association and the Biographical Directory of the United States Congress].
The only officeholder who has pulled off this unique feat in U.S. history was famed Tennessean-turned-Texan Sam Houston in the mid-19th Century.
Houston, who is also the only person ever elected governor by popular vote from two states, was a former lieutenant in the U.S. Army and attorney when he was elected to two terms as U.S. Representative from Tennessee's 7th Congressional District (1823-1827).
Shortly after leaving the U.S. House, Houston was elected governor of Tennessee in 1827 with 56 percent of the vote, defeating former Congressman Newton Cannon and former governor Willie Blount.
Houston resigned before the end of his term in April 1829 and by 1833 had settled in Texas and become the leader of its army. Three years later, he was elected to his first of two nonconsecutive terms as president of the Republic of Texas (1836-1838 and 1841-1844).
Shortly after Texas became a state, Houston became one of its first two U.S. Senators – and was eventually elected to two more full terms, serving from 1846 to 1859.
During his tenure, Houston launched a failed bid for governor of Texas in 1857 (losing to Democrat Hardin Runnels by 15.9 points) but won a rematch against Runnels in 1859 by 13.7 points.
Only one other politician has served as a statehood governor and U.S. Senator from different states – although the feat was completed in the reverse order.
William Bibb was a physician and former state legislator when he won four terms as an at-large U.S. Representative from Georgia (1807-1813).
Bibb was elected to the U.S. Senate in 1813 to fill the vacancy caused by William Crawford's resignation and served until 1816.
Bibb then moved to Alabama where he was appointed its first territorial governor in 1817. Two years later, Bibb was elected Alabama's first statehood governor – defeating former North Carolina U.S. Representative Marmaduke Williams by 7.6 points.
There have also been several individuals who were appointed as territorial governors and also served as U.S. Senators from another state including:
William Claiborne: Governor of Mississippi Territory (1801-1803) and U.S. Senator from Louisiana (1817)
James Shields: Governor of Oregon Territory (1848-1849) and U.S. Senator from Illinois (1849-1855), Minnesota (1858-1859), and Missouri (1879)
Thomas Bowen: Governor of Idaho Territory (1871) and U.S. Senator from Colorado (1883-1889)
John Branch: U.S. Senator from North Carolina (1823-1825; 1825-1829) and Governor of Florida Territory (1844-1845)
Robert Walker: U.S. Senator from Mississippi (1835-1845) and Governor of Kansas Territory (1857)
Edmund Ross: U.S. Senator from Kansas (1866-1871) and Governor of New Mexico Territory (1885-1889)
Nathaniel Tallmadge: U.S. Senator from New York (1833-1837; 1837-1839; 1839-1844) and Governor of Wisconsin Territory (1844-1845)
Note: Claiborne also served as governor of Orleans Territory and Louisiana and Shields is the only person to serve in the U.S. Senate from three states.
In 2014, another Massachusetts politician – Scott Brown – also attempted to get his name in the record books in an effort to become just the third U.S. Senator to serve more than one state, but was unsuccessful in ousting New Hampshire Democrat Jeanne Shaheen. Instead he became the first major party candidate in history to lose two times to female U.S. Senate nominees.
Follow Smart Politics on Twitter.