Record Partisan Gubernatorial Winning Streaks On the Line in 2018
Record partisan winning streaks in races for governor can be extended, broken, or tied in 15 states holding elections in 2018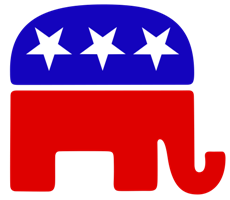 Just as Republicans hope to pick off several U.S. Senate seats in the seemingly unpredictable 2018 election cycle, Democrats are expecting to do the same in gubernatorial races across the country.
The GOP has to defend 26 of the 36 seats on the ballot next year including a dozen in Democratic-friendly or battleground states.
That said, there are still plenty of opportunities for both parties, but particularly Republicans, to continue their record-making winning ways in races for governor.
All told, parties in more than a dozen states can extend, break, or tie their records for the most consecutive gubernatorial victories in 2018.
On the Democratic side, there are three such opportunities.
In Oregon, Democrats are already in the midst of the party's longest winning streak at nine in a row since 1986 – extended in 2016's special election with a 7.2-point win by Governor Kate Brown.
The previous best streak for the party was just three straight wins – more than a century ago (1870-1878).
Brown is expected to run for a second term in 2018 but has not yet officially launched her reelection campaign.
In California's open seat race to succeed term-limited Jerry Brown, Democrats can win their third consecutive race for the first time in state history. The party has won two elections for governor in a row six times: in 1851-1853, 1882-1886, 1958-1962, 1974-1978, 1998-2002, and 2010-2014.
In Minnesota's open seat contest, the party can tie the DFL/Democratic mark with three straight wins. Democrats won three in a row from 1904 to 1908 (with John Johnson) as did the DFL in from 1954 to 1958 (with Orville Freeman).
Mark Dayton is retiring and Gopher State Democrats have never won back-to-back elections with different nominees since statehood.
[Note: Democrats in Washington currently are enjoying a party best streak of nine straight wins with the state's next election coming in 2020. Democrats in two other states have tied the party's best mark and can break it in 2020 (Delaware with seven and West Virginia with six)].
On the Republican side, a dozen states can see GOP records extended, broken, or tied in 2018.
Five states with elections next year are currently in the midst of the longest Republican winning streak in history: Texas (six in a row; 1994-2014), Florida (five;  1998-2014), Nevada (five; 1998-2014), Alabama (four; 2002-2014), and Georgia (four; 2002-2014).
Incumbent Greg Abbott of Texas is a safe bet to extend that state's GOP streak, as is whichever candidate wins the Republican nomination in Alabama.
Open seats in battleground states Florida and Nevada are at risk of bringing a halt to the party's current record-setting runs.
Republicans can also break a tie and set new gubernatorial winning streaks in five other states next year.
Butch Otter isn't running for a fourth term, but that is not likely to stop Idaho Republicans from winning a party-best seventh consecutive election for governor since 1994.
The deep red state has seen the GOP win six straight contests for the office twice previously: 1918-1928 and 1946-1966.
South Carolina Republicans are poised to win their fifth consecutive race with Henry McMaster seeking his first full term since ascending to the office after Nikki Haley resigned to become U.S. Ambassador to the United Nations earlier this year.
The party has won four straight elections since 2002 – a feat last achieved during Reconstruction from 1868-1874.
Odds are less favorable for the GOP in New Mexico, where Republicans are looking to string together their third consecutive gubernatorial win for the first time in history in an open seat race to succeed term-limited Susana Martinez.
The party landed a strong candidate in U.S. Representative Steve Pearce but Democrats countered with fellow delegation member Michelle Lujan Grisham and enjoy increasingly favorable demographics on their side.
Republicans also won back-to-back elections for governor in the Land of Enchantment in 1918-1920, 1926-1928, 1950-1952, 1966-1968, and 1994-1998.
It seems like a political lifetime ago when Democrat Brad Henry cruised to a 30-point reelection victory in 2006 in Oklahoma, where Republicans now hold all state and federal offices.
Governor Mary Fallin is term-limited, but the party is expected to cruise to a third straight victory for the first time. The GOP also won back-to-back races in 1994-1998.
Similarly, Republicans are expected to win a third consecutive contest in Tennessee's open seat race – a feat also achieved four previous times: 1865-1867, 1910-1912, 1978-1982, and 1994-1998.
Term-limited Governor Bill Haslam carried 70.3 percent of the vote in 2014 – the best showing for a Republican nominee for the office since Reconstruction.
In 2018, Republicans can also tie modest state party records of two wins in a row in Arkansas and Maryland.
The party notched back-to-back wins in Arkansas in 1964-1968 and 1998-2002 and did so just once previously in Maryland (1950-1954).
Republicans are in the midst of their longest gubernatorial winning streaks in two other states that do not hold elections in 2018: winning 10 in a row in Utah and four in a row in Mississippi.
The GOP can tie their party record in Kentucky in 2019 (two in a row; 1885-1889) and Indiana in 2020 (five in a row; 1968-1984).
Overall, Democrats and Republicans currently own nine record streaks, can set state party records in eight states in the next gubernatorial race, and can tie the state party record in five others.

Follow Smart Politics on Twitter.