History Gives Luther Strange Long Odds in US Senate Primary Runoff
No appointed US Senator has ever won a primary runoff and only two incumbents who placed second in the initial primary have done so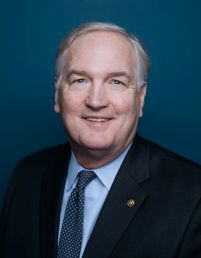 As Luther Strange and Roy Moore suit up for Election Day in Alabama on Tuesday, political observers watch with great anticipation to see if (quasi-) establishment forces can tip the scales and bring an unexpected come-from-behind victory to the appointed senator.
Moore brought home a plurality of 38.9 percent of the vote in last month's GOP primary – with Strange 6.1 points back in a 10-candidate field.
Moore has consistently led in the polls ever since, but Strange is hoping an 11th hour rally with President Donald Trump and a visit from Vice President Mike Pence can coax some conservatives and late-deciders over to his camp.
If he does, it will be quite a notable nomination victory.
Smart Politics reviewed the nearly 100 U.S. Senate primary runoff elections conducted over the last century and found that no appointed U.S. Senator has been victorious in a runoff, incumbents overall have won less than half of the time, and only two incumbents have come back to win a runoff after a 2nd place showing in the initial primary.
Smart Politics identified 95 primary runoff elections to the nation's upper legislative chamber held over the last 100+ years prior to Tuesday's contest in Alabama.
Of those 95 runoffs, 29 involved incumbents.
[Note: There were also a handful of runoffs in which the incumbent was previously eliminated in the initial primary including Democrats Charles Culberson of Texas in 1922 (placing third), Nathaniel Dial of South Carolina in 1924 (third), Thomas Gore of Oklahoma in 1936 (fourth), and Hattie Caraway of Arkansas in 1944 (fourth)].
Only 14 of these 29 incumbents won the primary runoff (48.3 percent) – one of whom was Mississippi Republican Thad Cochran in 2014.
Cochran's victory stands out as he was the first U.S. Senator to win a runoff who did not place first in the initial primary in nearly 100 years.
State Senator Chris McDaniel won a plurality in the primary with 49.5 percent – just shy of the majority threshold, thanks in part to the candidacy of a third contender, Thomas Carey.
Following this scare at the ballot box, Cochran supporters attempted to appeal to Democrats to cross over on his behalf in the runoff, and the long-serving senator emerged with a 2.0-point victory in a runoff that attracted 20 percent more voters than the initial GOP primary.
Cochran was the first incumbent to achieve such a nomination victory since Texas Democrat Charles Culberson in 1916. Culberson won only 21.9 percent of the primary vote in an eight-candidate field led by former Governor O.B. Colquitt at 30.0 percent but defeated his challenger by 26.8 points in the subsequent runoff.
Between Culberson and Cochran, the only other incumbents to escape with a primary runoff victory placed first in the initial primary: Democrats Cotton Ed Smith of South Carolina (1920, 1926, 1932), Hugo Black of Alabama (1932), Elmer Thomas of Oklahoma (1932), Park Trammell of Florida (1934), Charles Andrews of Florida (1940), Pappy O'Daniel of Texas (1942), Robert Kerr of Oklahoma (1954), John McClellan of Arkansas (1972), Herman Talmadge of Georgia (1980), and Blanche Lincoln of Arkansas (2010).
There is one thing each of these 14 successful U.S. Senate candidacies have in common: each senator had previously been elected to at least one term in the chamber (and all but Culberson via direct election).
Strange, of course, was appointed to his seat by former governor Robert Bentley earlier this year.
In fact, each of the seven instances in which an appointed U.S. Senator was involved in a primary runoff resulted in their defeat: Democrats Cameron Morrison of North Carolina (1932 special, 1932), Frank Graham of North Carolina (1950 special), J. Howard Edmondson of Oklahoma (1964 special), David Gambrell of Georgia (1972 special, 1972), and Maryon Pittman Allen of Alabama (1978 special).
Looking at the data more generally, candidates – like Senator Strange – who placed second in the initial primary have won less than one-third of runoffs over the last century.
Second-place primary finishers went on to be victorious in 30 of the 95 subsequent runoffs, or 31.6 percent.
That rate is similar for primaries involving Democrats (24 of 75, 32.0 percent) and Republicans (six of 20, 30.0 percent).
Recent second-place finishers who came back to win in the runoff include the aforementioned Cochran plus Republican Ted Cruz of Texas (2012), Democrat Jim Martin of Georgia (2008), Republican Jim DeMint of South Carolina (2004), and Democrat Ron Kirk of Texas (2002).
Alabama has seen two candidates who placed second in the primary win the runoff: Democrats Don Stewart (against Maryon Pittman Allen in 1978's special) and Jim Folsom (against Stewart in 1980).
Oklahoma (19), Texas (17), and Florida (10) have hosted the most primary runoffs for the office among the nearly dozen states that have (or had) such electoral laws on the books for federal legislative races. [Note: Florida's law was repealed in 2006].
Texas has seen the highest rate of comeback wins with nine of 17 second-place finishers in the primary winning the runoff: Democrats Charles Culberson (1916), Tom Connally (1928), Lyndon Johnson (1948), Barefoot Sanders (1972), Lloyd Doggett (1984), Richard Fisher (1994), and Ron Kirk (2002) and GOPers Beau Boulter (1988) and Ted Cruz (2012).
[Note: Only partisan primaries were examined for this study. For example, Texas's May 1961 special election runoff between John Tower and Senator Bill Blakley was excluded because the April 1961 contest was an open primary with candidates from all parties on a single ballot.].
Follow Smart Politics on Twitter.