Democrats Eying Pick-Ups On the Plains
It's been a quarter century since Democrats won U.S. House seats in both Kansas and Nebraska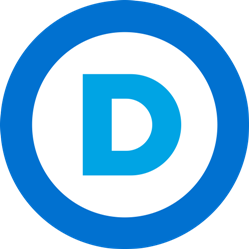 While the national party leadership seemingly continues to cede ideological territory to the left, if Democrats want to maximize their chances of taking back the U.S. House for the 116th Congress, they will need to bite the ideological bullet and support moderates and Blue Dog-credentialed candidates running in various districts across the country.
Two of those districts are in the neighboring Plains states of Kansas and Nebraska where former one-term Congressman Brad Ashford is seeking a rematch against Don Bacon in the swingy Omaha-based 2nd CD and former state representative and gubernatorial nominee Paul Davis is running for Lynn Jenkins' open 2nd seat that includes Topeka and Lawrence.
Ashford lost his seat by just 1.2 points in a district Trump carried by 2.2 points while the president won Kansas's 2nd CD by 18.4 points. [Though Davis carried it by six points during his 2014 gubernatorial campaign].
Winning just one of those seats would be a good sign for the Democrats; winning a seat in each state would be a rare feat for the party in the modern political era.
Over the last 37 cycles since the end of World War II, Democrats have won seats to the U.S. House in both Kansas and Nebraska in just six cycles and not once since the Republican Revolution of 1994.
Since the 79th Congress (1945-1947), at least one Democratic U.S. Representative were in the delegations of both states in the following Congresses:
86th (1959-1960): Newell George (KS-02), Denver Hargis (KS-03), James Breeding (KS-05), Lawrence Brock (NE-03), Donald McGinley (NE-04)
95th (1977-1978): Martha Keys (KS-02), Dan Glickman (KS-04), John Cavanaugh (NE-02)
96th (1979-1980): Dan Glickman (KS-04), John Cavanaugh (NE-02)
101st (1989-1990): Jim Slattery (KS-02), Dan Glickman (KS-04), Peter Hoagland (NE-02)
102nd (1991-1992): Jim Slattery (KS-02), Dan Glickman (KS-04), Peter Hoagland (NE-02)
103rd (1993-1994): Jim Slattery (KS-02), Dan Glickman (KS-04), Peter Hoagland (NE-02)
Since the Election of 1994, Ashford is the only Democrat to win a U.S. House seat in Nebraska out of 36 contests.
The party has come within single digits of winning these seats in just six of these 35 losses:
1994 (2nd CD): Jon Christiansen defeated Congressman Peter Hoagland by 0.9 points
2006 (2nd CD): Congressman Lee Terry defeated Jim Esch by 9.4 points
2006 (3rd CD): Adrian Smith beat Scott Kleeb by 9.9 points
2008 (2nd CD): Terry defeated Esch in a rematch by 3.8 points
2012 (2nd CD): Terry held on to a 1.6-point win over John Ewing
2016 (2nd CD): Don Bacon unseated Congressman Brad Ashford by 1.2 points
In Kansas, Democrats have fared a bit better over the last 12 cycles, winning seven of 49 races with six of those coming in the 3rd CD.
However, as in Nebraska, most of these 42 losses were blowouts, with just six decided by single-digits (and only two since 1996):
1994 (4th CD): Todd Tiahrt defeated Congressman Dan Glickman by 5.8 points
1996 (2nd CD): Jim Ryun beat John Frieden by 6.7 points
1996 (3rd CD): Vince Snowbarger edged Judy Hancock by 4.4 points
1996 (4th CD): Rep. Tiahrt held his seat with a 3.5-point win over Randy Rathbun
2008 (2nd CD): Lynn Jenkins ousted Congresswoman Nancy Boyda by 4.4 points
2017 (4th CD): Ron Estes avoided a special election upset with a 6.2-point win over James Thompson
Thompson's strong 2017 showing – despite underwhelming support from the national party – has prompted him to seek a rematch against Estes in 2018 in what could be a second competitive U.S. House race in the Sunflower State, although the district has an overwhelming Republican lean.
Four-term Republican Kevin Yoder's 3rd CD seat is also on the party's radar with multiple Democrats seeking their party's nomination. Hillary Clinton carried the Kansas City-based district by 1.2 points over Trump last year.
Follow Smart Politics on Twitter.