Bruce Rauner Faces Unusual Electoral Peril in Illinois
Republican governors of the Prairie State have lost only one of 13 renomination bids in the direct primary era – and none in 90 years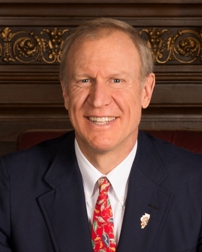 Bruce Rauner, perhaps the most vulnerable Republican governor in the country heading into the 2018 midterms, seemingly saw his odds of winning reelection get even longer after signing a controversial bill last week that expands taxpayer-funded abortions for women on Medicaid and having evidence surface that he backed such measures three years ago as a candidate in communications with a pro-choice group.
Rauner has subsequently received fierce criticism from Republican state legislators and the governor's actions were rebuked in a statement earlier this week signed by all seven of Illinois' GOP U.S. Representatives.
The governor had already drawn one challenger for his party's nomination in 2018 (television producer and former candidate for congress and state comptroller William Kelly), and his recent actions are assured to bring more into the fold. [State Representative Jeanne Ives came out strongly against the governor being her party's nominee next year and indicated she may run against him].
There is no indication yet that Rauner is going to cave from this public criticism and withdraw from the campaign.
But if the governor does run and is denied renomination by a member of his own party, his name will be added to a very short list in the annals of Illinois political history.
Since Illinois began conducting direct primary elections for governor in 1908, only two incumbents running for their party's nomination have been defeated.
Republican governors have won 12 of 13 primaries for the office, with the lone failed candidacy dating back nearly 90 years to 1928.
Len Small was seeking his third term as governor that cycle and faced three-term Secretary of State Louis Emmerson in the April primary.
Small had been renominated (by 6.0 points over State Senator Thurlow Essington) and reelected (by 14.3 points over Circuit Judge Norman Jones) in 1924 despite being on trial two years prior on charges of conspiracy and embezzling millions of dollars while serving as state treasurer.
Small was acquitted, but during his second term the Illinois Supreme Court ruled against him in a civil case brought by the state attorney general and ordered him to pay a million dollars. [Small negotiated that amount down to $650,000].
The next time Small's name was on the ballot – in 1928's GOP primary – Emmerson routed him by 26.4 points.
[Amazingly, Small won his party's nomination in 1932 in an eight-candidate field but lost the general election to attorney Henry Horner. The former governor made one last failed nomination attempt for the office in 1936, coming in a distant second to attorney C. Wayland Brooks.]
The only other Illinois governor who has failed to win his party's nomination was first-term Democrat Dan Walker in 1976.
Walker was defeated by Illinois Secretary of State (and former three-term auditor) Michael Howlett – the first Democrat in state history to win a statewide election in four consecutive cycles.
Howlett, who was backed by the (Chicago Mayor) Richard Daley machine, won the March primary by 7.6 points in the two-candidate race.
Only two other governors have had close calls at the primary ballot box in Illinois history.
In the state's first primary in 1908, Republican Governor Charles Deneen defeated former Governor Richard Yates, Jr. by 2.8 points.
In 2010, Democrat Pat Quinn, who ascended to the governorship after the ouster of Rod Blagojevich in January 2009, defeated three-term Comptroller Dan Hynes by just a point in the February primary.
No other governor has won their party's nomination by less than 10 points. Five never received a primary challenger: Republicans Dwight Green in 1948 and James Thompson in 1978 and Democrats Adlai Stevenson in 1952 (prior to become his party's presidential nominee),  Otto Kerner in 1964, and Samuel Shapiro in 1968.
Overall, 20 of 22 Illinois governors have won their party's respective primary since 1908.
Six others chose not to run for reelection: Republicans Frank Lowden (1920), Louis Emmerson (1932), James Thompson (1990), Jim Edgar (1998), and George Ryan (2002) and Democrat Henry Horner (1940).
Follow Smart Politics on Twitter.