Dino Rossi Could Notch Rare Trifecta with 2018 US House Bid
Only two major party candidates from Washington have lost general election bids for governor, U.S. Senate, and U.S. House since statehood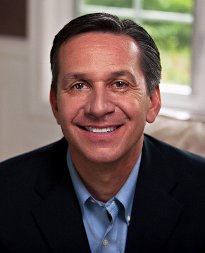 Dave Reichert's retirement from Washington's 8th Congressional District seemingly put another U.S. House seat in play for the Democrats in 2018.
But Republicans got a boost a few weeks ago when State Senator Dino Rossi announced he would run for the open seat in 2018.
Rossi is as high profile a candidate as the GOP could hope to run in the 8th CD as the party hopes to prevent Democrats from holding seven districts in the state for the first time since the 103rd Congress.
The state senator was the Republican nominee for governor in 2004 and 2008 and U.S. Senate nominee in 2010.
Rossi lost all three races by single digits – by just 129 votes to Christine Gregoire in 2004's controversial gubernatorial race, by 6.5 points in a rematch with Gregoire four years later, and by 4.7 points to Senator Patty Murray in 2010.
If Rossi emerges as expected from next August's blanket primary but loses the general election in the Democratic-leaning district, his name will be added to a very short list in the annals of Washington political history.
Since statehood, only two Washington politicians have had the misfortune of losing elections in races for governor, U.S. Senate, and U.S. House: Democrats William (W.W.) Black and Hugh Mitchell.
[Note: Charlie Crist nearly added his name to such a list in Florida in 2016, but eked out a 3.8-point win against David Jolly in the state's 13th CD].
Black, a two-term superior court judge, first ran for the U.S. House in 1910 in the recently drawn 1st Congressional District. [The state elected its representatives to at-large seats through 1906].
Black was defeated by three-term Congressman William Humphrey by 14.0 points.
Black won the 1912 gubernatorial primary, but the state supreme court ruled him ineligible, finding the constitution limited supreme and superior court judges to only seek judicial offices during their term.
As a result, second-place finisher and former Tacoma City Councilman Ernest Lister replaced Black as the party's nominee that November.
No longer a judge, Black was the Democratic nominee for U.S. Senate in 1914 but was defeated again, this time by incumbent Wesley Jones by 11.2 points.
Black would eventually secure his party's nomination for governor in 1920, but placed a distant third behind Republican Governor Louis Hart and Farmer-Laborite Robert Bridges with only 16.4 percent, thus completing the unwanted trifecta.
A few decades later, Hugh Mitchell would match Black's mark – although he enjoyed a bit more success along the way.
Mitchell, a Democratic congressional staffer, was appointed to the U.S. Senate in 1945 after the resignation of Monrad Wallgren but lost the 1946 general election to former Tacoma Mayor Harry Cain by 9.1 points.
Mitchell then knocked freshman GOP U.S. Representative Homer Jones out of office in 1948 in the state's 1st CD seat and was reelected to a second term in 1950.
In 1952, Mitchell did not seek a third term and instead challenged Arthur Langlie for the governorship. Mitchell lost by 5.3 points.
An attempt to return to his old U.S. House seat failed in 1954, with Mitchell losing to freshman Thomas Pelly by 5.3 points.
Mitchell was the Democratic nominee to the state's 2nd CD seat four years later but could not unseat three-term Congressman Jack Westland, losing by 7.5 points.
As for Rossi, he is one of six major party candidates to lose both gubernatorial and U.S. Senate general elections in the Evergreen State.
In addition to Rossi and the aforementioned Black and Mitchell, the other three are:
Former Democratic U.S. Senator George Turner: Lost general elections for governor (1904, to Albert Mead) and U.S. Senate (1916, to Senator Miles Poindexter). [Turner had previously been elected to the U.S. Senate as a Silver Republican in 1896 and served one term].
Democrat A. Scott Bullitt: Lost general elections for U.S. Senate (1926, to Senator Wesley Jones) and governor (1928, to incumbent Roland Hartley)
Republican Superintendent of Public Instruction Lloyd Andrews: Lost general elections for governor (1960, to Albert Rosellini) and U.S. Senate (1964, to Senator Scoop Jackson)
If primary bids are included, two-dozen major party candidates have failed in both campaigns for governor and the nation's upper legislative chamber.
Rossi is currently the only Republican to file for the seat while four Democrats have done so.
Follow Smart Politics on Twitter.