Fung vs. Raimondo II? A History of Rhode Island Gubernatorial Rematch Elections
Only six out of more than two-dozen major party nominees have successfully knocked an incumbent out of office in a gubernatorial rematch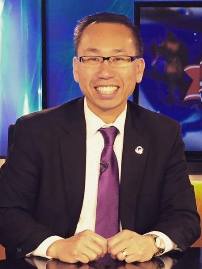 Cranston Mayor Allan Fung announced this week that he is running for governor of Rhode Island again in 2018, in hopes of winning the GOP nomination to set up a rematch with (likely nominee) Democratic Governor Gina Raimondo.
Fung lost to Raimondo by 4.5 points in 2014, with the former state treasurer defeating Fung with just 40.7 percent of the vote – tied for the 39th lowest level of support registered by a winning gubernatorial nominee across the nearly 1,900 elections conducted for the office across the country since 1900.
Fung will not have a clear path to the GOP nomination, however, with state representative and House Minority Leader Patricia Morgan entering the race just hours before the mayor on Monday.
Fung won the Republican primary in 2014 by just 9.8 points over Ken Block, one of a handful of other candidates who could conceivably yet jump into the 2018 race.
On the Democratic side, Raimondo has not yet officially launched her reelection campaign, and former Governor Lincoln Chafee is mulling another run at the office – this time running as a Democrat.
However, Raimondo and Fung should emerge as frontrunners, and if both candidates win their party's respective nominations next year, the 2018 election will be added to a list of more than two-dozen gubernatorial rematches that have been conducted in Rhode Island.
But is there a track record for success of challengers who attempt to unseat incumbents in these rematches?
A Smart Politics review of Rhode Island gubernatorial elections finds that major party nominees seeking rematches have won six of 25 contests since statehood, with only five attempts over the last 100+ years.
The first of these five successful challenges occurred 200 years ago.
In 1816, five-term Federalist Governor William Jones defeated Jeffersonian Republican (and former state assemblyman) Nehemiah Knight  by 4.9 points.
One year later, Knight returned to the ballot and eked out a 0.9-point win against Jones en route to his first of four terms.
It took more than 70 years – and 10 failed attempts – before the next successful rematch occurred in the Ocean State in a race for governor.
For three consecutive elections – in 1889, 1890, 1891 – no candidate won a requisite majority of the vote and so all three races were decided by the state legislature.
In 1889's open seat contest, former Democratic Governor John Davis notched a 10.3-point plurality advantage over Republican businessman Herbert Ladd with 49.4 percent, but lost the legislative decision to Ladd.
Davis secured a rematch in 1890 and again won a plurality with 48.8 percent (3.7 points better than Ladd) but this time was victorious in the legislative vote to return to the governor's office for his second non-consecutive term.
In 1891, Ladd sought a rematch in his own right against Davis and came in second in the general election for a third straight cycle – this time with Davis short of a majority by a percentage point. Just like two years prior, Ladd was again elected governor in the legislature coming off a second place general election finish.
More than 40 years and six failed attempts later, a fourth Rhode Islander won a gubernatorial rematch: Theodore Green rode the national Democratic wave with Teddy Roosevelt at the top of the ticket to defeat three-term Governor Norman Case by 11.7 points, two years after Case narrowly won reelection by 1.6 points.
Two decades later, in 1956, two-term Democratic Governor Dennis Roberts squeaked out a 711-vote victory over attorney Christopher Del Sesto (former state director of the Department of Finance and Office of Price Administration).
Del Sesto won his party's nomination again in 1958 and knocked Roberts out of office with a 1.8-point victory that November.
The last successful rematch came in 1990 in the third and final contest between Republican Governor Edward DiPrete and Democratic attorney and Providence School Board member Bruce Sundlun.
Governor DiPrete easily defeated Sundlun in their first head-to-head battle in 1986, winning by 32.3 points.
Two years later, DiPrete escaped with a 1.6-point win despite Republican presidential nominee George H.W. Bush losing the state by double-digits at the top of the ticket.
In 1990, the three-term governor's luck ran out and DiPrete was ousted in an absolute landslide, falling to Sundlun by 48.3 points. [Courtroom battles stemming from corruption that took place during DiPrete's tenure would soon follow].
The DiPrete vs. Sundlun contests were the fourth three-cycle battles involving major party gubernatorial nominees in Rhode Island electoral history.
In addition to the aforementioned matchups between John Davis and Herbert Ladd (1888, 1889, 1890), the state saw three consecutive races between Republican Ambrose Burnside and Democrat Lymon Pierce (1866, 1867, 1868) and Republican Alfred Littlefield and Democrat Horace Kimball (1880, 1881, 1882).
Burnside and Littlefield won all three races.
Most of the 19 failed rematch attempts over the last 200 years have not been competitive, with the challenger losing the rematch by an average of 23.6 points.
Six rematches, however, came within single digits:
1812: Former Jeffersonian Governor James Fenner lost to Federalist Governor William Jones by 3.1 points after losing by 3.2 points in 1811
1832: Fenner lost to National Republican Governor Lemuel Arnold by 7.8 points (and by single digits in multiple subsequent runoffs due to Arnold not winning a majority in any race). Arnold had defeated Fenner by 13.5 points in 1831.
1835: Democratic Governor John Francis edged Whig (and former Governor) Nehemiah Knight by 1.4 points, one year after defeating him by 2.1 points
1905: Republican Governor George Utter beat former two-term Governor Lucius Garvin by 9.3 points, one year after knocking the Democrat out of office by 1.2 points
1988: Democrat Bruce Sundlun came within 1.6 points of unseating Governor Edward DiPrete in the second of three contests between these two nominees
1998: Republican Lincoln Almond defeated former State Senator Myrth York by 8.9 points – more than doubling his 3.9-point advantage against her in 1994
Overall, challengers came closer to victory in the rematch slightly more than half of the time (in 14 of 25 attempts, or 56 percent).
Although Raimondo has not yet launched her 2018 reelection campaign, the state's first female governor is intending to run for another term.
Follow Smart Politics on Twitter.