How Often Do 1-Term US Senators Retire?
Jeff Flake is the eighth member of the chamber to call it quits after a single full term this century and the 43rd to do so since 1914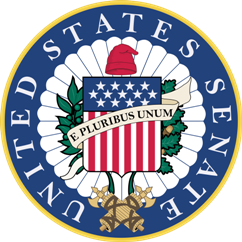 Smart Politics recently highlighted that Jeff Flake is the first U.S. Senator from Arizona not to seek a second term since statehood.
But although the announcement of his departure may have been more dramatic – and more heavily covered by the media – than those made by his predecessors, the junior senator from the Grand Canyon State is nonetheless one of many legislators in the chamber who decided not to run for a second term after serving only six years.
Smart Politics reviewed the nearly 300 retirements made by U.S. Senators that have taken place during the direct election era and found that 39 percent were members in their first term including 15 percent who, like Flake, had been elected to a full term.
Of the 289 U.S. Senators who retired from the chamber since the passage of the 17th Amendment, 112 were in their first term:
55 were simply appointed to the seat (and never subsequently won a special election): e.g. Democrats Ted Kaufman of Delaware and Roland Burris of Illinois in 2010
8 were initially appointed to their seat, subsequently won a special election, and then retired: e.g. Democrat Rose McConnell Long in 1936, Washington Republican Daniel Evans in 1988, and Georgia Democrat Zell Miller in 2004
6 others entered the chamber via special elections or an election for less than a full term and then retired: e.g. Democrat Oren Long of Hawaii in 1962 and Wyoming Republican Milward Simpson in 1966
43 were elected to a full six-year term and retired: e.g. Massachusetts Democrat Paul Tsongas in 1990 and Idaho Republican Dirk Kempthorne in 1998
Prior to Flake, there were seven U.S. Senators who did not run for reelection after serving a single six-year term since the turn of the 21st Century:
2002: New Jersey Democrat Robert Torricelli (endured a campaign ethics scandal and withdrew from the race)
2004: Illinois Republican Peter Fitzgerald (faced his own state party backing a primary challenge)
2004: North Carolina Democrat John Edwards (ran for president)
2006: Minnesota DFLer Mark Dayton (stated he could not be an effective senator and run a winning campaign)
2012: Virginia Democrat Jim Webb (returned to private sector)
2014: Nebraska Republican Mike Johanns (returned to private sector)
2016: Indiana Republican Dan Coats, during his second stint in the chamber (became Director of National Intelligence shortly after his exit)
With Flake's announcement, at least one U.S. Senator elected to a full six-year term has retired in 30 of the 53 election cycles held since 1914.
The largest number of one-term senators to retire at the end of their six years in office in a given cycle took place in 1978 with three leaving the legislative body: Oklahoma Republican Dewey Bartlett retired due to ill health (dying less than two months after leaving office), South Dakota Democrat James Abourezk resumed the practice of law, and Virginia Republican William Scott left to practice law with his sons.
However, there have been periods in which such retirements were rare.
During the six cycles from 1962 through 1972 no one-term members who served a full six years retired from their seats.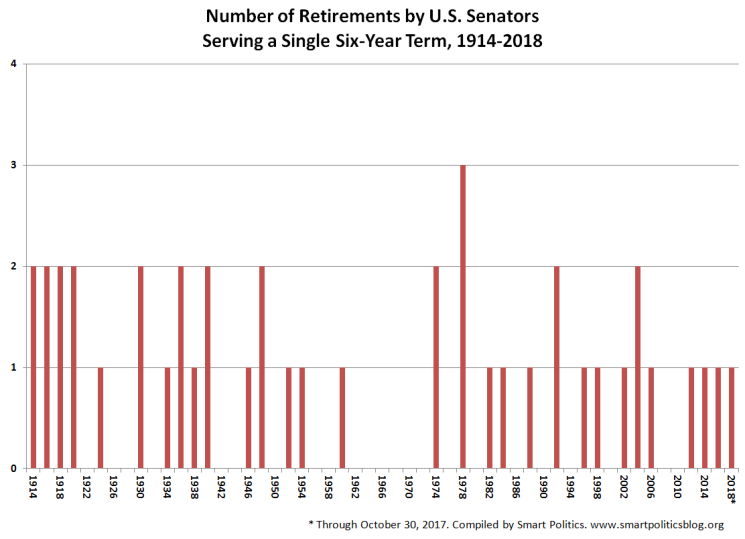 Only 22 states have had a U.S. Senator retire after a single full term since 1914.
Six states have had three senators exit in this fashion: Colorado (Edward Costigan in 1936, Tim Wirth in 1992, and Hank Brown in 1996), Massachusetts (Frederick Gillett in 1930, Marcus Coolidge in 1936, and Paul Tsongas in 1984), New Jersey (Albert Hawkes in 1948, Robert Hendrickson in 1954, and Robert Torricelli in 2002), Ohio (Theodore Burton in 1914, Warren Harding in 1920, Vic Donahey in 1940), Virginia (William Scott in 1978, Paul Trible in 1988, and Jim Webb in 2012), and West Virginia (Nathan Goff in 1918, Davis Elkins during his second stint in 1924, and Guy Goff in 1930).
Overall, the nearly 300 U.S. Senators who retired from their seats since 1914 served an average of 12.7 years at the time of their exit from the chamber.
[Note: Senators who did not seek reelection but resigned shortly before the end of their term were still counted as having 'retired' from their seat].
Follow Smart Politics on Twitter.