Jim Bennett Notches 2nd Best 3rd Party Showing in Contested Utah US House Race in 85 Years
Only one Utahan has won more support in a race involving both major party nominees out of 127 U.S. House third party and independent candidates to appear on the ballot since 1932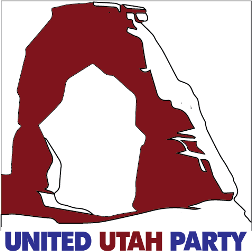 He may not have quite united Utah's 3rd Congressional District, but United Utah nominee Jim Bennett did receive an impressive amount of support in Tuesday's special election to fill the vacated seat of Republican Jason Chaffetz who resigned this summer.
Bennett, the son of former U.S. Senator Bob Bennett, won 8.9 percent – good for third place among six candidates behind GOP Provo Mayor John Curtis (57.6 percent) and Democratic physician Kathie Allen (27.1 percent).
While Bennett – and the United Utah Party generally – fell short in their first attempt to create a winning coalition of independents and disaffected moderate Republicans and Democrats, he nonetheless turned in one of the strongest showings by a non-major party candidate for the office in state history.
Bennett's 8.9 percent ranks as:
The 12th best out of the 171 third party and independent candidates in Utah U.S. House electoral history
The 9th best in races with both Democratic and Republican nominees on the ballot
The 2nd best out of 127 candidates in elections with Democratic and Republican nominees since 1932
The strongest performance in a Utah U.S. House election that also featured Democratic and Republican nominees took place 23 years ago in 1994 when former gubernatorial candidate and Independent Party of Utah nominee Merrill Cook won 18.1 percent in the 2nd CD – a third place finish 27.5 points behind GOP winner Enid Greene Waldholtz.
Collectively, Bennett and three other independent and third party candidates won 15.3 percent of the vote on Tuesday. Independent Sean Whalen won 2.7 percent with Libertarian nominee Joe Buchman at 2.2 percent and Independent American Jason Christensen at 1.5 percent.
That ranks as the 6th largest percentage of the vote cast for third party and independent candidates in a Utah U.S. House election with both major party nominees on the ballot, eclipsed only by:
1912, At-large (28.3 percent): Progressive S.H. Love (10.1 percent), Progressive Lewis Carson (9.9 percent), Socialist Murray King (4.1 percent), Socialist William Knerr (4.0 percent), Socialist Labor nominee Elias Anderson (0.2 percent)
1910, At-large (18.5 percent): American nominee Allen Sanford (13.7 percent), Socialist James Smith (4.8 percent)
1994, 2nd CD (18.3 percent): Independent Party of Utah nominee Merrill Cook (18.3 percent)
1906, At-large (17.2 percent): American nominee Thomas Weir (13.6 percent), Socialist Homer Burt (3.6 percent)
1908, At-large (16.1 percent): American nominee Charles Douglas (12.1 percent), Socialist Charles Crane (3.9 percent), independent B.J. Donohue (0.1 percent)
The largest percentage of the vote ever received by an independent or third-party candidate came shortly after statehood in 1896, when Populist Andrew Bowen captured 35.9 percent in an at-large race won by Democratic Utah Supreme Court Justice William King. However, there was no Republican Party nominee in that contest.
There was also only one major party candidate in 1982's 3rd CD race when Hank Huish won 23.1 percent in a loss to former Republican State Representative Howard Nielson as well as in 1998's 3rd CD contest when Independent American nominee Will Christensen received 15.8 percent against GOP incumbent Chris Cannon.
Follow Smart Politics on Twitter.