Doug Jones Victory Would Give Alabama Rare Split US Senate Delegation
The Yellowhammer State is tied with Kansas for the fewest years of sending lawmakers to the Senate from different political parties over the last century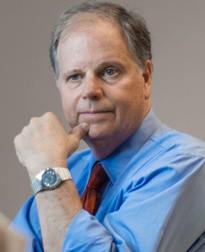 The prospects of Alabamans electing a Democrat in next month's special U.S. Senate election went from purely theoretical before last August's Republican primary, to 'unlikely but possible' after Roy Moore won the GOP runoff in September, to at least even odds over the last week.
Nearly every Republican U.S. Senator has withdrawn their public endorsement of the embattled former state supreme court chief justice in light of multiple allegations of sexual misconduct involving teenagers in the late 1970s and early 1980s.
Jones, who was already the strongest Democratic nominee for the office the party has placed on the ballot in the deep red state since Auditor Susan Parker in 2002, has shrewdly kept a low profile while watching his stock rise by default among the electorate.
And now there is a strong possibility of a Democrat representing Alabama in the U.S. Senate in one of two states in the country with the thinnest history of sending split U.S. Senate delegations to Washington, D.C.
Smart Politics reviewed each of the 50 state U.S. Senate delegations over the last 52 Congresses since the dawn of the direct election era and found that Alabama and Kansas have sent the fewest split delegations to the chamber – for just eight of the last 103 years.
Smart Politics tallied the partisan make-up for the U.S. Senate delegations of all 50 states for each year since 1915 – the year after the first general election cycle in which direct elections began in 1914.
Alabama has only had a split delegation for just a shade over eight years during this period: for six years from 1981 through 1986 (with Democrat Howell Heflin and Republican Jeremiah Denton) and two years from late 1994 through 1996 (with Heflin and Republican Richard Shelby, who changed his party affiliation after the November 1994 GOP tsunami).
Kansas has also had a divided delegation for slightly more than eight years – ending 79 years ago. Democrat George McGill was elected in late 1930 and served alongside Republican Arthur Capper until the end of the 1938 cycle.
Overall, the average state delegation to the nation's upper legislative chamber has been comprised of different political parties 33.7 percent of the time across the states over these last 103 years, although there has been wide variation between them.
Three states have had a politically divided delegation in the chamber more than half the time.
Leading the way is Delaware, which has seen members of two different parties represent the state for 59 of the last 103 years (57.3 percent of the time).
That number was buoyed by the 28-year period during which Republican William Roth and Democrat Joe Biden served together from 1973 until Roth's loss to Tom Carper in 2000.
The delegation has been all-Democratic ever since January 2001.
The First State has also been represented by both parties in the chamber from 1915-1916, 1919-1921, 1923-1928, 1937-1940, 1943-1946, and 1949 to 1960.
Illinois has had a split delegation for 54 years, with a recent six-year stint ending after the 2016 election with the defeat of Republican Mark Kirk by Tammy Duckworth.
Illinois has also been represented by a split partisan delegation to the chamber across the last century during six other periods from 1915-1918, 1931-1932, 1941-1948, 1951-1966, 1971-1984, and 1999-2004.
Iowa is third with 53 years including 30 in a row when Chuck Grassley and Tom Harkin represented the state from 1985 through 2014.
The Hawkeye State also had Democratic and Republican U.S. Senators from 1926-1930, 1933-1936, 1943-1944, 1949-1954, 1969-1972, and 1979-1980.
Nevada is next at 51 years followed by Colorado with 50, Massachusetts with 49, and three states with 48 – California, New York, and South Dakota.
Five other states have sent split delegations to the senate at least 40 percent of the time: New Mexico, Wyoming, Rhode Island, Idaho, and Vermont.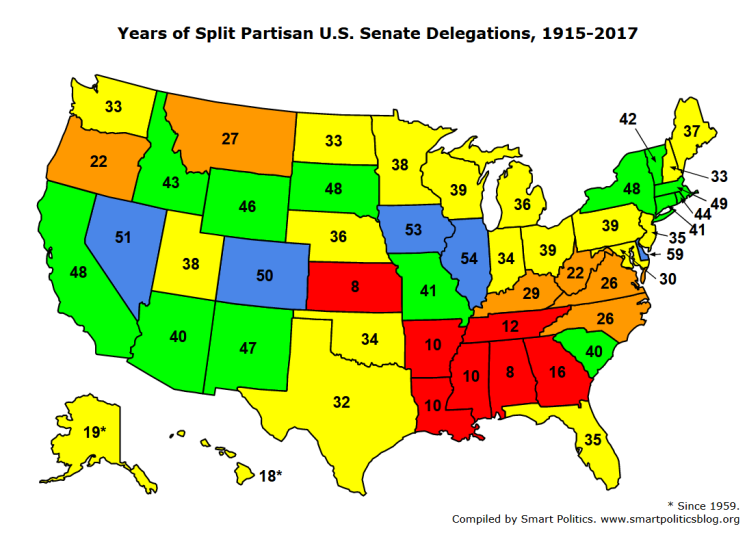 Southern states, where delegations were reliably Democratic for decades, have generally had the fewest such delegations.
After Alabama and Kansas are Arkansas, Louisiana, and Mississippi with just 10 years of split delegations since 1915, Tennessee with 12, Georgia with 16, West Virginia and Oregon with 22, and North Carolina and Virginia with 26.
Alabama is ending its 21st consecutive year with two U.S. Senators from the same political party – although that ranks only 14th in the nation behind Kansas (79), Hawaii (41), Utah (41), Wyoming (41), Idaho (37), New Jersey (36), Tennessee (33), Maryland (31), Mississippi (29), California (25), Texas (25), Arizona (23), and Oklahoma (23).
Follow Smart Politics on Twitter.