Franken and Klobuchar: Minnesota's 5th Longest-Serving US Senate Delegation
More than half of Minnesota U.S. Senators have not exited the chamber on their own terms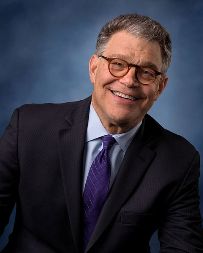 There are no indications yet that Minnesota DFL U.S. Senator Al Franken intends to resign in light of allegations made on Thursday that he kissed and groped Leeann Tweeden without her consent on a USO Tour in Afghanistan 11 years ago.
Franken has a shade more than three years left in his second term and would stand for reelection in 2020.
A U.S. Senate ethics investigation into Franken appears to be forthcoming. Until the results of that inquiry are known – and barring the surfacing of any other accusations against the two-term senator in the meantime – it is unlikely that the former comedian's status as a U.S. Senator will change.
In the meantime, Franken will continue to serve with Amy Klobuchar, Minnesota's second female U.S. Senator in history, and few pairs of Minnesotans have represented the state alongside one another as long as this duo.
Minnesota has had 42 different delegations in the U.S. Senate, and the Klobuchar/Franken pairing ranks as the fifth longest-serving in the state.
Through Thursday, Senators Klobuchar and Franken have served together for 8 years, 4 months, and 8 days since the junior senator was sworn in on July 7, 2009 after a prolonged recount and lawsuit following the 2008 election against Norm Coleman.
No pair of DFLers (or Democrats) have served longer together in state history and the duo trail just four other delegations:
Republicans Knute Nelson and Moses Clapp: 16 years, 1 month, 4 days (from 1901-1917)
Republicans Dave Durenberger and Rudy Boschwitz: 12 years, 5 days (1978-1991)
Farmer-Laborite/Republican Henrik Shipstead and Republican Thomas Schall: 10 years, 9 months, 19 days
Republican Edward Thye and DFLer Hubert Humphrey: 10 years, 4 months, 8 days
Only one other pair has served more than six years together: DFLers Eugene McCarthy and Walter Mondale (6 years and 5 days from 1964-1971).
If Klobuchar is reelected in 2018 and Franken serves the remainder of his term, the duo will rank #3 on this list, clocking in at 11 years, 5 months, and 28 days by January 2021.
While the Franken scandal may be news and could possibly shorten his service in D.C., the majority of U.S. Senators in Minnesota history have not been able to exit the chamber on their own terms.
Of the 41 exits by Gopher State senators over the decades, more than half were not by choice: 15 lost reelection or their party's nomination and seven others died in office.
Seventeen others chose not to seek another term and two resigned after being appointed or elected to another office.
Follow Smart Politics on Twitter.