Democrats and Republicans Currently Have Record US Senate Winning Streaks in 28 States
Only one region of the country is regularly seeing both parties win U.S. Senate seats in the vast majority of its states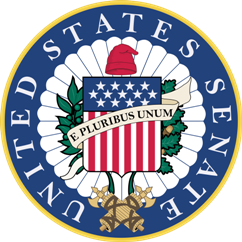 In a recent Smart Politics profile of Alabama's forthcoming U.S. Senate special election, it was noted that a Democratic pick-up would be just the sixth time an eight-election winning streak for the office by a major party has been broken over the last century out of nearly five-dozen attempts.
But scandals plaguing GOP nominee Roy Moore's campaign may propel Democrat Doug Jones across the finish line and abruptly end the Alabama Republican Party's two-decade long hold on its two seats in the nation's upper legislative chamber.
While a Democratic win in Alabama or the deep South generally would be surprising enough, seeing seats flip by either party has become a novelty in an increasing number of states across the country.
A Smart Politics review of the nearly 1,900 U.S. Senate elections over the last century finds that 28 states are currently in the midst of the longest Republican or Democratic winning streak for the office in the direct election era.
Heading into Alabama's special election next month, Republicans and Democrats in 22 states presently have stand-alone records for the most consecutive U.S. Senate victories and have tied their best ever mark in six other states.
Republicans in particular are rewriting the history books – notching their party's all-time longest win streaks in 15 states (10 in the South) and have tied records in three others.
The GOP winning streak in Kansas is the longest in the nation – and the longest ever by the Republican Party – at 31 elections in a row since 1936.
Kansans will not hold an election for the office in 2018, but by 2022 the state could tie the all-time major party record of 33 consecutive wins in the direct election era – set by Louisiana Democrats from 1914-2002.
Wyoming is next with 16 straight Republican wins since 1972 which is tied for the third most victories in party history behind Kansas and Vermont (25, 1914-1972).
In 2018 the Wyoming GOP is slated to break its tie with Maine, which voted for Republican nominees in U.S. Senate races for 16 straight elections from 1916-1954.
Other states boasting the party records are Utah at 15 in a row (since 1974), Idaho at 14 (1978), Mississippi at 12 (1984), Oklahoma at 11 (1992), Texas at 10 (1990), Arizona at nine (1992), Tennessee at nine (1994), Alabama at eight (1996), Kentucky at eight (1996), South Carolina at seven (2002), Georgia at six (2002), Arkansas at three (2010), and Louisiana at three (2010).
Records can be extended in six of these states in 2018: Arizona, Mississippi, Tennessee, Texas, Utah, and Wyoming.
The current GOP streak of three straight wins in North Carolina since 2010 is tied with two other three-cycle victories (1978-1984; 1990-1996). Republicans also won the last U.S. Senate elections in Florida and Montana and, having never won back-to-back races in those states, could set new records in both states in 2018 by defeating Bill Nelson and Jon Tester respectively.
Meanwhile, Democrats are enjoying their longest U.S. Senate winning streaks in seven states and have now tied the mark in three others.
Hawaii Democrats lead the way with 17 consecutive victories dating back to Daniel Inouye's victory for a third term in 1974.
Republicans have come within single digits of winning a seat in Hawaii only once during this span (Congresswoman Patricia Saika lost by 9.4 points to Senator Daniel Akaka in 1990's special election).
Current Democratic records are also still intact in New Jersey at 15 in a row (since 1976), Maryland at 12 (1982), California at 10 (1992), Delaware at eight (1996), Michigan at seven (1996), and New Hampshire at two (2014).
[Note: Although Connecticut independent Democratic U.S. Senator Joe Lieberman caucused with the Democrats after his 2006 reelection victory, the party's winning streak in the Nutmeg State is technically only at three (since 2010) instead of what would be a record 11 in a row (since 1986) as Democrats fielded a nominee to challenge Lieberman that cycle (Ned Lamont)].
The 2018 cycle can see these records extended in California, Delaware, Hawaii, Maryland, Michigan, and New Jersey as well as in New York where the party tied its all-time record of nine straight wins with Chuck Schumer's victory last year. Democrats last won nine in a row in the Empire State from 1922 to 1944.
Democrats have also tied their party records in Oregon (five in a row) and Vermont (one).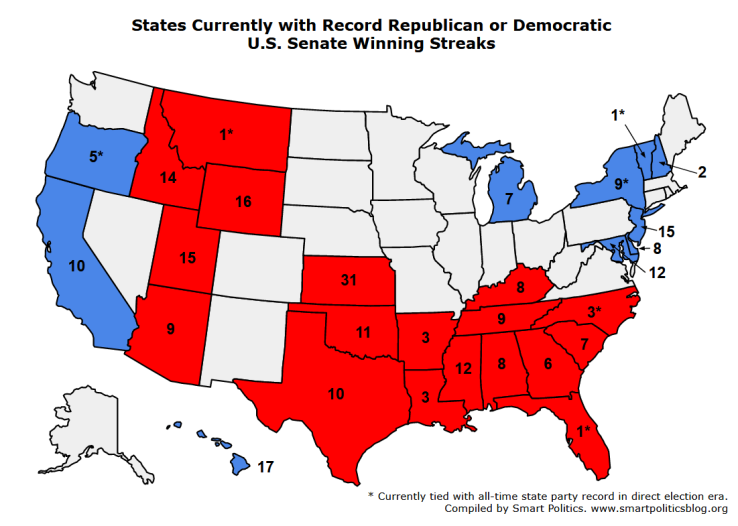 While Republicans are shattering records in the South and Democrats are doing so in the Northeast, few records are being broken by either party in the Midwest.
Only two of the 12 states in the region currently have parties in the midst of all-time winning streaks (Kansas' 31 in a row for the GOP and Michigan's seven straight for the Democrats).
None of the 10 other Midwestern states are close to setting records for either party:
Indiana (Republican): Current streak = 1 (2016); party record = 6 (1976-1994)
Missouri (Republican): Streak = 1 (2016); record = 6 (1982-1998)
North Dakota (Republican): Streak = 1 (2016); record = 6 (1946-1958)
Ohio (Republican): Streak = 1 (2016); record = 8 (1938-1954)
Wisconsin (Republican): Streak = 1 (2016); record = 7 (1916-1928)
Illinois (Democrat): Streak = 2 (2014-present); record = 6 (1980-1996)
Iowa (Republican): Streak = 3 (2010-present); record = 6 (1950-1966)
Nebraska (Republican): Streak = 3 (2008-present); record = 15 (1940-1972)
South Dakota (Republican): Streak = 3 (2010-present); record = 9 (1938-1960)
Minnesota (DFL): Streak = 4 (2006-present); record = 8 (1954-1976)
Of the remaining 12 states in which one of the two major parties currently do not boast record streaks, two are in the South (Virginia and West Virginia), five in the Northeast (Connecticut, Maine, Massachusetts, Pennsylvania, Rhode Island), and five in the West (Alaska, Colorado, Nevada, New Mexico, Washington).
Follow Smart Politics on Twitter.