Can Pennsylvania Democrats End Their Worst US House Streak in 85 Years?
The last time the party won less than 30 percent of U.S. House seats during a three-cycle stretch in the state was 1928-1930-1932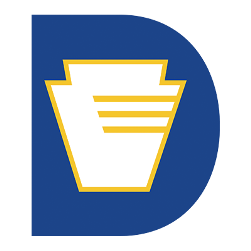 The retirement of U.S. Representative Charlie Dent at the end of the 115th Congress and the underwater approval ratings of a president Keystone State voters helped win the White House last year have Pennsylvania Democrats optimistic about their chances of picking up a seat in the U.S. House for the first time in a decade.
In addition to Dent's open 15th CD seat, several other GOP-held districts are viewed to be in play next year including the 6th (Ryan Costello), 7th (Pat Meehan), 8th (freshman Brian Fitzpatrick), and 16th (freshman Lloyd Smucker) CDs.
In short, it has been a brutal decade for Pennsylvania Democratic U.S. House nominees.
After the party lost the governorship and state house during the 2010 midterms, the resulting congressional maps were viewed by Democrats (and some Republicans advocating for a nonpartisan redistricting process) as drawn to favor the GOP – maps that have similarly plagued Democrats in several other purple states since new maps went into effect in 2012 (e.g. Florida, Michigan, North Carolina, Ohio, and Virginia).
[Note: A state where maps were drawn to disadvantage Republicans after the 2010 Census is Illinois].
Democratic struggles to win U.S. House seats in Pennsylvania have been particularly pronounced in light of the great success their nominees have had at the ballot box in high profile elections during this span.
Pennsylvania Democrats hold all executive constitutional offices and have won nine of 11 non-judicial statewide elections conducted since 2012 – only narrowly failing to defeat Trump and U.S. Senator Pat Toomey in 2016.
Despite nearly sweeping these races, however, Democrats have won only 15 of 54 U.S. House races during the last three general elections and have failed to pick up a single seat since 2008 (losing seven).
Winning just five of 18 races across three consecutive cycles (27.8 percent) is the kind of electoral futility Keystone State Democrats have not seen in decades.
The last time the party failed to win at least 30 percent of Pennsylvania's U.S. House seats in a single general election was more than 70 years ago in 1946.
Democrats won only five of 33 districts across the state (15.2 percent) during that cycle's Republican wave in which the GOP netted 55 seats nationwide (including nine in Pennsylvania).
The solidification of GOP power over the redistricting process after 2010 resulted in the 2012, 2014, and 2016 general elections being the worst three-cycle showing by Democrats in the state in over 80 years despite running the table in statewide races for governor, attorney general, auditor general, and treasurer.
The last time Democrats endured a sub-30 percent rate of victory over three cycles for elections to the U.S. House was during the 1928, 1930, and 1932 general elections when the party won just 15 of 104 U.S. House seats (14.2 percent).
That was at the tail end of a 20-cycle period which saw Democrats win only 99 of 674 general elections to the chamber from 1894 to 1932 (14.7 percent). [During those cycles, unlike 2012-2016, Democrats won only a few statewide races].
Democrats more than tripled that winning percentage from 1934 through 2010 – victorious in 516 of the 1,026 U.S. House seats on the general ballot across those 39 cycles (50.3 percent).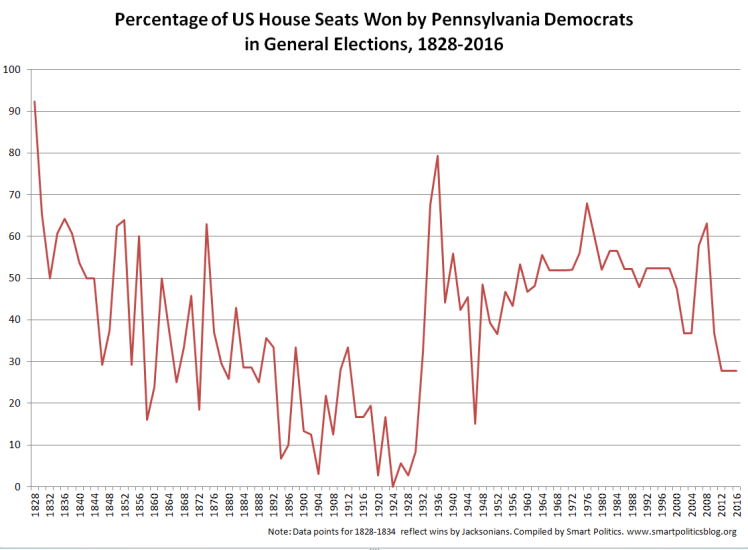 Democrats have failed to field candidates in two of the 13 GOP-held districts during each of the last two cycles in 2014 (against Dent in the 15th and Tim Murphy in the 18th) and 2016 (against Mike Kelly in the 3rd and Murphy again in the 18th).
Follow Smart Politics on Twitter.