Mike Pompeo and a Brief History of Cabinet Department Heads from Kansas
Five Kansans have served as secretaries of U.S. departments a total of six times since statehood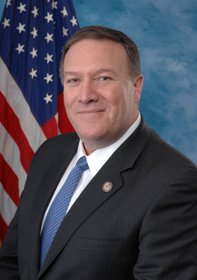 Chatter that CIA Director Mike Pompeo is slated to replace Secretary of State Rex Tillerson in the coming days raised eyebrows last week in a year in which eyebrows seem to be perpetually raised.
The domino-effect of such a move was reported to see Arkansas U.S. Senator Tom Cotton nominated to head the CIA after Pompeo's departure – prompting the appointment of a new lawmaker from the Natural State and a special election for Cotton's seat in 2018.
If this plan comes to fruition, Pompeo – who previously represented Kansas' 4th Congressional District for four terms – would become the sixth individual from his state to serve as head of a U.S. department and the fourth over the last 30 years.
It took 64 years since statehood in 1861 before the first Kansan ran a U.S. governmental department – William Jardine.
Jardine was the president of Kansas State University when he was appointed in 1925 to become the nation's ninth Secretary of Agriculture during Calvin Coolidge's administration.
Raised on a farm and a former Dean of Kansas State's School of Agriculture, Jardine was well versed in agriculture but had never previously held a political post. He served as secretary for the entire four years of Coolidge's second term.
Jardine would receive two other notable appointments later in his career – as Minister to Egypt under President Herbert Hoover in 1930 and state treasurer under Governor Alf Landon in 1934.
The second Kansan to head up a cabinet department was Secretary of War Harry Woodring.
A former Democratic Governor of Kansas (1931-1933), Woodring landed on his feet after losing his 1932 reelection bid to Alf Landon by being named Assistant U.S. Secretary of War in 1933 under President Franklin Roosevelt.
Woodring became the interim war secretary in September 1936 following the death of George Dern and by 1937 was confirmed as the nation's 53rd Secretary of War – a position he would hold until his resignation in June 1940.
The former governor would make two more attempts at winning back his old gubernatorial seat in Kansas, losing the 1946 general election to Congressman Frank Carlson and the 1956 Democratic primary to George Docking.
Kansas would not see its next head of a cabinet department for more than 40 years when White House Director of the Office of Public Liaison Elizabeth Dole was appointed the ninth U.S. Secretary of Transportation in 1983.
Dole, the wife of Kansas U.S. Senator Bob Dole, succeeded Drew Lewis who resigned in February 1983 and would serve more than four years as secretary under Ronald Reagan through September 1987.
Less than two years later, in January 1989, Dole added her name to the list of individuals who have served as head of more than one department by being named the Secretary of Labor under George H.W. Bush.
Dole left that department just shy of two years later to become president of the American Red Cross in 1991.
Bill Clinton also tapped a Kansan for his cabinet when former Congressman Dan Glickman was appointed Secretary of Agriculture in March 1995 following his loss to Todd Tiahrt during the previous November's Republican Revolution.
Glickman replaced Secretary Mike Espy and served through the end of Clinton's second term.
The most recent U.S. department head from Kansas was Governor Kathleen Sebelius who resigned from her seat in April 2009 to become the 21st Secretary of Health and Human Services.
Sebelius led the department for more than five years under Barack Obama, exiting the office in June 2014.
It should be noted there have been other Kansas-born department heads over the decades, however, Kansas is not commonly considered to be their home state as they rose to public prominence elsewhere. [e.g. Interior Secretary Gale Norton (2001-2006) and Defense Secretary Bob Gates (2006-2011) – both born in Wichita].
Follow Smart Politics on Twitter.