The Shortest-Serving U.S. Senators in Alabama History
Ten of the state's 41 men and women who were sworn into the chamber served less than one year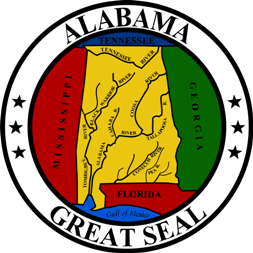 Barring a too-close-to-call nail biter, Alabamans will know who their 42nd U.S. Senator is by the end of Tuesday evening.
Either Republican Roy Moore or Democrat Doug Jones will be the choice of a majority of voters – unless a groundswell of write-in votes denies the winner 50+ percent of the vote.
Despite clamoring to the contrary in some quarters, Moore will be seated if he is victorious, but it is possible – if GOP leadership sticks to their prior statements – that an ethics investigation would soon follow.
The findings of that investigation could trigger the rarely used parliamentary tool of expulsion, thus cutting short Moore's stint in the legislative body – and setting in motion another gubernatorial appointment and special election for the seat.
Meanwhile, if Jones is elected, he would serve through the end of the 116th Congress – January 3, 2021. Jones would be up for election in November 2020, but he would likely enter that race as a big underdog in the heavily Republican state.
In short, there is a decent chance that whichever candidate is elected on Tuesday will have a fairly short political half-life in the U.S. Senate.
But that would not be unusual in the Yellowhammer State.
Of the 41 men and women sworn into the U.S. Senate from Alabama since statehood, nearly a quarter – 10 – have served less than a full year.
If Moore is elected and faces an ethics investigation, he will need to last 144 days, or approximately late May, to avoid becoming the senator with the shortest stint in the office in Alabama history. [Mitch McConnell recently stated Luther Strange will serve through the end of this year, so neither Moore or Jones would be seated until January 2018].
That current record is held by two Alabamans: Democrats Dixie Bibb Graves (1937-1938) and George Swift (1946) were each in office 4 months and 22 days (144 days) after being appointed to their respective seats.
Graves was appointed to the U.S. Senate by her husband, Governor Bibb Graves, in August 1937 after Hugo Black was appointed to the U.S. Supreme Court. Senator Graves was the fourth woman to serve in the chamber.
Swift, a former state legislator, was appointed by Governor Chauncey Sparks to fill the vacancy after the death of John Bankhead II in June 1946.
A majority of the remaining Alabamans who served less than a year in the senate were also appointees:
Democrat Maryon Pittman Allen (1978): 5 months; appointed by Governor George Wallace following the death of her husband, James Allen and lost the subsequent Democratic primary to Don Stewart
Democrat Braxton Comer (1920): 7 months, 29 days; appointed by Governor Thomas Kilby after the death of Democrat John Bankhead
Jacksonian Israel Pickens (1826): 9 months, 1 day; appointed by Governor John Murphy after the death of Jacksonian Henry Chambers
Democrat Frank White (1914-1915): 9 months, 21 days; won a special election in May 1914 after the death of Joseph Johnston
Democrat George Houston (1879): 9 months, 28 days; elected to the seat and died in office later that year
Republican Luther Strange (2017): 10 months, 4 days (through November 12th) and counting; appointed by Governor Robert Bentley after the resignation of Jeff Sessions and lost the subsequent GOP primary to Roy Moore
Democrat Luke Pryor (1880): 10 months, 17 days; appointed by Governor Rufus Cobb after the death of George Houston
Jacksonian Henry Chambers (1825-1826): 10 months, 21 days; elected to the seat and died in office
If Jones is elected Tuesday and loses reelection in 2020, he would exit the chamber with the 15th shortest service from Alabama with approximately three years under his belt depending when he would be seated in January 2018.
Jones would also eclipse Democrat Don Stewart (1978-1981; 2 years, 1 month, 26 days), Jeffersonian Republican William Kelly (1822-1825; 2 years, 2 months, 20 days), Republican Willard Warner (1868-1871; 2 years 7 months, 19 days), and Jeffersonian Republican John Walker (1819-1822; 2 years, 11 months, 29 days).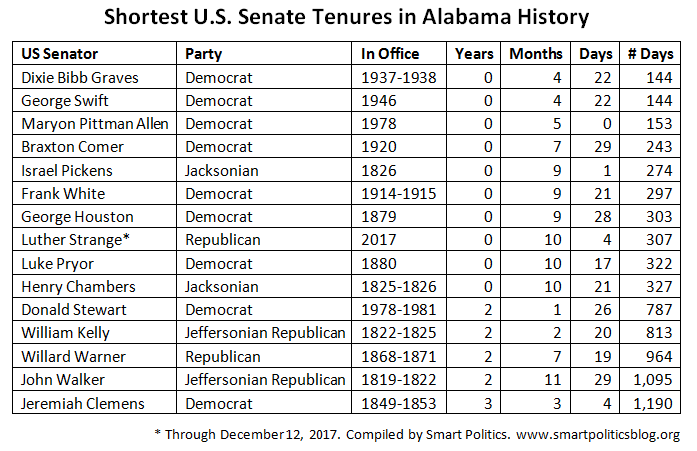 The longest-serving U.S. Senators from Alabama are Democrats John Sparkman (1946-1979; 32 years, 1 month, 29 days) and J. Lister Hill (1938-1969; 30 years, 11 months, 23 days).
Current Republican Senator Richard Shelby is currently third on the list at 30 years, 11 months, 10 days.
Shelby, who was just reelected in 2016, will pass Hill in two weeks and be the longest-serving Alabaman in state history on March 3, 2019.
Democrat John Morgan (1877-1907) is the fourth senator from the state to serve at least 30 years (30 years, 3 months, 8 days).
Follow Smart Politics on Twitter.