Eight Is Enough: Alabama Democrats Make the Record Books
Doug Jones' victory marks just the sixth time out of 56 attempts that an eight-election partisan U.S. Senate winning streak has come to an end during the direct election era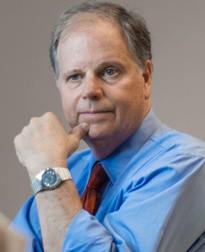 The win by Doug Jones over Roy Moore on Tuesday was noteworthy not simply because a Democrat won a U.S. Senate seat in a deep red state, but also because of the scope of the drought his party had endured in Alabama.
As Smart Politics previously documented, Alabama Republicans came into the 2017 special election winning eight consecutive elections – the 56th time a party had won eight races in a row during the direct election era.
Prior to Jones' victory, such a winning streak had been halted only five times.
The most recent U.S. Senate winning streak of eight in a row to come to an end took place in Indiana in 1998.
Indiana Republicans rattled off eight consecutive victories with Dick Lugar (1976, 1982, 1988, 1994), Dan Quayle (1980, 1986), and Dan Coats (1990, 1992) during an 18-year stretch.
After Coats' (first) retirement in 1998, former two-term Democratic Governor Evan Bayh easily defeated Fort Wayne Mayor Paul Helmke by 28.9 points.
Each of the four previous instances in which eight-election streaks came to an end took place more than 35 years ago:
Ohio, 1956: After losing eight in a row from 1938-1954, Democratic Governor Frank Lausche unseated Senator George Bender with a 5.8-point win
New Jersey, 1958: Democrats also lost eight straight in the Garden State from 1938-1954 but former Congressman Harrison Williams won the first of four terms with a 4.5-point open seat victory over 10-term U.S. Representative Robert Kean
Minnesota, 1978: Republicans bounced back from eight consecutive losses from 1954-1976 with two wins that November – attorney Dave Durenberger's 26.9-point victory over sports franchise mogul Bob Short in a special election and attorney and businessman Rudy Boschwitz's 16.2-point win over former DFL governor (and 'self-appointed' Senator) Wendell Anderson
Wisconsin, 1980: After Democrats reeled off eight wins from 1957-1976, former Congressman Bob Kasten knocked three-term Senator Gaylord Nelson out of office by 1.9 points
What was particularly unique about Jones' victory, unlike those in Ohio, New Jersey, Minnesota, Wisconsin, and Indiana listed above, is that Democrats had been thoroughly decimated in the Yellowhammer State in recent years.
Democrats came within single digits of winning a senate seat just once during these eight losses (Jeff Sessions' 7.0-point win over State Senator Roger Bedford in 1996) and within 20 points in only one other race (Sessions' 18.8-point victory against Auditor Susan Parker in 2002).
[Alabama Republicans had also won 43 of 52 statewide races this century including 25 in a row since Democrat Lucy Baxley's 2008 victory for the state Public Service Commission].
Meanwhile, Ohio Democrats had come within single digits of victory five times during their eight-cycle U.S. Senate losing streak (1938, 1940, 1944, 1952, 1954), New Jersey Democrats five times (1938, 1942, 1944, 1948, 1954), Minnesota Republicans twice (1958, 1966), Wisconsin Republicans twice (1962, 1964), and Indiana Democrats three times (1980, 1982, 1990).
Prior to Jones' victory, Democrats and Republicans had succeeded in extending their electoral winning streaks of eight in a row to nine during each of the last 14 such attempts since 2000:
Massachusetts Democrats in 2000 (won eight in a row from 1976-1996)
New Jersey Democrats in 2000 (1976-1996)
Alaska Republicans in 2002 (1978-1998)
Idaho Republicans in 2002 (1978-1998)
New Hampshire Republicans in 2002 (1978-1998)
North Dakota Democrats in 2004 (1982-2000)
Maryland Democrats in 2006 (1982-2004)
Mississippi Republicans in 2008 (1984-2006)
Texas Republicans in 2012 (1990-2008)
California Democrats in 2012 (1992-2010)
Oklahoma Republicans in 2014 (1992-2010)
Tennessee Republicans in 2014 (1994-2012)
Arizona Republicans in 2016 (1992-2012)
New York Democrats in 2016 (1994-2012)
By electing Jones to the U.S. Senate, Alabama will break its tie with Kansas for the fewest years of sending a split delegation to the chamber over the last century (currently just eight years).
Follow Smart Politics on Twitter.