Minnesota to Become 6th State with Women Holding Both US Senate Seats
After Tina Smith is sworn in, four states will have all-female U.S. Senate delegations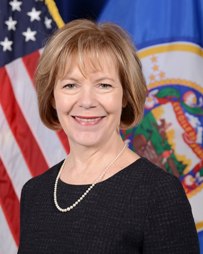 Mark Dayton's unsurprising announcement that he was appointing Lieutenant Governor Tina Smith to succeed Al Franken puts the Gopher State on a very short list in the annals of U.S. Senate history.
When Smith joins Amy Klobuchar (2007-) in the nation's upper legislative chamber in the coming weeks after Franken's resignation, Minnesota will become just the sixth state in history to have both of its U.S. Senate seats filled by women and the fourth state delegation to do so in the 115th Congress.
The previous five states are:
California (1993-present): Democrats Dianne Feinstein and Barbara Boxer (1993-2017) and Feinstein and Democrat Kamala Harris (2017-present)
Kansas (1996): Republicans Nancy Kassebaum and (appointed Senator) Sheila Frahm
Maine (1997-2013): Republicans Olympia Snowe and Susan Collins
Washington (2001-present): Patty Murray and Maria Cantwell
New Hampshire (2011-present): Democrat Jeanne Shaheen and Republican Kelly Ayotte (2011-2017) and Shaheen and Democrat Maggie Hassan (2017-present)
The chamber will have a record 22 women in its ranks once Smith is sworn into office.
Follow Smart Politics on Twitter.