Paul Ryan and the Longest-Serving US Representatives in Wisconsin History
Ryan is currently #20 in all-time service and will sit at #17 at the close of the 115th Congress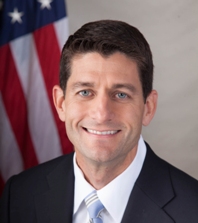 Reports surfaced last week that Paul Ryan is considering retirement at the end of this term. If true, that would mean the (usually) highly coveted position of U.S. House speaker as well as a fairly competitive congressional district in Wisconsin would be open in the coming year.
Although Wisconsin's 1st CD has not provided a close race during the entirety of Ryan's nearly two-decade long tenure, the district has the second lowest partisan tilt (+5-point Republican) in the state behind only Ron Kind's 3rd CD (no tilt).
Congressman Ryan has never won a U.S. House race by less than double-digits dating back to his open seat victory in 1998 against Kenosha City Councilwoman Lydia Spottswood. [His closest contest was an 11.5-point victory against Democrat Rob Zerban in 2012].
If Ryan did retire, he would exit with the 17th longest tenure in the U.S. House out of the 183 men and women elected as U.S. Representatives from Wisconsin since statehood.
Ryan is one of 20 Wisconsinites to serve at least 10 terms in the House and is slated to climb the tenure list and pass Republican Glenn Davis (1947-1957; 1965-1974) in September 2018, Progressive/Republican Gardner Withrow (1931-1939; 1949-1961) in November 2018, and Republican William Stafford (1903-1911; 1913-1919; 1921-1923; 1929-1933) in January 2019.
Of the 20 Wisconsin U.S. Representatives to serve at least 10 terms, Ryan is one of just four to win renomination each cycle as well as each general election by at least 10 points, along with Republican James Frear (1913-1935), Democrat Clement Zablocki (1949-1983), and Republican Jim Sensenbrenner (1979-present).
Three others who served at least 10 terms won every general election by double-digits, but lost one primary: Republican Henry Cooper (1893-1919; 1921-1931) in 1918, Republican John Esch (1899-1921) in 1920, and Republican/Progressive Merlin Hull (1929-1931; 1935-1953) in 1930.
Twenty-one term Democrat Dave Obey (1969-2011) owns the state record for the longest tenure in the chamber at 41 years, 9 months, 3 days.
GOPer Jim Sensenbrenner (1979-present) is slated to pass Obey late in 2020 during the 116th Congress. Congressman Sensenbrenner has 38 years, 11 months, and 15 days under his belt through December 17th.
A third sitting member of the Wisconsin U.S. House delegation is also in the Top 20 list for service in the U.S. House: Democrat Ron Kind ranks 14th at 20 years, 11 months, and 15 days through the weekend.
Obey exited the chamber on his own terms via retirement – a luxury not afforded many of the state's longest serving D.C. lawmakers:
Three died in office: Republican Henry Cooper in 1931 (#3 in service), Republican Merlin Hull in 1953 (#16), and Democrat Clement Zablocki in 1983 (#5)
Two lost the general election: Republican Alvin O'Konski in 1972 (#7) and Democrat Bob Kastenmeier in 1990 (#6).
Four lost their party's nomination: Republicans John Esch (#12, 1920), John Nelson (#10, 1932), William Stafford (#17, 1932), and Glenn Davis (#19, 1974).
Several other long-serving U.S. Representatives had their service interrupted by failing to win their party's nomination (Stafford in 1910, Cooper in 1918, Nelson in 1918, Hull in 1932) or by losing the general election (Stafford in 1918 and 1922, Withrow in 1938) – only to return to the chamber at some point down the road.
Republicans Tom Petri (#4, 2014), John Byrnes (tied #8, 1972), and James Frear (#13, 1934) and Democrats Henry Reuss (tied #8, 1982) and Jerry Kleczka (#15, 2004) also exited via retirement while Democrat Les Aspin (#11) resigned from his seat in 1993 to become Bill Clinton's Secretary of Defense (nearly a quarter-century after Melvin Laird (#25) did the very same under Richard Nixon).
To crack the Top 10 in U.S. House service from the Badger State, Representative Ryan would need to win election three more times and serve until July 2023.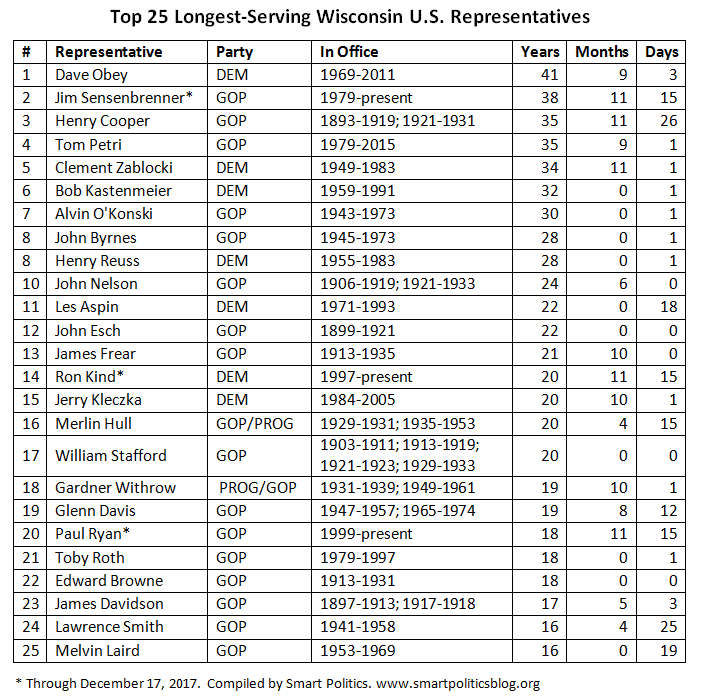 Follow Smart Politics on Twitter.