Minnesota On Eve of Rare Governor and Lieutenant Governor Partisan Split
The top two constitutional offices in the Gopher State have been occupied by members of different political parties for 3,759 days since statehood (10+ years)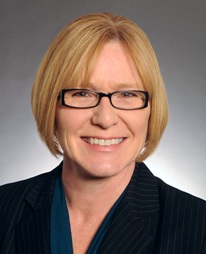 The announcement made last week by Minnesota Governor Mark Dayton that he would appoint his 2014 running mate and lieutenant governor Tina Smith to Al Franken's U.S. Senate seat after the DFLer's resignation in early January set in motion an unusual political scenario that has not been seen in the Gopher State in more than half a century.
As a result of Smith's upcoming exit, Minnesota Senate President Michelle Fischbach (pictured) – a Republican from Paynesville in the state's 13th SD – will become the state's lieutenant governor.
This will mark the eighth time in Minnesota history in which the state will be represented by a governor and lieutenant governor from different political parties – and the first time since March 1963.
Smart Politics reviewed the tenures of every Minnesota governor and lieutenant governor and found that the offices have simultaneously been held by members of different political parties for 10 years, 3 months, and 20 days collectively (3,759 days) out of the 159 years, 7 months, 9 days since statehood, or 6.4 percent of the time.
[The tallies conducted for this report are current through December 19, 2017].
It would take more than 40 years and 7 months since statehood in May 1858 before members of different parties would hold these two offices.
Each of the first four such instances involved Minnesotans electing a Democratic governor and a lieutenant governor from the GOP.
In 1898, former Republican U.S. Representative John Lind won the governorship on a fusion ticket as the Democratic-Populist nominee by 8.0 points over former Republican Minneapolis Mayor William Eustis.
Meanwhile, down the ballot in the race for lieutenant governor, Republican attorney Lyndon Smith defeated the Democratic-Populist nominee J.M. Bowler by 10.0 points.
Lind and Smith served alongside one another for 2 years, 3 days (January 3, 1899-January 5, 1901) with Smith winning reelection in 1900 and Lind narrowly denied a second term, losing by 0.7 points to former Republican State Representative Samuel Van Sant.
Four years later, former Democratic State Senator John Johnson won the state's open gubernatorial race with a 2.6-point victory against former Republican Minnesota Auditor Robert Dunn.
Republicans held the lieutenant governorship, however, with incumbent Ray Jones beating railroad contractor Fendall Winston by 14.9 points.
Johnson and Jones served together for 2 years, 3 days (January 4, 1905-January 7, 1907).
In 1906, Johnson won reelection to a second term in a landslide by 26.2 points over State Representative Albert Cole.
The GOP held the open lieutenant gubernatorial seat with State Senator A.O. Eberhart defeating Democratic Judge Lloyd Pendergast by 11.9 points.
Governor Johnson was reelected to a third term in 1908 and Eberhart to a second and the pair simultaneously served in their respective offices for 2 years, 8 months, 15 days until Johnson's death on September 21, 1909.
At that point, Eberhart ascended to the governorship and Republican State Senator 'Big Ed' Smith became lieutenant governor later in 1910.
The fourth and last time the Gopher State elected a Democratic governor and GOP lieutenant governor was in 1914.
Four-term U.S. Representative Winfield Hammond defeated Republican nominee William Lee by 3.7 points at the top of the ballot.
Meanwhile, Lieutenant Governor J.A.A. Burnquist won a second term with a 14.6-point win over Democrat Charles Andrist.
Hammond and Burnquist held their respective posts for just 11 months and 26 days in 1915, with Hammond passing away on December 30th of his first year in office.
Burnquist became governor and Republican State Senator George Sullivan became lieutenant governor in 1916.
In 1934, Farmer-Laborite Floyd Olson won his third term as governor and Hjalmar Petersen his first as lieutenant governor – a pairing that was cut short near the end of their two-year terms when Olson died in August 1936.
Petersen became governor and Republican State Senator William Richardson served as acting lieutenant governor for the remaining 4 months, 9 days of the term.
The Farmer-Labor Party had already nominated U.S. Senator Elmer Benson for governor in June and Governor Petersen ran and was elected to the state Railroad and Warehouse Commission that November instead.
Richardson, meanwhile, continued to serve the 4th Senate District from Olmsted as acting governor and was reelected to his legislative seat in November 1936.
It would be nearly a quarter century until the next time these two constitutional offices were held by members from opposing parties.
In 1960, former Republican State Senator Elmer Andersen defeated three-term DFL Governor Orville Freeman by 1.5 points while DFL Lieutenant Governor Karl Rolvaag won a fourth term with a 10.1-point victory against former State Representative Art Ogle.
Andersen and Rolvaag served alongside one another in those posts for 2 years, 6 days.
However, Rolvaag challenged Governor Andersen in the 1962 general election in what ended up as the closest gubernatorial race in Minnesota history.
A prolonged recount ensued, and, as a result, Andersen continued to serve as governor while the new lieutenant governor – DFL State Senator Sandy Keith – was sworn in on January 8, 1963.
[Keith narrowly defeated Republican C. Donald Peterson by just 0.4 points that cycle].
Rolvaag ultimately prevailed in the gubernatorial recount by 91 votes and became governor on March 25, 1963.
Andersen and Keith had served together for 2 months, 18 days.
Ever since 1974, governors and lieutenant governors have been elected on a single ticket as running mates.
As such, the forthcoming Dayton/Fischbach 'team' will be the first time the two offices have been held by different political parties since March 1963.
Follow Smart Politics on Twitter.