Number of Plurality-Winning US Senators Nears Century-Long High
Doug Jones' victory last month brings the total of senators elected to the chamber with a plurality of the vote to 14 – tied for the most in 95+ years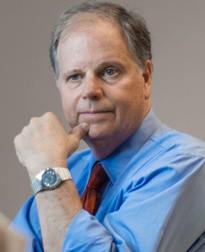 Democrat Doug Jones' victory over Roy Moore in deep red Alabama last month was credited in part to an unusually large write-in vote (1.69 percent) – presumed to have been cast by disgruntled Republicans as several prominent Alabama GOPers in the weeks leading up to Election Day vowed not to back their party's controversial nominee and cast a write-in vote instead.
Write-ins were also partly responsible for denying Jones a majority victory, with the former U.S. attorney ending up with 49.97 percent of the vote.
As a result, Jones became the 14th sitting member of the U.S. Senate to win their most recent election without majority support.
And that is an unusually high number.
Smart Politics reviewed the nearly 2,000 elections conducted in the direct election era and found that the 115th Congress – at 14 members – is tied with the 105th Congress for the most senators elected with a plurality of the vote since the early 1920s.
Jones adds his name to a list that already included Alaska Republicans Dan Sullivan (48.0 percent) and Lisa Murkowski (44.2 percent), Arizona Republican Jeff Flake (49.2 percent), Colorado Republican Cory Gardner (48.2 percent) and Democrat Michael Bennet (49.9 percent), Missouri Republican Roy Blunt (49.3 percent), Montana Democrat Jon Tester (48.6 percent), Nevada Democrat Catherine Cortez Masto (47.1 percent) and Republican Dean Heller (45.9 percent), New Hampshire Democrat Maggie Hassan (48.0 percent), North Carolina Republican Thom Tillis (48.8 percent), Pennsylvania Republican Pat Toomey (48.9 percent), and Virginia Democrat Mark Warner (49.2 percent).
Many of the senators listed above represent classic 'battleground states' (eight of the 14 are from Colorado, Nevada, New Hampshire, North Carolina, Pennsylvania, and Virginia).
However, the remaining six senators are from either deep red (Alabama) or red-leaning states (Alaska, Arizona, Missouri, Montana). [Note: Despite its reddish status, Alaska leads the nation with a remarkable five consecutive U.S. Senate elections conducted without a majority winner, with Murkowski owning a record three of these].
The last time this many lawmakers were elected without the support of a majority of their respective electorates was 20 years ago during the 105th Congress (1997-1998) when 14 plurality-winning senators were in office: California Democrats Barbara Boxer (47.9 percent) and Dianne Feinstein (46.7 percent), Georgia Democrat Max Cleland (48.9 percent), Maine Republican Susan Collins (49.2 percent), Minnesota Republican Rod Grams (49.1 percent), Montana Democrat Max Baucus (49.6 percent), New Hampshire Republicans Bob Smith (49.2 percent) and Judd Gregg (48.2 percent), New York Republican Alphonse D'Amato (46.0 percent), Oregon Republican Gordon Smith (49.8 percent) and Democrat Ron Wyden (47.8 percent), Pennsylvania Republicans Arlen Specter (48.9 percent) and Rick Santorum (49.4 percent), and Virginia Democrat Chuck Robb (45.6 percent).
Ever since – through the 114th Congress – the number of plurality winners in office has fluctuated between eight and 11 members in the chamber.
Overall, an average of 10.5 lawmakers from the 105th through the 115th Congresses were most recently elected without the support of a majority of voters, which is more than double the average of 5.0 over the previous half-century between the 79th and 104th Congresses (1945-1996).
In fact, during an eight-cycle stretch from 1952 through 1966, there were only four senators elected with a plurality: New Jersey Republican Clifford Case in 1954 (48.7 percent), Texas Democrat Ralph Yarborough in 1957 (38.1 percent), Utah Democrat Frank Moss in 1958 (38.7 percent), and North Dakota Democrat Quentin Burdick in 1960 (49.7 percent).
It has been more than 95 years since there were more than 14 plurality-winning senators in office.
During the 67th Congress (1921-1923) there were 15: Republicans Samuel Shortridge of California, Lawrence Phipps of Colorado, Harry New of Indiana, Joseph France and Ovington Weller of Maryland, Frank Kellogg of Minnesota, Tasker Oddie of Nevada, and Irvine Lenroot of Wisconsin and Democrats Josiah Wolcott and Thomas Bayard of Delaware, David Walsh of Massachusetts, Thomas Walsh of Montana, Gilbert Hitchcock of Nebraska, Key Pittman of Nevada, and Atlee Pomerene of Ohio. [Note: Bayard was a late addition – winning a special election in November 1922 – less than four months before the end of the 67th Congress].
A swell of plurality winners – 18 – were elected to the 64th Congress (1915-1917) after the ratification of the 17th Amendment, with 28 such U.S. Senators serving in the 65th Congress and 27 in the 66th.
[Note: The tallies for the 64th and 65th Congresses exclude the handful of senators who received pluralities in 'voter-preference' elections conducted prior to the official start of direct elections in 1913 – e.g. Republican George Nixon of Nevada (1910) and Democrats John Shafroth of Colorado (1912), William Thompson of Kansas (1912), Thomas Walsh of Montana (1912), Key Pittman of Nevada (1912, special), and Harry Lane of Oregon (1912)].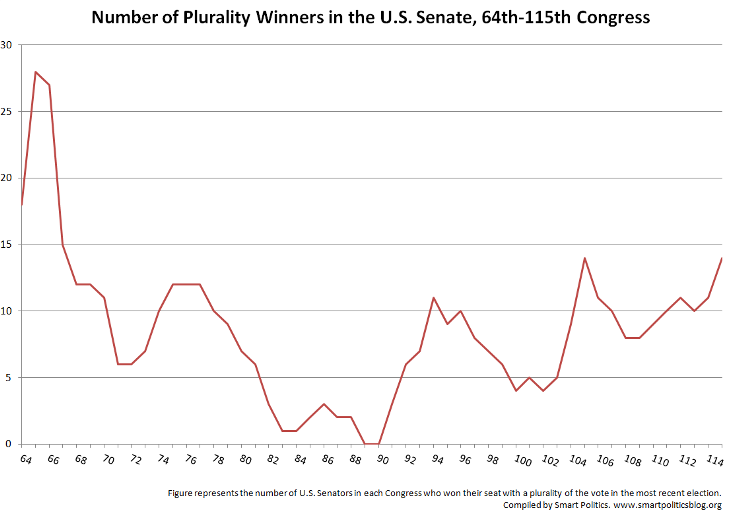 Of course, the two big determinants as to whether or not a candidate wins with a plurality are 1) the closeness of the race between the major party nominees and 2) the strength of support for third party candidates.
During the 1910s, large percentages of the vote were recorded by third parties like the Progressives and Socialists, helping to explain much of this spike in plurality winners at the onset of the direct election era.
In recent years, Libertarian nominees – along with some independents – have fared particularly well at the ballot box, setting party records in many states during the last few cycles.
While the U.S. Senate will lose at least one plurality winner in the 116th Congress (the retiring Jeff Flake), there will likely be new names added to the list.
Three Democratic incumbents up for reelection in 2018 won with just a shade over 50 percent of the vote in 2012: Joe Donnelly of Indiana (50.03 percent), Heidi Heitkamp of North Dakota (50.2 percent), and Sherrod Brown of Ohio (50.7 percent).
During each of the last six cycles since 2006, at least three candidates won their seats with pluralities – the longest stretch since the late 1910s and early 1920s.
Follow Smart Politics on Twitter.