A Brief History of Narrowly-Divided Partisan Control of the US Senate Since 1959
Since 2001, a caucus' control of the nation's upper legislative chamber has been as slim as two or fewer seats 35 percent of the time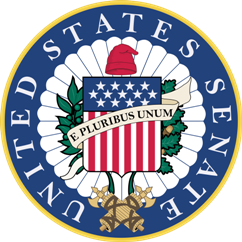 Donald Trump tweeted Sunday morning that in order to end the partial government shutdown, the U.S. Senate should "go to 51% (nuclear option)" instead of the normal 60-vote parliamentary procedure required to end debate.
Majority Leader Mitch McConnell is currently opposed to such an option to deal with the current budget negotiation impasse that faces Capitol Hill.
The seating of Alabama Democrat Doug Jones earlier this month closed the control of the chamber to just two seats – 51 to 49 – such that even if senate Republicans were able to uniformly support a proposed spending bill, they would still need the support of nine Democrats.
And just as the nation has become more and more ideologically divided since the turn of the 21st Century, control of the senate has become unusually narrow.
Since the chamber first seated 100 U.S. Senators during the 86th Congress in August 1959 after Hawaii achieved statehood, party control was never as slim as two seats all the way through the 106th Congress ending in 2000.
The narrowest advantage any caucus held during this period occurred at the close of the 99th Congress in November 1986 after North Carolina Democrat Terry Sanford defeated appointed Republican Senator Jim Broyhill in a special election.
That closed GOP control of the chamber to 52-48 for the remaining two months, after which the 100th Congress convened with a 10-seat Democratic advantage (55-45).
There were also slightly larger 53 to 47-seat advantages during portions of the 97th (1981-1982, GOP), 99th (1985-1986, GOP), 103rd (1993-1994, Democratic), and 104th (1995-1996, GOP) Congresses.
However, since the convening of the 107th Congress in 2001, partisan control of the U.S. Senate has been consistently much more precarious.
Of the 6,227 days from the 107th Congress through the 115th Congress on January 21, 2018, Democratic or Republican caucuses have held onto power of the chamber by two or fewer seats for 2,198 days, or 35.3 percent of the time.
The margin fluctuated slightly eight times during the 107th Congress, all at two seats or less:
January 3- 20, 2001 (17 days): 50-50 Democrats
January 20 – June 6, 2001 (137 days): 50-50 Republicans, after Dick Cheney became vice-president
June 6, 2001 – October 25, 2002 (506 days): 51-49 Democrats, after Vermont Republican Jim Jeffords became an independent to caucus with the Democrats
October 25 – November 4, 2002 (10 days): 50-49 Democrats, following the death of Minnesota DFLer Paul Wellstone
November 4-25, 2002 (21 days): 50-49-1 Democrats, with Minnesota Independence Party appointee Dean Barkley not caucusing with either party
November 25-30, 2002 (5 days): 50-49-1 Republicans, with Missouri Republican Jim Talent unseating Jean Carnahan
November 30 – December 1, 2002 (2 days): 49-49-1 Republicans, following the resignation of Texas Republican Phil Gramm
December 2, 2002 – January 3, 2003 (32 days): 50-49-1 Republicans, after Texas GOPer John Cornyn was seated
Republicans then held a 51 to 49-seat advantage during the entirety of the 108th Congress (2003-2004, 731 days) with Jeffords still caucusing with the Democrats.
Democrats also held a less than three-seat advantage for all but 13 days of the 110th Congress (2007-2008), with the exception being the short period following the resignation of Mississippi Republican Trent Lott and prior to the appointment of his successor Roger Wicker (December 18-30, 2007):
January 3 – December 30, 2007 (349 days): 51-49 Democrats (including Connecticut Independent Democrat Joe Lieberman and Vermont Independent Bernie Sanders)
December 31, 2007 – November 16, 2008 (321 days): 51-49 Democrats
November 16, 2008 – January 3, 2009 (48 days): 50-49 Democrats, following the resignation of Illinois Democrat Barack Obama
Overall, since the chamber expanded to 100 members in 1959, there have only been 272 days in which a caucus' advantage was slimmer than the two seats currently held by the GOP.
The 51-49 split in the 115th Congress has tallied 19 days through Sunday – a number that will continue to grow through next January 3rd barring a resignation or death in the chamber in 2018.
Follow Smart Politics on Twitter.