Swanson Seeks History-Tying Attorney General Bid Instead of Run for Governor
No sitting or ex-attorney general has ever subsequently won the governorship in Minnesota – despite numerous attempts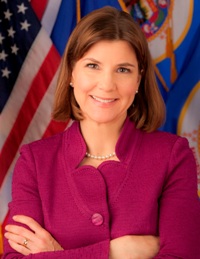 Lori Swanson's announcement that she would not join the crowded race for the DFL gubernatorial nomination in 2018 puts the three-term Minnesota attorney general on track to tie the state record for the longest service as the state's top law enforcement official.
Swanson began her 12th year on the job earlier this month and her decision leaves just one statewide official vying for governor – Auditor Rebecca Otto.
Swanson currently sits in fourth place on the all-time tenure list, serving as attorney general for 11 years and 29 days through Tuesday.
She will pass DFLer Warren Spannaus (1971-1983; 12 years) at the end of her term on January 7, 2019 by six days (12 years, 6 days).
If Swanson is reelected and serves the entirety of her fourth term, she will tie Republican J.A.A. Burnquist (1939-1955) and DFLer Skip Humphrey (1983-1999) for the longest service at 16 years and 2 days.
None of the other 25 attorneys general in state history served 10 years, with Republican Clifford Hilton (1918-1927) ranking fifth at 9 years, 9 months, 13 days before resigning to accept an appointment to the Minnesota Supreme Court.
The allure of a gubernatorial run for Swanson was understandable – despite a poor track record of sitting or former attorneys general running for the state's top office.
For example, each of Swanson's three DFL predecessors made failed gubernatorial bids.
Spannaus – a former deputy attorney general and state party chair – dropped out of the DFL race for governor after the party convention in 1970 before his tenure as attorney general, and then lost the 1982 gubernatorial primary by 5.1 points to Rudy Perpich instead of seeking a fourth term.
Humphrey opted not to run for a fifth term and was upended instead in the 1998 gubernatorial general election – placing third behind the Reform Party's Jesse Ventura and Republican Norm Coleman.
Most recently, Mike Hatch (1999-2007) was at the end of his second term as attorney general when he narrowly lost the 2006 gubernatorial election, falling short by one point to Tim Pawlenty.
[Hatch had also lost DFL gubernatorial primaries in 1990 and 1994 prior to serving as attorney general].
Other ex- or sitting attorneys general to run for governor include Republicans Edward Young (lost 1912 primary), George Simpson (lost 1928 primary), and Douglas Head (lost 1970 general).
The only Minnesotan to serve both offices is the aforementioned Burnquist, although he did so in reverse order.
Burnquist governed the Gopher State from 1915-1921 – eighteen years before he became attorney general (and losing the GOP primary for governor in 1930 to Ray Chase in between).
Although they may tie in all-time service in four years, Swanson is far from dethroning Burnquist for the state record for the most attorney general electoral victories.
Burnquist served during an era when state constitutional offices were on the ballot every two years, and as such won eight consecutive races from 1938 to 1952. [None of the races were close, with Burnquist winning by double-digits in every race except for 1948 – an 8.8-point win over Francis Smith].
GOPer Clifford Hilton won five elections for attorney general (1918, 1920, 1922, 1924, 1926) and Humphrey was victorious in four (1982, 1986, 1990, 1994).
Ten other Minnesotans won three straight elections to the office: Republicans Gordon Cole (1859, 1861, 1863), Francis Cornell (1867, 1869, 1871), George Wilson (1873, 1875, 1877), Moses Clapp (1886, 1888, 1890), Henry Childs (1892, 1894, 1896), Wallace Douglas (1898, 1900, 1902), and Lyndon Smith (1912, 1914, 1916), Farmer-Laborite Harry Peterson (1932, 1934, 1936), and DFLers Miles Lord (1954, 1956, 1958) and Spannaus (1970, 1974, 1978).
Swanson and Otto – who is also in her third term as state auditor – each have a long way to go to set the Minnesota record for the longest service by a woman in a partisan constitutional statewide office.
That mark is held by former DFL Secretary of State Joan Growe, who served for 23 years, 11 months, 30 days.
Republicans have lost 17 of the last 18 elections for attorney general in Minnesota with the last victory tallied by Douglas Head in 1966's open seat race.
If reelected, and a DFLer wins the governorship in 2018, Swanson could seek a fifth term in 2022 and eventually own the tenure record all to herself. Swanson would end her 16th year in office in January 2023 at just 56 years, 19 days old – much younger than Burnquist (75 years, 5 months, 14 days) when he exited the office and a bit younger than Humphrey (56 years, 6 months, 10 days).
Follow Smart Politics on Twitter.