Will Alaska Elect Its 6th Consecutive Different Governor in 2018?
By contrast, one state's voters have given each of its last 11 elected governors at least two terms in office dating back to the mid-1920s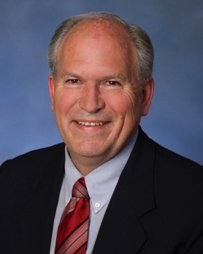 Of the 23 governors eligible to seek another term in 2018, only three opted to retire with Democrat Dan Malloy of Connecticut, Republican Butch Otter of Idaho, and DFLer Mark Dayton of Minnesota calling it quits at the end of the year.
Among those governors seeking reelection are six in states that have elected different governors in at least three consecutive cycles: Alaska (independent Bill Walker, pictured), Arizona (Republican Doug Ducey), Hawaii (Democrat David Ige), Illinois (Republican Bruce Rauner), Pennsylvania (Democrat Tom Wolfe), and Rhode Island (Democrat Gina Raimondo).
Some of these states have experienced turnover due to governors resigning mid-cycle (Sarah Palin of Alaska in 2009), getting thrown out of office (Rod Blagojevich of Illinois in 2009), losing at the ballot box (Sean Parnell of Alaska in 2014, Neil Abercrombie of Hawaii in 2014, Pat Quinn of Illinois in 2014, Tom Corbett of Pennsylvania in 2014), or simply not seeking another term (Lincoln Chafee of Rhode Island in 2014).
The last governors to win back-to-back elections in these six states are:
Alaska: Democrat Tony Knowles (1994, 1998)
Arizona: Democrat Janet Napolitano (2002, 2006)
Hawaii: Republican Linda Lingle (2002, 2006)
Illinois: Democrat Rod Blagojevich (2002, 2006)
Pennsylvania: Democrat Ed Rendell (2002, 2006)
Rhode Island: Republican Don Carcieri (2002, 2006)
A few of these states may see those streaks extended this November, with Ige facing a strong primary challenger in Congresswoman Colleen Hanabusa, Walker enduring mediocre approval ratings, and Rauner and even Ducey vulnerable to a potential Democratic wave.
Some states, however, have enjoyed remarkable stability in their governorships, electing the same governor in back-to-back cycles at least once for a generation or more. [With the exception of Virginia, each state currently permits governors to serve at least two consecutive terms].
Utah holds the current record – doing so with each of the last 11 elected governors dating back to Democrat George Dern to the 1920s.
Dern, a state senator, unseated Charles Mabey in 1924 to deny the GOP governor a second straight win and went on to claim a second term in 1928.
So did the next 10 elected governors of Utah: Democrat Henry Blood (1932, 1936), Democrat Herbert Maw (1940, 1944), Republican Brack Lee (1948, 1952), Republican George Clyde (1956, 1960), Democrat Cal Rampton (1964, 1968, 1972), Democrat Scott Matheson (1976, 1980), Republican Norm Bangerter (1984, 1988), Republican Michael Leavitt (1992, 1996, 2000), Republican Jon Huntsman (2004, 2008), and Republican Gary Herbert (2010, 2012, 2016).
[Note: Maw lost his bid for a third term in the 1948 general election to Lee and Lee was denied a third term losing to Clyde in the 1956 GOP primary].
California is next, voting their last eight elected governors into office twice: Democrat Pat Brown (1958, 1962), Republican Ronald Reagan (1966, 1970), Democrat Jerry Brown (1974, 1978), Republican George Deukmejian (1982, 1986), Republican Pete Wilson (1990, 1994), Democrat Gray Davis (1998, 2002), Republican Arnold Schwarzenegger (2003, 2006), and Jerry Brown again for a second stint (2010, 2014).
Three other states have reelected each of the last six governors at least one time:
Michigan: Republican George Romney (1962, 1964, 1966), Republican William Milliken (1970, 1974, 1978), Democrat Jim Blanchard (1982, 1986), Republican John Engler (1990, 1994, 1998), Democrat Jennifer Granholm (2002, 2006), and Republican Rick Snyder (2010, 2014)
South Dakota: Democrat Richard Kneip (1970, 1972, 1974) and Republicans Bill Janklow (1978, 1982), George S. Mickelson (1986, 1990), Janklow in a second stint (1994, 1998), Mike Rounds (2002, 2006), and Dennis Daugaard (2010, 2014)
Wyoming: Republican Stanley Hathaway (1966, 1970), Democrat Ed Herschler (1974, 1978, 1982), Democrat Michael Sullivan (1986, 1990), Republican Jim Geringer (1994, 1998), Democrat Dave Freudenthal (2002, 2006), and Republican Matt Mead (2010, 2014)
With two states doing so for the last five:
Maine: Democrat Joseph Brennan (1978, 1982), Republican John McKernan (1986, 1990), independent Angus King (1994, 1998), Democrat John Baldacci (2002, 2006), and Republican Paul LePage (2010, 2014)
Tennessee: Republican Lamar Alexander (1978, 1982), Democrat Ned McWherter (1986, 1990), Republican Don Sundquist (1994, 1998), Democrat Phil Bredesen (2002, 2006), and Republican Bill Haslam (2010, 2014)
If Bill Walker is defeated in November, Alaska would break its state record by electing its sixth different governor in six straight cycles following Knowles (1998), Republican Frank Murkowski (2002), Palin (2006), Parnell (2010), and Walker (2014).
Alaskans previously elected five different governors in a row with Republican Jay Hammond (1978), Democrat Bill Sheffield (1982), Democrat Steve Cowper (1986), Alaskan Independence-turned-Republican Wally Hickel (1990), and Knowles (1994).
Walker ran on a unity ticket in 2014 with former Democratic nominee Byron Mallott and it is unlikely that a prominent Democrat will jump into the race this cycle and oppose their ticket. Several Republicans are vying for the seat, however, including State Senator Mike Dunleavy, State Representative Mike Chenault, and businessman Scott Hawkins.
Follow Smart Politics on Twitter.