Minnesota Media Coverage of Latest Keith Ellison/Louis Farrakhan News Lags
A Wall Street Journal column about Ellison's attendance with the Nation of Islam leader at a 2013 dinner hosted by the President of Iran is not exactly making the rounds in the Gopher State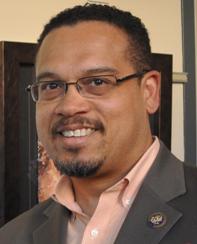 The extent of Minnesota U.S. Representative Keith Ellison's history with the Nation of Islam and relationship with Louis Farrakhan has percolated ever since the six-term congressman first ran for the state's 5th Congressional District seat in 2006.
Ellison continues to state that his ties to the controversial leader – whose organization the Southern Poverty Law Center classifies as a hate group – were in the distant past and limited to the early and mid-1990s in advance of Farrakhan's Million Man March.
The first Muslim member of Congress has publicly denounced Farrakhan multiple times during his decade-plus tenure on the Hill, but critics of the DFLer have continued to attempt to link the two leaders.
Ellison's alleged ties to Farrakhan most recently became a high profile issue during the congressman's run for chair of the Democratic National Committee a year ago. [Ellison lost to former U.S. Secretary of Labor Tom Perez and is currently Deputy Chair of the organization].
But on Friday, just a few weeks after reports suggested Ellison was considering a run for statewide office, the Wall Street Journal raised these issues once again when a column noted the Minnesotan's presence with Farrakhan (and Congressmen Gregory Meeks of New York and Andre Carson of Indiana) at a dinner hosted by Iranian President Hassan Rouhani in September 2013.
That event was originally documented in October 2013 at Final Call, a publication of the Nation of Islam, without notice by any mainstream national or Minnesota news outlets.
Meanwhile, Ellison continued to reject and distance himself from Farrakhan during his DNC chairmanship bid, calling out the Nation of Islam leader's "hatred and division, including, anti-Semitism, homophobia and a chauvinistic model of manhood. I disavowed them long ago, condemned their views, and apologized."
Farrakhan responded to those remarks in an interview (Muhammad & Friends With Munir Muhammad, December 11, 2016) that Ellison must have felt compelled to say those words due to "white control and specifically Jewish control of politics, economics, Hollywood, music, (and) media…In order to get something that you want, you trash someone that they don't like…if he has to bash me in order to get a job, help yourself brother."
Farrakhan went on to say that Representatives Ellison and Carson had recently come to visit him in his suite in Washington, D.C.
Ellison drew further fire from Final Call, where an editorial stated he "must be condemned and lambasted for trying to make his political bones by smearing the Honorable Minister Louis Farrakhan" and that "Mr. Ellison and those who would misuse the Minister's name for their personal advancement must be confronted and their hypocrisy and cowardice must be condemned."
Just as no notice was given to Ellison's attendance at the Rouhani dinner with Farrakhan 4.5 years ago, so too has the Minnesota media been slow to cover the 2013 gathering which the Wall Street Journal has now thrust into the national spotlight.
As of early Sunday evening, 48 hours after the column was published, none of the leading state media outlets had done so (e.g. Star Tribune, Pioneer Press, Minnesota Public Radio, WCCO, MinnPost).
However, the column was immediately picked up by Powerline, a popular conservative blog in the Gopher State, and the Center of the American Experiment – a well-known conservative Minnesota public policy organization and think tank.
Despite being repeatedly questioned about his associations with Farrakhan throughout his congressional career, it has never reached a tipping point in the state's most liberal congressional district where Ellison has had no trouble getting reelected by overwhelming majorities.
In fact, Representative Ellison has won at least two-thirds of the vote in each of his first five reelection bids from 2008 through 2016 – only the third congressman to accomplish that feat in Minnesota history along with Republican Andrew Volstead in the 7th CD (six times; 1904-1914) and DFLer Jim Oberstar in the 8th (eight times; 1976-1990).
But while bona fide primary challengers have not yet emerged to take on the congressman for the DFL nomination, Ellison has drawn more than three times the rate of primary challengers (1.42 per cycle) than the average DFL U.S. Representative since the 1944 merger (0.42).
Ellison was reportedly considering a bid for Minnesota attorney general in 2018, although incumbent Lori Swanson's subsequent decision not to run for governor may deter the congressman from seeking statewide office this cycle.
Follow Smart Politics on Twitter.