Could Minnesota Democrats Notch Their Best Ever Election Cycle in 2018?
They will…if they hold all statewide offices, pick up the state house, and win a sixth congressional seat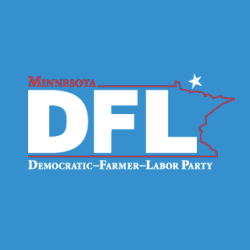 Despite pick-up opportunities across the state and national partisan winds forecast to be at their back this November, Minnesota Democrats will largely be playing defense in high profile 2018 races.
The DFL needs to defend all statewide constitutional offices (including open seats for governor/lieutenant governor and auditor), both U.S. Senate seats, and two open U.S. House seats held by gubernatorial hopeful Tim Walz in the 1st CD and retiring Rick Nolan in the 8th.
Even still, it is not out of the realm of possibilities that Gopher State Democrats could emerge from November 6th with their best performance at the ballot box in their party's history.
And what will it take?
Step 1. Sweep all constitutional state offices.
If they do, it will be a remarkable accomplishment for the party, having done so only three times since statehood, and two of those taking place this decade: 1974, 2010, and 2014.
In 1974, Wendell Anderson was reelected as governor along with Lieutenant Governor Rudy Perpich (with both offices on the same ticket for the first time). Also victorious were incumbent Warren Spannaus for Attorney General, Jim Lord in the open seat contest for Treasurer, and Joan Growe and Bob Mattson who picked up seats for the party in races for secretary of state and auditor respectively. [The DFL also controlled both U.S. Senate seats (Hubert Humphrey and Walter Mondale), which were not on the ballot at that time, to lay claim to all statewide partisan offices].
In 2010, Democrats picked up the open seat for governor/lieutenant governor (Mark Dayton/Yvonne Prettner Solon) with incumbents also winning races for secretary of state (Mark Ritchie), auditor (Rebecca Otto), and attorney general (Lori Swanson). The party also controlled both U.S. Senate seats (Amy Klobuchar and Al Franken), though neither incumbent was up for election that cycle.
In 2014, Governor Dayton (along with new running mate Tina Smith for lieutenant governor), Auditor Rebecca Otto, and Attorney General Lori Swanson all won reelection with DFLer Steve Simon winning the open seat for secretary of state (and Franken winning reelection to remain in office with Klobuchar).
Step 2. Win back control of the Minnesota House of Representatives.
Republicans currently hold a razor-thin 34-33 margin in the senate and 77-57 advantage in the house. The DFL can distinguish itself from the 2010 and 2014 cycles, when it lost control of at least one of these chambers.
In 2010, despite sweeping the constitutional offices, the DFL saw their 46-21 advantage in the senate evaporate with the GOP netting 16 seats to take control by a 37-30 margin. In the House, Republicans erased a 40-seat deficit (87-47) with a 10-seat majority (72-62).
In 2014, the DFL saw their 73-61 margin in the house turn into a 72-62 GOP majority. [State senate seats were not on the ballot that cycle].
Note: Heading into the 1974 cycle, the DFL already controlled both legislative chambers, although the party did distinguish itself by picking up 26 house seats to record a party-best 104-30 advantage.
Step 3. Win a sixth congressional seat.
While the DFL won't be able to match the partisan advantage it enjoyed in the state house after the 1974 election, it can do one better by winning six of the state's eight congressional districts.
During the 1974 post-Watergate Democratic tsunami, the party won five of eight U.S. House seats in the state – holding four and picking up John Zwach's open 6th CD seat with nominee Rick Nolan.
Just like in 2016, Minnesota is expected to host some of the most competitive U.S. House races in the country this November, with Democrats eyeing pick-ups in freshman Jason Lewis' 2nd CD (with 2016 nominee Angie Craig expected to emerge as the nominee in a rematch) and five-term incumbent Erik Paulsen's 3rd CD (with wealthy businessman Dean Phillips the likely nominee).
Winning six seats would likely spell good news for the party up and down the ballot; to pick up both of these seats and win seven would be historic. The Democratic high water mark of carrying six U.S. House seats in a cycle has been reached five times – from 1990 through 1998.
Of course, the picture painted above is a best-case scenario for the DFL – many of these races are far from guaranteed to be counted in the party's column.
Democrats have never won back-to-back gubernatorial elections with different nominees and a Tim Pawlenty candidacy would put their modest two-cycle winning streak for the office in jeopardy.
That said, Democrats have rattled off a party record 14 consecutive statewide victories over the last five presidential and midterm election cycles (beginning with Al Franken and Barack Obama in 2008).
But unless and until the party runs the table as outlined above this November, the 1974 cycle will remain the placeholder for the most impressive election day in Minnesota DFL history.
Follow Smart Politics on Twitter.