John Kasich 2020: Third Time's a Charm?
Only three presidential candidates have attempted a third major party bid after two failed attempts in the modern primary era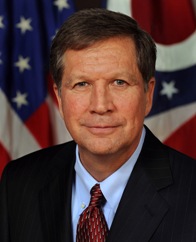 Reports continue to circulate that term-limited Ohio Governor John Kasich is taking a serious look at running for president again in 2020.
Kasich, a frequent critic of Donald Trump dating back to the 2016 campaign, is said to be considering both an independent bid and a direct GOP primary challenge to the president.
In the modern primary era (1972-) there have been only seven bona fide intra-party challengers to the eight U.S. presidents who have run for reelection during this period – with none during the last quarter-century.
Only two of these candidates gained any traction with their campaigns – Ronald Reagan (vs. Gerald Ford) in 1976 and Ted Kennedy (vs. Jimmy Carter) in 1980.
Kasich, of course, already has two White House campaigns under his belt.
His first was a short 150-day affair from February 15-July 14, 1999, exiting about a half-year before the 2000 Iowa caucuses.
Kasich's 2016 bid was considerably more successful, receiving over 4.1 million primary votes, winning his home state of Ohio, and receiving 125 votes for the Republican presidential nomination.
But will Governor Kasich make a third run for the GOP nomination?
Since 1972, there have been more than 170 major party presidential candidacies, with several of these candidates pursuing a second White House bid after a failed first attempt.
However, only three major party presidential candidates with two failed attempts during the modern primary era have subsequently attempted a third run at their party's nomination – Jerry Brown, Bob Dole, and, technically, Alan Keyes.
[Note: This does not include fringe candidates or candidates whose failed campaigns bridged the pre-primary and modern eras, such as Alabama Democrat George Wallace whose first run was in 1964 and California Republican Ronald Reagan in 1968].
Brown was one of more than a dozen Democratic candidates who sought their party's nod in 1976, although he did not enter the race until March 12th of that year.
The California governor subsequently won the Maryland, Nevada, and California primaries and stayed in the race until the convention, where he won 300.5 votes on the first ballot – good for third place.
Brown's 1980 campaign against President Jimmy Carter was less noteworthy, launching on November 8, 1979 and ending 146 days later on April 1st – failing to win a single state during the primaries.
After completing his second term as governor and a failed run for the U.S. Senate in 1982, Brown came back a decade later to vie for his party's presidential nomination for a third time.
Brown entered the packed Democratic field on October 21, 1991 and over the next 270 days until the Democratic National Convention recorded the strongest of his three campaigns for the office.
Brown won five caucuses and primaries but failed to win his home state and came in a distant second at the DNC on the first round of balloting with 596 votes.
[Brown's second stint as governor ends in January 2019 but, at nearly 80 years old, he is not expected to make a fourth run at the office].
Meanwhile, Bob Dole first ran for the presidency in 1980 but his campaign never got on track. The Kansas Republican launched his White House bid on May 14, 1979 but was unable to garner more than one percent of the vote in a primary and ended his campaign after 307 days on March 15, 1980.
Dole did not officially announce his 1988 campaign until November 9, 1987 – four weeks after frontrunner George H.W. Bush – and had a greater measure of success compared to his first time around.
Dole won the Iowa, Kansas, Minnesota, and Wyoming caucuses as well as the South Dakota primary, but exited the race after 142 days on March 29, 1988 – three weeks after getting shut out on Super Tuesday.
Undeterred, Dole ran again in 1996 and after a few early primary losses easily dispatched his GOP rivals en route to claiming his party's nomination.
Alan Keyes, meanwhile, also had three major party presidential bids, although he abandoned his third one for a third-party nomination.
Keyes' first run began in March 1995 and lasted 347 days until his withdrawal just six days before Super Tuesday. Keyes placed fifth in the Iowa Straw Poll but never better than third in any primary or caucus.
Keyes did not announce his 2000 campaign until September 20, 1999 but had somewhat more success in his second bid, coming in third in the Iowa Caucuses and a distant second in a few other states when all of George W. Bush's challengers exited the race. Keyes did not withdraw until the July convention.
In his third attempt at the GOP nomination (coming four years after his disastrous run for the Illinois U.S. Senate against Barack Obama), Keyes failed to gain any traction in 2008 and only made it onto the stage in one primary debate. As a result, Keyes received scant media coverage, but did get his name on several state ballots, winning more than one percent of the vote in Kansas, Maryland, North Carolina, and Kentucky. Keyes officially ended his quest for the GOP nomination in mid-April 2008 and instead vied to become the Constitutional Party nominee, losing to Chuck Baldwin at the convention.
In addition to these Brown, Dole, and Keyes, there have been two-dozen other major party hopefuls since 1972 who launched a second run for the presidency after an initial failed attempt:
Democrats Fred Harris (1972, 1976), Scoop Jackson (1972, 1976), Terry Sanford (1972, 1976), George McGovern (1972, 1984), Gary Hart (1984, 1988), Jesse Jackson (1984, 1988), Al Gore (1988, 2000), Dick Gephardt (1988, 2004), Joe Biden (1988, 2008), John Edwards (2004, 2008), Dennis Kucinich (2004, 2008), and Hillary Clinton (2008, 2016)
Republicans Ronald Reagan (1976, 1980), George H.W. Bush (1980, 1988), Pat Buchanan (1992, 1996), Lamar Alexander (1996, 2000), Steve Forbes (1996, 2000), John McCain (2000, 2008), Herman Cain (2000, 2012), John Kasich (2000, 2016), Jim Gilmore (2008, 2016), Mike Huckabee (2008, 2016), Mitt Romney (2008, 2012), Ron Paul (2008, 2012), Rick Perry (2012, 2016), and Rick Santorum (2012, 2016).
[Note: Buchanan launched a subsequent third failed run for the White House as the Reform Party nominee in 2000. Paul recorded a third party run before his two failed major party campaigns as the 1988 Libertarian nominee.].
Of these many retread candidates listed above, only two were elected president: Reagan in 1980 and George H.W. Bush in 1988.
In addition to Kasich, there are several former Democratic presidential candidates who have expressed interest in a 2020 run including Vermont Independent U.S. Senator Bernie Sanders (2016), former Secretary of State John Kerry (2004), former Maryland Governor Martin O'Malley (2016), and Biden, who would join Kasich in making a third such bid.
Follow Smart Politics on Twitter.