Minnesota Congressional Retirements: When It Rains, It Pours
Minnesota Democrats will have two open U.S. House seats for the first time in party history this cycle, but the state is no stranger to multiple retirements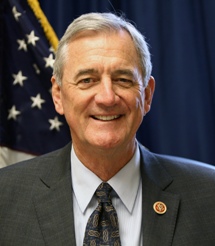 Rick Nolan's decision not to seek reelection to his 8th Congressional District seat in 2018 means the DFL now has to defend two competitive seats due to retirements from the chamber (along with gubernatorial candidate and party frontrunner Tim Walz of the 1st CD).
The dual retirements for the party is historic, marking the first time in history that two DFLers (or Democrats or Farmer-Laborites) have retired from the chamber in the same cycle.
It has been more uncommon than not for Minnesotans to see a single retirement in a given election cycle.
Across the 60 cycles since 1900, there have been 26 in which at least one Gopher State U.S. Representative exited via retiring from their seat compared to 34 in which none retired: 1900, 1906-1910, 1918, 1922, 1926-1930, 1938-1940, 1944-1956, 1960, 1964-1968, 1972, 1982-1988, 1996-2004, 2010, and 2012.
However, when a cycle has produced a retirement, it has often come in pairs (or more).
A total of 39 Minnesota U.S. House members have retired across these 26 cycles – 16 were the lone members to do so with 23 not seeking another term alongside another member.
Three cycles saw three U.S. Representatives retire:
1902: Republicans Frank Eddy, Joel Heatwole, and R. Page Morris
1924: Republicans Sydney Anderson, Oscar Larson, and Thomas Schall
1974: DFLer John Blatnik and Republicans Ancher Nelsen, and John Zwach
While seven cycles found two members of the chamber exit via retirement:
1914: Democrat Winfield Hammond and Republican James Manahan
1936: Republican Theodore Christianson and Farmer-Laborite Ernest Lundeen
1958: DFLer Eugene McCarthy and Republican Joseph O'Hara
1978: DFLer Don Fraser and Republican Al Quie
1994: DFLer Tim Penny and Republican Rod Grams
2006: Republican Mark Kennedy and DFLer Martin Sabo
2018: DFLers Rick Nolan and Tim Walz
Retirement speculation abounds each cycle for Collin Peterson of the 7th CD, but the Blue Dog Democrat will vie for his 15th term in the chamber in 2018 – postponing what Republicans hope is an inevitable takeover of his conservative-leaning congressional district.
The exits by Walz and Nolan (counted twice for his 1980 and 2018 exits) mark the 14th and 15th times Democrats/DFLers have not sought reelection to the U.S. House from Minnesota since statehood.
Eighteen left the chamber by losing reelection, three died in office, and one resigned mid-term.
Follow Smart Politics on Twitter.