Chris McDaniel Hopes to Make History in Mississippi
Eight previous losing Mississippi U.S. Senate candidates, including two U.S. Representatives and two state legislators, have attempted a cumulative 18 comeback bids for the office – losing all 18 times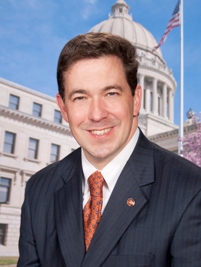 Mississippi State Senator Chris McDaniel waited until the 11th hour to announce his 2018 U.S. Senate bid – doing so Wednesday afternoon, just one day before the primary deadline.
McDaniel will seek to pry the GOP nomination from the hands of two-term Senator Roger Wicker – four years after losing a runoff by two points to then six-term incumbent Thad Cochran.
The state legislator will run an insurgent, anti-establishment campaign to the right of Wicker, who, unlike Cochran in 2014, has been taking a potential primary challenge seriously this cycle and had $4 million cash on hand through the end of 2017.
However, Wicker is not exceedingly popular in the state – registering only a 44 percent approval rating (+15 net approval) in the latest Morning Consult poll measuring constituent support for all U.S. Senators. That was only good for a tie for 71st among members of the chamber.
McDaniel will also likely benefit in the primary by his appealing to the more passionate wing of the GOP, but can he achieve a feat never before accomplished in the annals of Mississippi electoral history?
To date, no failed U.S. Senate candidate from Mississippi has ever succeeded in subsequent attempts to win a seat in the chamber.
And several have tried.
Since the first direct election in the Magnolia State in 1916, there have been eight losing candidates for the office who have appeared a collective 18 additional times on the primary or general election ballot – losing in all 18 instances.
While a few of these candidates were on the fringe or third party nominees, two were U.S. Representatives, one a state senator, and one a state representative.
The first of these retread U.S. Senate candidates was Summer Rose, who had previously appeared on the ballot as the Socialist nominee for governor in 1911 against Democrat Earl Brewer.
Seven years later, Rose was the lone opponent of Democratic U.S. Representative Pat Harrison, winning just 5.0 percent in the general election.
Rose also sought election to the U.S. Senate as a Socialist in 1922, winning 1.9 percent and placing third in a three-candidate race won by former Congressman Hubert Stephens.
In 1934, seven-term Democratic U.S. House member Ross Collins challenged Senator Stephens in a four-way primary election, placing third with 24.6 percent.
Collins was elected back to the U.S. House for three more terms and then ran in a special U.S. Senate election in 1941 after the death of Senator Harrison, losing by 0.7 points to fellow delegation member Wall Doxey.
Collins would vie for a U.S. Senate seat two more times in his political career: placing third in the 1942 Democratic primary with 27.4 percent (won by James Eastland in a runoff) and third in the 1946 primary with 9.8 percent (won by Senator Theodore Bilbo).
One of Collins' opponents in two of his four U.S. Senate bids was Democratic State Senator Frank Harper.
Harper was given little chance in his inaugural senate campaign of 1934 – going up against a sitting U.S. Senator (Stephens), a former governor (Bilbo), and a sitting U.S. Representative (Collins). Unsurprisingly, he won only 0.9 percent of the primary vote.
Two years later, the state legislator challenged Senator Pat Harrison and former Governor Martin Conner and won just 1.3 percent in the primary.
In 1946, the former state senator made a third attempt, winning 0.7 percent in a five-way primary won by Senator Bilbo, trailing State Supreme Court Clerk Tom Ellis, former Congressman Collins, and ex-Navy Commander Nelson Levings.
The Republican Party put forth their first bonafide nominee in the direct election era in 1966. Congressman Prentiss Walker – the only GOPer to win a U.S. House seat in the state from 1884 through 1970 – won his party's nomination unopposed.
Walker lost the general election to four-term Senator James Eastland by 38.9 points with 26.7 percent of the vote.
Walker failed to win back his 4th CD seat in 1968 but launched an independent bid against Eastland in 1972, winning just 2.3 percent.
In 1994, a 77 year-old retired auto worker from Hattiesburg named Richard O'Hara was one of two GOP challengers to Senator Trent Lott but managed only 1.9 percent of the vote.
Two years later O'Hara ran against and became the first primary opponent Thad Cochran faced while in the senate, winning 4.7 percent.
The 1994 cycle saw two additional little-known Mississippians make their first of many U.S. Senate bids – Democrat Bootie Hunt and soon to be perennial Democratic and Reform Party candidate Shawn O'Hara.
Hunt was a 68 year-old retired farmer when he first ran for the senate, placing fourth out of five candidates in the 1994 primary with 5.8 percent. O'Hara was fifth with 5.3 percent.
In 1996, however, Hunt and O'Hara were the only two candidates on the Democratic primary ballot, with Hunt coming out on top by 17.5 points. Cochran defeated Hunt in the general election by 43.7 points.
Hunt ran for the senate again in 2000, finishing last in the Democratic primary with 11.5 percent and then narrowly lost the 2002 primary by 4.4 points to retired private investigator Steven Turney. [Turney later withdrew from the race due to ill health and Democrats did not replace him on the general election ballot].
Shawn O'Hara, meanwhile, followed up his 1994 and 1996 U.S. Senate Democratic primary defeats with five more failed bids for the office:
2000: lost general election to Senator Lott as Reform Party nominee (0.7 percent)
2002: lost general election to Senator Cochran as Reform Party nominee (15.4 percent)
2008: lost Democratic primary to Erik Fleming by 31.2 points (34.4 percent)
2012: lost general election to Senator Wicker as Reform Party nominee (1.1 percent)
2014: lost general election to Senator Cochran as Reform Party nominee (2.2 percent)
The aforementioned Erik Fleming was in his second term of the Mississippi House when he successfully won the Democratic U.S. Senate primary runoff against Bill Bowlin in 2006.
Fleming lost the general election to Senator Lott by 28.7 points with 34.9 percent, but that did not deter him from seeking his party's nomination two years later in 2008.
After dispatching with O'Hara in the primary, Fleming fared a bit better with Barack Obama at the top of the ticket and lost to Cochran by 22.9 points with 38.6 percent of the vote.
Although retread U.S. Senate candidates in Mississippi have failed in each of their previous 18 attempts, in today's political climate McDaniel is perhaps even better-situated to be a fierce primary opponent – particularly if GOP voters do not think a competitive (Doug Jones-esque) Democratic candidate awaits their party's winner of the June 5th primary.
Follow Smart Politics on Twitter.