Beto O'Rourke Scores Biggest Texas Democratic US Senate Primary Win in 28 Years
Only one other Democratic nominee has avoided a primary runoff since 1994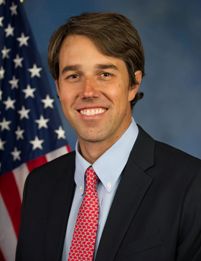 There was little doubt heading into Tuesday night as to which candidates would emerge from Texas' Republican and Democratic U.S. Senate primaries.
First term GOP Senator Ted Cruz easily won his party's nomination with north of 85 percent of the vote in a five-candidate field. No incumbent senator from Texas has ever lost their party's primary, notching an 11-0 mark since John Tower's first renomination victory in 1966. [Note: John Cornyn turned in the weakest performance in the party's last primary for the office in 2014 with just 59.4 percent].
On the Democratic side, three-term U.S. Representative Beto O'Rourke was victorious with 61.8 percent in a three-candidate field, giving him the most decisive Democratic primary win for the office in a generation and the second best for a non-incumbent Texas Democrat in a half-century.
The last time a Texas Democrat won more than 60 percent of the U.S. Senate primary vote was in 1990 when State Senator and former Fort Worth Mayor Hugh Parmer notched 75.4 percent in a two-man race against failed 1984 candidate Harley Schlanger (a Lyndon LaRouche Democrat).
Over the next eight elections cycles – all of which Democrats lost – only once did a U.S. Senate candidate win a majority of the vote on Primary Day and avoid a run-off: State Senator Rick Noriega's 2008 victory with 51.0 percent in a four-candidate field.
Several other bona fide Democratic politicians have sought the office during this period, but none unified their party's electorate at this stage as much as O'Rourke in 2018.
Other notables to run for the Democratic nomination over the last quarter-century include:
1994: Two-term Texas Attorney General and former U.S. Representative Jim Mattox (40.5 percent, lost runoff) and six-term Congressman Mike Andrews (15.6 percent, lost primary)
1996: Seven-term U.S. Representative John Bryant (30.0 percent, lost runoff) and six-term Congressman Jim Chapman (26.9 percent, lost primary)
2000: Former State Representative Charles Gandy (22.8 percent, lost runoff)
2002: Two-term Dallas Mayor and former Texas Secretary of State Ron Kirk (33.1 percent, lost general) and four-term U.S. Representative Ken Bentsen (26.8 percent, lost primary)
2012: State Representative Paul Sadler (35.1 percent, lost general)
Among the 13 Democratic U.S. Senate primaries held in Texas not involving incumbents over the last half-century, O'Rourke only trails Parmer for the best showing.
O'Rourke's support on Tuesday also ranks as the 4th highest among the 20 primaries without a Democratic incumbent since the first primary for the office in 1906, behind state Attorney General Price Daniel in 1952 (72.5 percent), state Attorney General Waggoner Carr in 1966 (79.9 percent), and Parmer.
But while O'Rourke's strong performance on Tuesday suggests he will have little difficulty in unifying the party in the general election, this does not mean he will necessarily have a good chance at unseating Senator Cruz.
There is a chicken-or-the-egg question as to whether O'Rourke only won a large majority on Tuesday because he had little competition, or that he had little competition because other strong candidates were deterred from running against him. Given the short bench Texas Democrats have endured in recent years, it is likely that the former is the case.
Congressman O'Rourke will therefore need to run a nearly flawless campaign with a strong national Democratic tailwind at his back to oust Senator Cruz.
Follow Smart Politics on Twitter.