Rauner Records Weakest Primary Performance by an Illinois GOP Governor in 90 Years
No elected governor from either party in the Prairie State has survived a narrower primary victory since the first such contest in 1908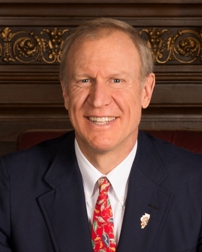 With much anticipation as Tuesday evening's Illinois primary returns came in from across the state, Governor Bruce Rauner was able to hold off a strong challenge from the right by State Representative Jeanne Ives.
With votes yet to be counted from just a few dozen precincts, the well-funded Rauner managed to eke out a 2.76-point renomination victory over Ives with more than half of his winning margin coming from the heavily-populated Cook County.
It won't get much easier for Rauner in the blue state heading into November against billionaire venture capitalist J.B. Pritzker, particularly with favorable partisan winds expected to be at the Democratic nominee's back.
Rauner's victory continues a trend that has been particularly evident in U.S. Senate primaries over the last few cycles in which moderate and even conservative GOP incumbents have faced unusually competitive renomination battles with challengers from their right.
Overall, Rauner's 2.76-point win was the fourth weakest performance by a Democratic or Republican incumbent out of the 23 Illinois primaries with a sitting governor on the ballot since the first primary in the state in 1908 – with no elected governor enduring a closer call in a primary win than Rauner.
The other three weakest primary showings for a governor in Illinois electoral history were turned in by:
1928: Two-term Republican Governor Len Small lost the GOP primary by 26.0 points to three-term Illinois Secretary of State Louis Emerson. Small would launch two more failed gubernatorial campaigns, losing the 1932 general election to judge Henry Horner and the 1936 primary to attorney C. Wayland Brooks.
1976: One-term Democratic Governor Dan Walker was defeated in the primary by Illinois Secretary of State Michael Howlett by 7.6 points.
2010: Democratic Governor Pat Quinn (who became governor after succeeding Rod Blagojevich who had been removed from office) nipped three-term Comptroller Dan Hynes by 1- point in the primary.
In addition to Small, Walker, and Quinn, the only other sitting Illinois governor to receive a smaller share of the primary vote than Rauner was two-term incumbent Charles Deneen in 1912.
Deneen won 34.8 percent of the vote that cycle, but in an eight-candidate field – winning the contest by 14.6 points over Small in what was his first of six gubernatorial bids. Rauner's only opponent on Tuesday was Representative Ives.
Rauner's 51.38 percent vote share and 2.76-point win are the weakest primary showings by a GOP governor in the state out of the 10 such candidacies since Governor Small's loss in 1928.
Prior to Rauner, the average victory margin for incumbent Democratic and Republican governors across the 20 times they successfully won their party's nomination was 52.6 points.
In addition to Rauner and Quinn's 1-point win in 2010, only two other Illinois governors have won their party's primary by less than double-digits:
1908: One-term Republican Governor Charles Deneen defeated former Governor Richard Yates, Jr. by 2.88 points
1924: One-term Republican Governor Len Small beat State Senator Thurlow Essington by 6.0 points
Illinois governors have not had any primary challengers in five cycles: Republicans Dwight Green in 1948 and James Thompson in 1978 and Democrats Adlai Stevenson II in 1954, Otto Kerner in 1964, and Samuel Shapiro in 1968.
Follow Smart Politics on Twitter.