Healthy, Wealthy, and Wise? US Senators Keep Knocking on Wood
The four-year, nine-month streak without a death in the chamber is the fourth longest in history and will reach #2 by early September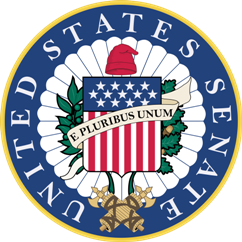 With 25 members of the U.S. Senate above the age of 70 and eight of those at 80+, it is not surprising when there is news of members experiencing serious health problems.
During the last few years, several senators have been stricken with significant health issues including Republicans John McCain of Arizona and Thad Cochran of Mississippi (who is resigning on April 1st) and Democrats Claire McCaskill of Missouri and Mazie Hirono of Hawaii who have both battled cancer (but are each running for reelection in 2018).
Fortunately, it has been nearly five years since a U.S. Senator has died in office.
While that may not seem like a particularly long period of time, it is actually one of the longest stretches without a death in the chamber's history.
To be precise, as of Friday it has been 4 years, 9 months, 21 days since the passing of New Jersey Democrat Frank Lautenberg in early June 2013.
That marks the fourth longest gap between senator deaths in the 229-year history of the legislative body.
The longest streak without a death of a sitting senator came just a few decades ago.
After North Dakota Democrat Quentin Burdick passed away in September 1992, no senators died in office for the next 7 years, 1 month, 17 days until Rhode Island Republican John Chafee in late October 1999.
The other two longer streaks were logged:
July 23, 1793 (Connecticut's Roger Sherman) until August 11, 1798 (Delaware Federalist Joshua Clayton): 5 years, 20 days
June 1, 1978 (Alabama Democrat James Allen) until September 1, 1983 (Washington Democrat Henry Jackson): 5 years, 3 months, 1 day
[Note: During the 1793 through 1798 streak the senate only had 30 to 32 senators].
There have been only three other streaks during which no sitting senator died in a four-year span:
November 4, 1809 (Delaware Federalist Samuel White) until May 2, 1814 (New Hampshire Jeffersonian Republican Nicholas Gilman): 4 years, 5 months, 29 days
July 27, 1972 (Louisiana Democrat Allen Ellender) until December 26, 1976 (Michigan Democrat Philip Hart): 4 years, 5 months
October 25, 2002 (Minnesota DFLer Paul Wellstone) until June 4, 2007 (Wyoming Republican Craig Thomas): 4 years, 7 months, 11 days
If no senators pass away between now and September 2nd, the country will reach its second longest streak without losing a member (5 years, 3 months, 2 days).
A new all-time record of 7 years, 1 month, 18 days would be set if no sitting members die between now and July 20, 2020.
Over the last 100 years all but four states (Arizona, Delaware, Maryland, Utah) have had at least one senator die in office and 41 states have had a vacancy due to death since the end of World War II.
Two states – Arizona and Utah – have never endured the death of a sitting senator, and are also the only two states in the nation never to hold a special election for the office.
Delaware's last passing took place in 1867 (Democrat George Riddle) with Maryland's in 1912 (Democrat Isidor Rayner).
Follow Smart Politics on Twitter.