With Dallet Victory Women Candidates Now Have 10-1 Record Against Men in Wisconsin Supreme Court Races
Women candidates for the court have won 15 of 19 elections overall, with three defeats coming against other women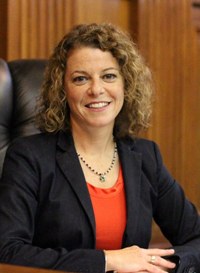 Judge Rebecca Dallet's decisive 11.6-point victory over Judge Michael Screnock in Wisconsin's Supreme Court election on Tuesday not only set in motion the Badger State attaining the highest percentage of female justices across the 50 states when she is seated this summer (86 percent, six of seven seats) but also continued the impressive electoral run women candidates for the office have achieved over the last few decades.
The victory improved the record of Wisconsin women supreme court candidates to 15-4 in general elections – with three of those losses to other women candidates.
Wisconsinites have demonstrated little hesitation backing women at the ballot box against male candidates for the office, tallying a 10-1 record ever since Shirley Abrahamson's name was first put to voters in 1979 following her 1976 appointment.
Abrahamson easily defeated Beaver Dam attorney Howard Boyle in that race by 30.3 points.
Ten years later, in 1989, Abrahamson successfully fended off a challenge by Wisconsin Court of Appeals Judge Ralph Adam Fine, winning by 9.9 points.
In 1994, Justice Janine Geske (appointed to the bench in 1993 by Governor Tommy Thompson) recorded what still stands as the largest victory margin by a woman in a contested Wisconsin Supreme Court race – defeating Waukesha attorney William Pangman by 54.4 points.
In 1995, Marathon County Circuit Court Judge Ann Bradley won an open seat race against Brown County Circuit Court Judge Patrick Crooks by 9.6 points. [Note: Crooks would nonetheless win a seat in his own right in 1996's open seat race].
In 2000, Justice Diane Sykes (appointed to the bench by Governor Thompson in 1999) crushed Milwaukee Municipal Court Judge Louis Butler with a 31.2-point victory. [Note: Butler would be appointed to the court by Governor Jim Doyle in 2004].
In 2003's open seat race, Court of Appeals Judge Pat Roggensack beat Barron County Circuit Court Judge Ed Brunner by 2.4 points – the most narrowly decided contest for the office in nearly a quarter-century.
 In 2009, Abrahamson won her third race against a male opponent (and fourth election overall) when she defeated Jefferson County Circuit Court Judge Randy Koschnick by 19.4 points.
In 2013, Roggensack won her second term with a 15.0-point win over Marquette University law professor Ed Fallone.
In 2015, Ann Bradley won her third 10-year term by beating Rock County Circuit Judge James Daley by 16.1 points.
The only instance in which a woman lost a supreme court election in the state to a male candidate was in 2011 when Assistant Attorney General Joanne Kloppenberg was defeated by Justice David Prosser by 0.5 points in what was a high profile proxy election for Democrats who were angered by the policies of newly-elected Governor Scott Walker.
The race was one of the most closely-decided for the office in state history.
Each of the three other losses women recorded in Wisconsin Supreme Court general elections were against other women.
In 1999, Green Bay attorney Sharren Rose failed to unseat Chief Justice Abrahamson in a 27.0-point blowout.
In 2007's open seat contest, Madison attorney Linda Clifford was defeated by Washington County Circuit Court Judge Annette Ziegler by 17.4 points.
In 2016, Kloppenberg – this time sitting on the Wisconsin Court of Appeals – made another attempt to win a seat on the supreme court, but lost to Justice Rebecca Bradley (appointed to the Court by Walker in 2015) by 4.7 points.
In two elections, incumbent women justices won reelection to their seats without opposition: Ann Bradley in 2005 and Annette Ziegler in 2017.
Follow Smart Politics on Twitter.