How Big of a Footprint Will Sam McCann Leave in Illinois' 2018 Gubernatorial Race?
Less than 1 in 10 third party or independent candidates for governor in Illinois history have won five percent of the vote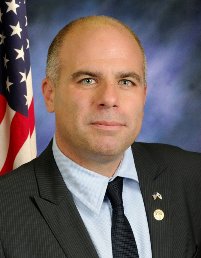 Three-term Illinois Republican State Senator Sam McCann announced this week that he will launch a third-party gubernatorial bid under the Conservative Party banner this cycle, frustrating what was already a problematic reelection campaign for Governor Bruce Rauner.
The 2018 cycle shows no sign yet that there will be a change in direction of the national partisan winds that are expected to be at the backs of Democrats – providing an extra boost to challenger J.B. Pritzker in the blue state.
Moreover, in a cycle in which Republicans appear to be on the wrong side of the enthusiasm gap, McCann's candidacy is likely to only further erode GOP support for Rauner on Election Day – given the dissatisfaction the political right has voiced about Rauner's administration over the last three-plus years.
So what is Senator McCann's ceiling in the 2018 race?
To be sure, many third party and independent gubernatorial candidates have recorded impressive showings across the country during the 21st Century with 17 reaching double-digit support including two who claimed victory: independents Lincoln Chafee of Rhode Island in 2010 (36.1 percent) and Bill Walker of Alaska in 2014 (48.1 percent).
Among the remaining 15 candidates who received at least 10 percent of the vote is one from the Prairie State:
2002: Minnesota Independence Party nominee Tim Penny (16.2 percent)
2002: New York Independence Party nominee Tom Golisano (14.3 percent)
2002: Oklahoma independent Gary Richardson (14.1 percent)
2002: Wisconsin Libertarian Ed Thompson (10.5 percent)
2006: Illinois Green Rich Whitney (10.4 percent)
2006: Maine independent Barbara Merrill (21.6 percent)
2006: Texas independents Carole Strayhorn (18.1 percent) and Kinky Friedman (12.4 percent)
2007: Louisiana independent John Georges (14.4 percent, in the jungle primary)
2008: Vermont independent Anthony Pollina (21.9 percent)
2010: Colorado Constitution Party nominee Tom Tancredo (36.4 percent)
2010: Maine independent Eliot Cutler (36.4 percent)
2010: Minnesota Independence Party nominee Tom Horner (11.9 percent)
2014: Hawaii independent Mufi Hannemann (11.7 percent)
2014: Rhode Island Moderate Robert Healey (21.4 percent)
Despite Whitney's impressive run for the Green Party 12 years ago, third party and independent candidates in Illinois have not had much success getting out of single digits over the decades.
In fact, only four of the 106 such candidates since statehood have done so – and only six others have reached the five percent mark.
Prior to Whitney, the only other third party candidate to reach 10 percent during the last 100 years was a third-party candidate in name only.
Former Democratic state treasurer, U.S. Senator, and 1982 gubernatorial nominee Adlai Stevenson III coasted to an easy primary victory as a Democrat in 1986, but famously dropped that bid in favor of a third party candidacy when it became known that the Democratic nominee for lieutenant governor (Mark Fairchild) was a supporter of Lyndon LaRouche. [LaRouche-backed Janice Hart also was a surprise winner in the primary for secretary of state that cycle].
Because Stevenson did not wish to run with Fairchild on the gubernatorial ticket – as required by state law – he ran instead under the Illinois Solidarity banner and received 40.0 percent of the vote, leaving Democrats without a nominee for the office. Republican Governor Jim Thompson won his fourth term that cycle.
The only other third party or independent candidate to eclipse the 10 percent mark during the 20th Century was Progressive Frank Funk in 1912.
Riding the coattails of Teddy Roosevelt that cycle, Funk – a former Republican state senator – won 26.1 percent of the vote (1.3 points behind GOP Governor Charles Deneen and 12.0 points behind Democrat and former Chicago Mayor Edward Dunne). Funk ran 7.6 points behind Roosevelt in the state.
Just one of the 25 non-major party candidates for governor of Illinois during the 19th Century reached 10 percent – Liberal Republican Gustavas Koerner in 1872.
Koerner, a Democratic lieutenant governor of Illinois in the 1850s and U.S. Minister to Spain under Abraham Lincoln, received 45.1 percent of the vote in a race won by former Republican Governor Richard Oglesby.
Four of the six remaining third party gubernatorial bids that netted at least five percent of the vote occurred during the mid-19th Century, and all six candidates, like Funk and Whitney, were tied to national political parties:
1846: Liberty Party candidate Richard Eels (5.1 percent)
1848: Free Soiler Charles Dyer (6.0 percent)
1852: Free Soiler D.A. Knowlton (5.9 percent)
1856: American Party nominee and former Whig Chicago Mayor Buckner Morris (8.0 percent)
1904: Socialist John Collins (5.5 percent)
1912: Socialist John Kennedy (6.8 percent)
There has been at least one third party or independent candidate in all but eight of the 51 gubernatorial elections in Illinois history with only one such election taking place over the last 140 years: 1822, 1830, 1834, 1838, 1864, 1868, 1876, and 1964.
Overall, only about a third of non-major party candidates for governor in Illinois have received one percent of the vote: 37 of 106 (34.9 percent). These candidates have averaged 2.3 percent.
Of course, most third party and independent candidates for governor of Illinois over the years were not as politically established or achieved as much electoral success as Senator McCann, which suggests he should perform much better than average, especially given his strong ties to the Republican Party.
In addition to McCann, other non-major party Illinois gubernatorial hopefuls in 2018 include Libertarian nominee Kash Jackson and independent William Kelly.
Follow Smart Politics on Twitter.