Will Arizona's 8th CD Special Election Provide a Rare April Upset?
Over the last 75+ years, April has hosted more special elections than any month outside of November; only six of the previous 44 specials flipped control of the seat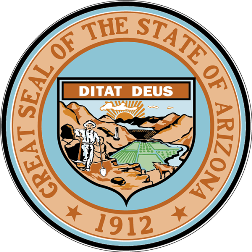 Although it has received a fraction of the attention of the special election held in Pennsylvania's 18th Congressional District last month, Arizona's 8th CD contest on Tuesday is providing Democrats with another potentially competitive race this cycle.
On paper, the similarities between the two races are quite striking:
1. Donald Trump defeated Hillary Clinton by 19.5 points in PA-18 and 21.1 points in AZ-08.
2. Democrats did not field a candidate against Republican incumbents for the 2014 and 2016 cycles in either district with the last Democratic nominee in 2012 losing by a nearly identical 27.9 points in PA-18 and 28.3 points in AZ-08.
3. Both seats were vacated by eight-term GOP incumbents.
4. Both incumbents resigned in late 2017 due to scandal – Tim Murphy of Pennsylvania after allegations swirled that he had encouraged a woman with whom he'd had an affair to terminate her pregnancy and Trent Franks of Arizona due to allegations of sexual harassment after the House Ethics Committee announced it would launch an investigation of his conduct involving discussions about surrogacy and fertility issues with multiple female staffers.
5. Democrats nominated political novices (assistant U.S. Attorney Conor Lamb in PA-18, physician Hiral Tipirneni in AZ-08) against state legislators (Rick Sacconne and Debbie Lesko respectively, the latter resigning in January to run for this congressional seat).
Lamb was able to eke out a 0.3-point victory against Saccone in March but Democrats seem much less optimistic about their chances of pulling off an 'April surprise' in Arizona this week in a district where the GOP enjoys a voter registration edge and the national party has invested hundreds of thousands of dollars in the race. [The Democratic Party has largely sat on the sidelines in this contest].
Over the decades, there have been very few instances of political parties flipping control of U.S. House seats in specials held during the month of April – the most common month outside of November to hold such U.S. House races.
Over the last 75+ years since 1941 (and including Tuesday's contest), 45 U.S. House special elections have been held in April – more than January (24), February (28), March (32), May (37), June (43), July (15), August (20), September (14), October (8), and December (23).
Not surprisingly, one-quarter of all specials have been held in November – 96 of 386 (24.9 percent) – with many of these contests piggy-backed onto regularly scheduled general elections.
Of the previous 44 specials held in April since 1941, only six have flipped with the most recent coming 30 years ago in Louisiana on April 16, 1988.
The Pelican State's 4th CD was open that year due to the resignation of Democrat Buddy Roemer to become governor. Attorney and former Roemer staffer Jim McCrery picked up the seat for the GOP with a 1.1-point victory over Democratic State Senator Foster Campbell.
None of the subsequent 12 specials have resulted in a change of partisan control, including last April's 4th CD race in Kansas.
The remaining U.S. House seats to flip during April specials over the last 75+ years are:
April 22, 1941, New York's 42nd CD: won by Republican John Butler (open seat after the death of Democrat Pius Schwert)
April 1, 1969, Wisconsin 7th CD: won by Democrat David Obey (vacated by Republican Melvin Laird who became Secretary of Defense)
April 16, 1974, Michigan's 8th CD: won by Democrat Bob Traxler (vacated by Republican James Harvey who became U.S. District Court judge)
April 3, 1976, Texas' 22nd CD: won by Republican Ron Paul (vacated by Democrat Robert Casey who became a Federal Maritime Commissioner)
April 3, 1979, California's 11th CD: won by Republican Bill Royer (open seat after the murder of Democrat Leo Ryan in Guyana)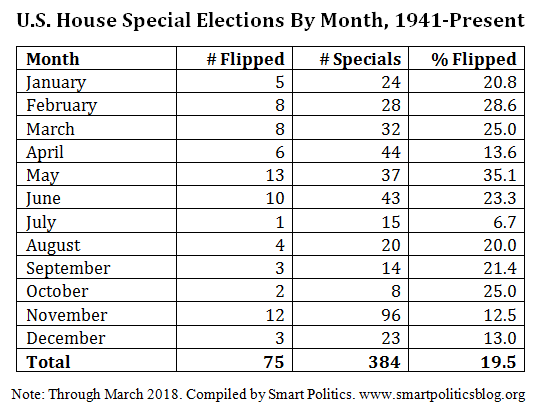 Overall, 75 seats during the previous 384 U.S. House elections since 1941 have changed partisan control, or 19.5 percent.
The month with the highest percentage of flipped seats is May (13 of 37, 35.1 percent) with the lowest in July (one of 15, 6.7 percent).
Follow Smart Politics on Twitter.