Will Richard Painter Give Minnesota DFLers a Rare Competitive US Senate Primary?
Only one DFL primary has been decided by single digits with the closest race involving an incumbent decided by 25 points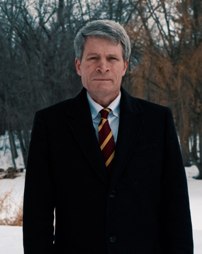 After a month of mulling over whether to run for office – and under what party label  – University of Minnesota Law School professor Richard Painter announced on Monday that he would challenge appointed Senator Tina Smith in the DFL primary.
The former ethics attorney for President George W. Bush and high-profile Donald Trump critic opted against running as an independent in 2018 due to the likelihood such a bid would result in the election of the Republican nominee (expected to be State Senator Karin Housley).
As a result, Painter gives the DFL a centrist alternative in selecting their nominee this August.
But will party loyalists turn out in a primary for a candidate lacking progressive credentials in 2018?
If so, the DFL could host an unusually competitive U.S. Senate primary – and the first close race involving a Democratic incumbent for the office in state history.
Over the decades, DFL U.S. Senators have consistently cruised to decisive renomination victories.
To date, every DFL incumbent has won their party's primary by at least 25 points. [No Democrat was directly elected to the office prior to the DFL merger in 1944].
In fact, the only incumbent to win by less than 79 points is one of two previously appointed DFL U.S. Senators to appear on a primary ballot – Wendy Anderson, who resigned as governor of the state in 1976 to be appointed to Vice-President elect Walter Mondale's seat.
Anderson fielded a party record five challengers in the 1978 DFL primary, most notably St. Paul attorney John Connolly, a former state chair for Eugene McCarthy's presidential campaign.
Senator Anderson defeated Connolly by 25.1 points with 56.9 percent of the vote.
Although all primary races have been blowouts, only once has an incumbent DFL senator faced no primary opposition. That occurred in 1960 when Hubert Humphrey won his third term.
The average victory margin in primaries across the 11 cycles with DFL U.S. Senators on the ballot has been 81.2 points:
1954: Hubert Humphrey by 90.5 points over Harold Strom
1960: Humphrey (unopposed)
1964: Eugene McCarthy by 85.1 points over R.H. Underdahl
1966: Walter Mondale by 82.0 points over Ralph Franklin
1972: Mondale by 85.5 points over Tom Griffin
1976: Humphrey (in his second stint in the chamber) by 82.6 points over Dick Bullock
1996: Paul Wellstone by 79.1 points over Dick Franson
2002: Wellstone by 87.6 points over Franson
2012: Amy Klobuchar by 87.0 points over Franson
2014: Al Franken by 89.0 points over Sandra Henningsgard
Farmer-Laborite U.S. Senators seeking their party's renomination also always tallied big primary wins:
1924: Magnus Johnson by 80.7 points over Michael Ferch
1928: Henrik Shipstead by 80.0 points over William Watkins
1934: Shipstead by 47.2 points over U.S. Representative Francis Shoemaker
DFLers have hardly had an abundance of competitive primaries even with open seat races, with an average victory margin of 43.6 points.
Overall, across the 25 U.S. Senate primaries since the formation of the DFL Party in 1944, only one race has been decided by single digits and just two others by less than 25 points.
In 1978's special primary, former Minneapolis and Los Angeles Lakers owner Bob Short defeated Congressman Don Fraser by 0.6 points in a four-candidate field. Short lost the election that November just as he did as the party's nominee for lieutenant governor in 1966.
The other two DFL nominees to win by less than 25 points were Theodore Jorgenson in 1946 (notching a 14.5-point victory against Frank Ryan) and Mark Dayton in 2000 (by 18.9 points against attorney Mike Ciresi).
For the record, Republicans have also not had many competitive U.S. Senate primaries over the decades, with just two of 38 races decided by single digits – although two of the 16 GOP incumbents on the ballot have been defeated: Moses Clapp in 1916 (finishing a distant third behind Frank Kellogg and Adolph Eberhart) and Henrik Shipstead in 1946 (losing to Governor Edward Thye by 18.7 points).
In addition to Smith and Painter, attorney Nick Leonard is also seeking the DFL nomination in the special election.
Follow Smart Politics on Twitter.