It's All Relative: Indiana Edition, Part I
Eight members of Congress from Indiana have simultaneously served alongside family members on the Hill; the Braun brothers hope their names will be added to that list after 2018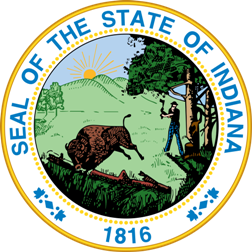 This is the eighth in a series of Smart Politics reports on 'congressional royalty.' Previous reports studied Florida, Michigan, Illinois,  Wyoming, California, Massachusetts, and Wisconsin.
Indiana's primary next Tuesday will determine whether or not two brothers – Mike and Steve Braun – will advance to the general election in races for the U.S. Senate and the state's 4th Congressional District respectively.
The odds that both brothers (each former state legislators) are seated in the 116th Congress are not strong, as Mike Braun would still face a tough general election matchup against Senator Joe Donnelly, although it is a plausible scenario.
Over the decades, there have been more than two-dozen brothers who simultaneously served in Congress with one in the upper and one in the lower chamber – none, however, were from Indiana.
However, eight members of Indiana's congressional delegation have served alongside family members on Capitol Hill.
The most recent one to do so was Democrat Tim Roemer who served six terms in the U.S. House from 1991 to 2003.
Shortly before his election to the House, Roemer married Sally Johnston – daughter of Louisiana Democratic U.S. Senator J. Bennett Johnston, who served nearly 25 years in the upper chamber dating back to late 1972.
Roemer and Johnston were both in congress for three full terms – the 102nd, 103rd, and 104th Congresses – from 1991 through 1996.
While the Braun brothers would be the first siblings from Indiana to serve at the same time in Congress in different chambers, they would not be the first siblings to serve together in Congress from the Hoosier State.
One pair of brothers earned that distinction in the early 20th Century – Republicans Charles and Frederick Landis.
Charles Landis, a journalist by trade, was the first in his family to get elected to the U.S. House, winning his first of six terms in 1896 from the 9th Congressional District.
The elder Landis would be joined in the House of Representatives by Frederick in 1903 when the younger brother won his first of two terms to the 11th CD.
Frederick would lose his seat in the Election of 1906 and Charles lost his bid for a seventh term in 1908.
One other Indiana legislator was able to serve with a relative during the 20th Century – Democrat John Peterson.
Peterson was elected during the 1912 Democratic wave from the 10th CD and served just one term after losing his reelection bid two years later.
While in the House, Peterson served alongside his cousin Horatio Claypool – a Democrat from Ohio who was in his second of three interrupted term during the 63rd Congress.
Four other members of Congress from Indiana served with family members during the 19th Century.
Democrat Andrew Harlan served two interrupted terms (1849-1851; 1853-1855) from the state's 10th and 11th CDs respectively and was joined by his cousin Whig Aaron Harlan of Ohio during his second term.
Indiana's Harlan voted against the May 1854 repeal of the Missouri Compromise and shortly thereafter aligned himself with the newly created Republican Party. Ohio's Harlan would be elected to two more terms, as an Opposition candidate in 1854 and as a Republican in 1856 before losing his bid for a fourth term in 1858.
Democrat William Niblack served seven interrupted terms (1857-1861; 1865-1875) from the 1st CD. For 36 days during the 42nd Congress in 1873, Niblack was joined by his cousin, Democrat Silas Niblack of Florida who served just over a month after successfully contesting the Sunshine State's 1870 at-large race. Florida's Niblack lost the Election of 1872, ending his brief congressional career.
One Indiana U.S. Representative, Republican Henry Sayler, has the distinction of being elected to the House for his first term at the same time as his cousin, Democrat Milton Sayler of neighboring Ohio.
Indiana's Sayler was elected to the 10th CD in 1872 and served one term before becoming a judge for the next quarter century. Ohio's Saylor was also elected that cycle to the 43rd Congress and served three terms before losing the Election of 1878.
Finally, Democrat Daniel Voorhees served five interrupted terms in the House (1861-1866; 1869-1873) but it was during the middle of his four terms in the U.S. Senate (1877-1897) that his son, Democrat Charles Voorhees joined him on Capitol Hill.
The younger Voorhees served two terms as a delegate from Washington Territory from 1885 to 1889.
Many additional Indiana politicians were preceded in Congress by family members – with Greg Pence hoping to be added to that list in the 116th Congress. Smart Politics will further examine the state's history of 'congressional royalty' in its next report.
Follow Smart Politics on Twitter.