Joe Manchin Turns in 3rd Weakest US Senate Renomination Bid In West Virginia History
It had been 78 years since an incumbent from either party garnered less support in a Mountain State U.S. Senate primary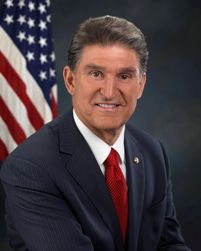 All eyes were on the Republican U.S. Senate primary in West Virginia Tuesday evening, in which a competitive three-way race for the GOP nomination resulted in state Attorney General Patrick Morrisey prevailing by 5.6 points over Congressman Evan Jenkins with controversial former energy executive Don Blankenship 15 points behind.
The 34.9 percent tallied by Morrisey was the lowest support registered by a West Virginia U.S. Senate nominee by either party in a century.
However, while Morrisey will have some work to do in order to coalesce the support of the 65+ percent of GOPers who voted for one of his five primary opponents, an alarm may have also gone off Tuesday evening at Manchin's campaign headquarters.
Senator Manchin faced just one primary challenger in the race – Paula Jean Swearengin, an activist, single mother, and self-professed 'coal miner's daughter.'
Swearengin's campaign only raised less than $185,000 through the end of March – in stark contrast to the well-funded Manchin, who admittedly sat on a good deal of his campaign funds for the much-anticipated general election battle.
Nonetheless, Swearengin captured 30.2 percent of the vote – recording the best performance by a challenger to a U.S. Senator in the state in more than 75 years – with Manchin falling shy of 70 percent and now owning one of the worst primary showings by an incumbent for the office in West Virginia history.
Smart Politics reviewed West Virginia's 39 U.S. Senate primary elections since 1916 and found that the 69.8 percent won by Joe Manchin is the third weakest showing by an incumbent from either party in state history among the 30 incumbents who ran for another term.
Of the 30 West Virginia U.S. Senators who appeared on a primary ballot since 1916, only one – Democrat Rush Holt in 1940 – failed to win their party's nomination.
Holt, a state legislator, won his first term in 1934 when he successfully ran in a party-record field of nine other candidates. He then defeated Republican Henry Hatfield in the general election. [Fun fact: Holt could not be seated in the 74th Congress until his 30th birthday in June, 1935].
At the end of his term, Holt drew three challengers in the 1940 primary including criminal court judge Harley Kilgore and former Governor Herman Kump.
Kilgore defeated Kump by 3.5 points with Senator Holt finishing a distant third with just 24.6 percent of the primary vote – the worst primary showing by a West Virginia U.S. Senator to date.
Since Holt's loss, incumbents won the next 23 primaries through 2012 with an average of 88.8 percent of the vote and a victory margin averaging 79.3 points.
Manchin defeated Swearengin by less than half that margin – 39.6 points.
The lowest support given to an incumbent after 1940 before Tuesday was the 75.1 percent received by Democratic Senator Matthew Neely in 1954. Neely defeated Sam Chilton by 59.5 points.
Overall, Manchin's 69.8 percent ranks as the third weakest performance out of the 30 times West Virginia U.S. Senators have run for their party's nomination.
Manchin only won a larger percentage of the primary vote than the aforementioned Rush Holt's 24.6 percent in 1940 and the 37 percent received by Republican Senator Howard Sutherland during his successful 1922 renomination bid in a five candidate field that included renowned publisher and businessman H.C. Ogden and former state Attorney General A.A. Lilly.
Incumbents have not drawn any challengers during 10 of these 30 bids: Democrats William Chilton in 1916, Matthew Neely in 1928, Jennings Randolph in 1960, 1966, and 1972, and Robert Byrd in 1976, 1982, and 2000 and Republicans John Hoblitzell and Chapman Revercomb in 1958.
When including cycles without incumbents, Manchin's 69.8 percent comes in as the lowest percentage of the primary vote won among all Democratic nominees since former U.S. Representative Jennings Randolph claimed 47.2 percent in the 1958 special primary held following the passing of Senator Neely.
On the potential plus side for Manchin and the Democratic Party, more than 23,000 more residents of the state still voted in the Democratic U.S. Senate primary (159,891) than the widely-covered, competitive Republican contest (136,220). But how will independents (and liberal Democrats) break in the general election?
Follow Smart Politics on Twitter.