Nothing to See Here: A Review of Indiana Democratic US Senate Primaries
The party has hosted only one contested primary for the office over the last dozen cycles since 1988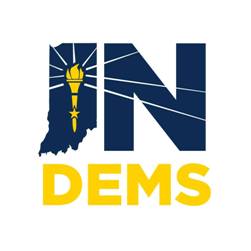 While some vulnerable Democratic U.S. Senators have drawn at least token primary challengers this cycle (e.g. West Virginia's Joe Manchin, Florida's Bill Nelson) most are running unopposed, like Indiana's Joe Donnelly did in last Tuesday's primary.
It is not out of character for Hoosier State Democrats to rally behind a single candidate for the nation's upper legislative chamber.
In fact, the party has served up only one contested primary for the office over the last 12 cycles since 1988.
During the last 30 years, nine U.S. Senate nominees from Indiana ran unopposed: Jack Wickes (1988), Baron Hill (1990, 2016), Joe Hogsett (1992), Evan Bayh (1998, 2004), David Johnson (2000), and Donnelly (2012, 2018).
Hill, of course, bowed out after receiving his party's nomination last cycle in July 2016 so that former Senator Bayh could enter the race.
The only cycle with a contested Democratic primary during this three-decade span came in 1994 when former U.S. Representative Jim Jontz defeated perennial candidate Willie Taylor by 9.6 points en route to a 36-point loss to Dick Lugar in the general election.
Since 1988, there have been more cycles during which Indiana Democrats did not field a candidate in the primary (2006, 2010) than cycles with more than one candidate on the ballot (1994). [Note: The party fielded no nominee in 2006 but in 2010 designated U.S. Representative Brad Ellsworth as its nominee in May of that year].
To be fair, neither major party in Indiana has a rich history of serving up competitive primaries since they were reintroduced in the state in the mid-1970s following a nearly 50-year absence (when nominees were selected via nominating conventions).
During a 10-cycle stretch from 1982 through 2006, Republican nominees ran unopposed nine times: Lugar in 1982, 1988, 1994, 2000, and 2006, Dan Quayle in 1986, Dan Coats in 1990 and 1992, and Marvin Scott in 2004.
The GOP did host one barn burner of a primary during that quarter-century span, however, when Fort Wayne Mayor Paul Helmke eked out a 1.9-point win with 35.2 percent of the vote against attorney John Price and attorney and Ronald Reagan speechwriter Peter Rusthoven just 3.6 points behind.
Following the 2006 cycle, however, Republicans have generated several interesting primary matchups – ousting one incumbent (Lugar, by Richard Mourdock, in 2012) and attracting a former U.S. Senator (Coats in 2010) and five U.S. Representatives (John Hostettler in 2010, Todd Young and Marlin Stutzman in 2016, and Todd Rokita and Luke Messer in 2018) into the last four primary fields.
While rallying behind an incumbent senator like Donnelly in 2018 is understandable – consolidating resources for what is likely to be a tough general election battle – the Democratic Party's record of three wins versus nine losses during this 30-year period leaves its general strategy, or candidate recruitment efforts, open to scrutiny.
Follow Smart Politics on Twitter.