Idaho GOP to Host Largest Gubernatorial Primary Field in Party History
With seven Republican candidates on the ballot Tuesday, only 1936's Democratic primary with eight candidates served up a bigger field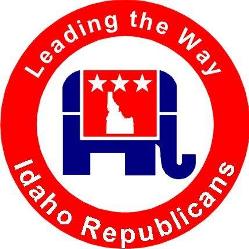 As Idaho Governor Butch Otter serves out the remaining months of his political career, a large pool of fellow Republicans is making their final push to replace him.
Otter, who will exit office next January with the 24th longest gubernatorial service in U.S. history (at 12 years, 7 days), has endorsed his 2010 and 2014 running mate Brad Little, but the state's lieutenant governor has his hands full with high-profile U.S. Representative Raúl Labrador and businessman Tommy Ahlquist who is making a bid to become the first political outsider to win the governorship in state history.
Add to that four additional lesser-known candidates – 2014 Constitution Party nominee Steve Pankey, Boise's Dalton Ben Cannady, and perennial candidates Lisa Marie and Harley Brown – and the recipe is in place for a plurality winner in the GOP contest on Tuesday.
Smart Politics examined the 31 gubernatorial primaries held in Idaho since the first such contest in 1910 and found that the seven GOP candidates on the ballot in 2018 is the most in party history.
Prior to 2018, Idahoans have twice had as many as six Republicans to choose from in a primary for governor – in 1978 and 2010.
The 1978 primary included state legislators Allen Larsen, Butch Otter, and (former MLB pitcher) Larry Jackson, former legislator (and ex-Democrat) Vernon Ravenscroft, former Boise Mayor Jay Amyx, and businessman Jim Crow.
Larsen won with a plurality of just 28.3 percent – 0.7 points ahead of Ravenscroft and 2.3 points ahead of Otter with Jackson also in double-digits at 11.5 percent.
The 2010 GOP race served up no such drama with Otter winning his second term by 28.6 points against veterinarian Rex Rammell. Ada County Commissioner Sharon Ullman and three little-known candidates (Pete Peterson, Walter Bayes, and Tamara Wells) rounded out the primary field.
The party has also had five candidates on the primary ballot twice.
In 1944's Republican primary, former county representative W.H. Detweiler made his second consecutive run at the GOP nomination – this time successful – defeating Lieutenant Governor Edwin Nelson, Agriculture Commissioner Harvey Schwendiman, Soda Springs businessman Milton Horsley, and Boise druggist Donald Whitehead.
In 1950, former state legislator Len Jordan became the nominee with approximately one-third of the vote as he defeated businessman Reilly Atkinson, Secretary of State Cy Price, and two other candidates en route to a general election victory that November.
Republicans had four gubernatorial hopefuls in seven cycles: 1910, 1912, 1916, 1994, 2002, 2006, and 2014.
Since 1910, an average of 3.2 Republicans have appeared on the 31 gubernatorial primary ballots. [Note: Nominees were selected via party conventions in the state from 1920 through 1930].
Republican nominees have been nominated without opposition in Idaho gubernatorial primaries just four times: former state Treasurer Byron Defenbach in 1932, Governor Robert Smylie in 1958, Lieutenant Governor Jack Murphy in 1974, and Lieutenant Governor David Leroy in 1986. All but Smylie were defeated in the general election.
The 2018 Republican field falls just short of tying the all-time Idaho record for the largest number of candidates by a major party to appear on a gubernatorial primary ballot.
That record was set 82 years ago by the Democrats when eight candidates ran for the office.
In 1936, three-term Democratic Governor C. Ben Ross opted to (unsuccessfully) run for the U.S. Senate and his open seat prompted many prominent Gem State Democrats to launch gubernatorial campaigns.
The race was the most divided in party history with long-serving Idaho Falls Mayor Barzilla Clark winning the nomination with just 17.4 percent of the vote with four other candidates in double-digits and trailing by 5.5 points or less: Idaho Attorney General Bert Miller (17.0 percent), Lieutenant Governor G.P. Mix (17.0 percent), former Pocatello Mayor W.P. Whitaker (13.4 percent), and Secretary of State Franklin Girard (11.9 percent).
U.S. Marshall George Meffan (9.6 percent), 1926 gubernatorial nominee Asher Wilson (8.6 percent), and 1918 and 1934 gubernatorial candidate Frank Martin (4.9 percent) rounded out the eight-man field.
Democrats have averaged 2.6 gubernatorial candidates since 1910 and have crowned nominees without opposition eight times: James Hawley (1912), Moses Alexander (1916), C. Ben Ross (1932), Chase Clark (1942), Cecil Andrus (1974, 1986, 1990), and John Evans (1978, 1982). All bids were by incumbent governors with the exception of Andrus' 1986 comeback.
Three Democrats are on the primary ballot this cycle: former state representative Paulette Jordan, 2014 nominee A.J. Balukoff, and attorney Peter Dill.
Idaho Democrats have not hosted a competitive primary for the office in nearly 50 years with Andrus' 8.9-point win over Vernon Ravenscroft in 1970 the last contest decided by single digits.
Follow Smart Politics on Twitter.