A Brief History of Idaho Women US House Nominees
Women have been nominated to the U.S. House by major parties in Idaho during 12 of the last 14 election cycles; Cristina McNeil is the 17th to be nominated in state history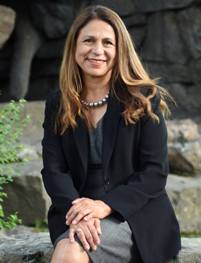 This is the second in a series of reports tracking women winning major party nominations to the House of Representatives in 2018. The first report featured Nebraska.
Paulette Jordan stole the headlines for Idaho Democrats earlier this month when she won her party's nomination for governor – the first hurdle in her underdog bid to become the nation's first Native American governor.
Down the ballot, the party also nominated a woman to the U.S. House – realtor Cristina McNeil (pictured) who cruised to an easy 53-point victory in a three candidate field in the state's 1st Congressional District.
While many states are experiencing a surge in women nominees for the nation's lower legislative chamber, Idaho has consistently been putting forth women candidates for the office over the last two decades.
In a state with just two congressional districts, Idaho has had at least one woman nominee in each of the last four election cycles (all Democrats) and in 12 of the last 14 cycles dating back to 1992 (with the exceptions of 2006 and 2010).
Republican Helen Chenoweth was the second and last woman to win a U.S. House seat from the Gem State – winning three terms from the 1st CD during the 1994, 1996, and 1998 cycles.
Since then, seven Democratic women have lost in the general election:
2000, Moscow City Councilwoman Linda Pall (1st CD): Unopposed in the primary; lost by 33.4 points to Lieutenant Governor Butch Otter
2002, Former U.S. Attorney Betty Richardson (1st CD): Unopposed in the primary; defeated by freshman U.S. Representative Butch Otter by 19.6 points
2004, Businesswoman Naomi Preston (1st CD): Unopposed in the primary; lost to two-term Congressman Butch Otter by 39.1 points
2008, Realtor Debbie Holmes (2nd CD): Won the primary with 69.5 percent; lost to five-term Congressman Mike Simpson by 42.0 points
2012, State Senator Nicole LeFavour (2nd CD): Won the primary with 84.1 percent; lost to seven-term U.S. Representative Mike Simpson by 30.3 points
2014, State Representative Shirley Ringo (1st CD): Won 82.0 percent in the primary; lost to two-term Congressman Ra

ú

l Labrador by 30.0 points
2016, Administrative assistant and youth organizer Jennifer Martinez (2nd CD): Unopposed in the primary; lost to nine-term Congressman Mike Simpson by 33.5 points
The first woman from Idaho to receive a major party U.S. House nomination was Democrat Nell Irion in 1920.
Irion, of Sandpoint, was nominated at the state Democratic convention that August but lost by 33.2 points to seven-term Congressman Burton French in the general election, winning 26.0 percent of the vote.
Irion would later become the first woman elected to the Sandpoint City Council in the mid-1930s.
Six years later, Democrats nominated another woman to the U.S. House – former state Representative Mary George Gray, who served in the state legislature from 1923-1924.
The former legislator placed third in the 2nd CD race with 16.7 percent – 43.9 points behind seven-term Republican Addison Smith with Progressive H.F. Fait running in second.
It would be 24 years before the next woman won a major party nomination to the chamber from Idaho – Democratic Canyon County Treasurer Gracie Pfost.
In an open seat 1st CD race, Pfost narrowly lost by 0.9 points to physician and former Coeur d'Alene Mayor John Wood.
However, Pfost was renominated by more than a 20-point margin in a four-candidate primary in 1952 that included former Congressman Compton White to set up a rematch against Rep. Wood.
This time Pfost was on the winning end of a razor-thin race – defeating the freshman congressman by 0.5 points.
Pfost would be reelected to four more terms through the 1960 cycle, including a 1956 contest against Republican Louise Shadduck, a journalist and former aide to Governor Doc Robins known as the Lioness of Idaho.
The Shadduck vs. Pfost race was one the first elections between two major party women nominees in congressional history and remains the only such contest in Idaho history.
Pfost was reelected by 10.3 points.
Following Pfost's departure from Congress in January 1963, three more women would be nominated to the office from Idaho during the next 30 years:
1980, Former Democratic State Senator Diane Bilyeu (2nd CD): Lost to five-term Congressman George Hansen by 17.6 points
1988, Democratic State Representative Jeanne Givens (1st CD): Lost to four-term Congressman Larry Craig by 31.6 points
1992, Former Republican State Senator Rachel Gilbert (2nd CD): Lost to freshman Larry LaRocco by 20.6 points
The aforementioned Helen Chenoweth, a political consultant, was nominated to the U.S. House from the state's 1st CD in 1994 with 48.0 percent of the primary vote, defeating former Lieutenant Governor David Leroy by 20.1 points plus two other candidates.
Chenoweth then knocked Rep. LaRocco out of office during the Republican Revolution and was reelected to two more terms.
The 1994 cycle also saw one other woman receive a nomination to the office – Boise Democrat Penny Fletcher. Fletcher ran unopposed in the primary but was crushed by 49.9 points in the general election by freshman Mike Crapo.
To date, women have been nominated by major parties to the U.S. House from Idaho a total of 24 times – 19 by Democrats and five by Republicans – winning eight of these races pending McNeil's 2018 candidacy.
Follow Smart Politics on Twitter.