Eric Greitens Records 4th Shortest Tenure By An Elected Missouri Governor
It has been nearly 160 years since the last time an elected Show-Me State governor exited office as quickly as Greitens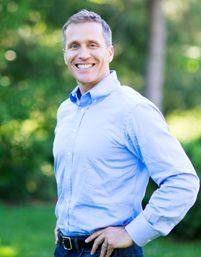 Embattled Missouri Republican Eric Greitens will resign from office on Friday, dogged since the onset of his administration by multiple charges stemming from an extramarital affair.
Greitens was only 42 when elected to the top office in the state and seemingly had a bright political future, but few Republicans in the executive and legislative branches gave him political cover as charges of blackmail, invasion of privacy, and assault unfolded over the next year.
The end result is that Greitens will leave office with the fourth shortest gubernatorial tenure among the 47 men elected to the office in Missouri since statehood – and the shortest in nearly 160 years – at 1 year, 4 months, 24 days.
Only three Show-Me State governors who were elected to the position had fewer days on the job than Greitens.
Frederick Bates, a Jeffersonian Republican who had previously served three different stints as acting governor of the Louisiana Territory (1807, 1809-1810, 1812-1813), was elected governor of Missouri in 1824 and served for eight months and 21 days before dying in office at the age of just 48.
The elected governor with the shortest tenure in state history is Democrat Trusten Polk.
Polk, an attorney and former St. Louis city counselor, won the 1856 election with a plurality of just 40.8 percent as American and Benton-Democratic (anti-slavery) nominees split the anti-Democratic vote.
Inside of a few weeks into his term, the state legislature elected Governor Polk to the U.S. Senate, where he served for nearly five years before his expulsion in 1862 for supporting the rebellion.
Polk served only 1 month, 23 days before resigning to become a U.S. Senator.
The only other Missourian to have a shorter tenure than Greitens is perhaps the state's most notorious governor – former Democratic state legislator Claiborne Fox Jackson.
Jackson was elected in 1860 by 5.0 points over Constitutional Unionist Sample Orr with former Governor Hancock Jackson and former Whig Attorney General James Gardenhire also on the ballot as Breckenridge Democrat and Republican nominees respectively.
Claiborne Fox Jackson famously turned pro-secessionist after his election and refused President Abraham Lincoln's request to provide troops for the Union in the Civil War.
State legislators did not back secession and on July 30, 1861 the Missouri State Convention vacated several state offices including that of governor and lieutenant governor.
Jackson was removed from office after just 6 months, 28 days.
When including those Missourians who were not elected governor but succeeded to the office, Greitens has the 10th shortest tenure in state history.
Six such governors served less than Greitens' 16+ months:
Jeffersonian Republican Abraham Williams (1825-1826): 5 months, 17 days following the death of Frederick Bates
Democrat Meredith Marmaduke (1844): 9 months, 12 days following the death of Democrat Thomas Reynolds
Democrat Hancock Jackson (1857): 7 months, 26 days after Democrat Trusten Polk was elected to the U.S. Senate
Republican Willard Hall (1864-1865): 11 months, 3 days following the death of Unionist Hamilton Gamble
Democrat Albert Morehouse (1887-1889): 1 year, 18 days after the death of Democrat John Marmaduke
Democrat Roger Wilson (2000-2001): 2 months, 22 days following the death of Democrat Mel Carnahan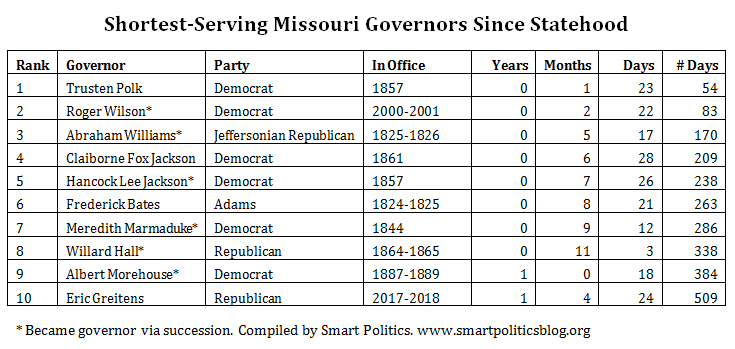 Former state legislator and Lieutenant Governor Mike Parson will be sworn into office as the state's 57th governor following Greitens' departure.
Follow Smart Politics on Twitter.