Kristi Noem and a Review of Gubernatorial Bids by South Dakota Republican Women
Noem is the fourth woman to land on the GOP primary ballot for governor in the Mount Rushmore State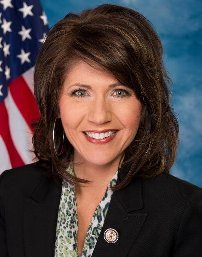 With eight states holding primaries today, one race that ought not to get lost in the shuffle is South Dakota's gubernatorial primary between four-term Congresswoman Kristi Noem and two-term Attorney General Marty Jackley.
The race is considered a dead heat in a state that might ordinarily consider the primary as close to a general election as one can get in June, with South Dakota Republicans owning the longest winning streak for the office in the nation – winning 10 cycles in a row since 1978. [Utah GOPers have also won 10 races in a row since 1984].
However, Democrats have fielded a credible candidate this year with State Senate Minority Leader Billie Sutton running unopposed for his party's nomination.
Smart Politics previously documented how Noem is the first sitting member of the U.S. House from South Dakota to ever appear on a gubernatorial primary or general election ballot from either party. [Two former U.S. Representatives launched such bids: Populist-turned-Socialist Freeman Knowles in 1904 and 1906 and Republican Clint Roberts in 1986].
Noem is also just the fourth Republican woman to appear on a primary ballot across the 45 contests held since 1908.
Noem announced her candidacy for governor shortly after her 2016 at-large win to the U.S. House to ensure there would be women running for the GOP nomination in back-to-back cycles, following former state legislator Lora Hubbel's long-shot bid against Governor Dennis Daugaard in 2014.
Hubbel, a former one-term Sioux Falls representative (2011-2012), took on the popular incumbent but won only 19.1 percent in last cycle's primary.
[Daugaard set a new statewide primary gubernatorial record that June winning 80.9 percent of the vote. Democrat Tom Berry owned the previous best mark in a contested primary for an incumbent with 79.3 percent in a two-man race against Hans Ustrud in 1934].
Prior to Hubbel, it had been 28 years since the last time a woman ran for the GOP gubernatorial nomination.
In 1986, two-term Secretary of State and former two-term state Auditor Alice Kundert made a run for the state's highest office in an open seat cycle with Bill Janklow term-limited during his first stint as governor.
Kundert, who had won statewide elections by increasing margins during her four consecutive terms in office, faced a loaded GOP primary field: former House Speaker George S. Mickelson, former one-term Congressman Clint Roberts, and sitting two-term Lieutenant Governor Lowell Hansen.
Kundert placed a distant fourth with 13.8 percent but her candidacy nearly prevented Mickelson (son of former Governor George T. Mickelson) from reaching the 35 percent threshold to avoid the nominee being selected at convention. Mickelson was nominated with 35.3 percent.
South Dakota's 35 percent primary threshold election law did come into play during two previous cycles for the GOP – in 1930 and 1942 – with the former cycle giving voters an opportunity to nominate the first woman on a major party gubernatorial primary ballot in state history.
Former three-term state representative and sitting two-term Secretary of State Gladys Pyle faced four other Republicans in the 1930 primary.
The field included former Governor Carl Gunderson (1925-1927), Brookings State Senator Carl Trygstad, Frederick State Senator Brooke Howell, and former Hazel State Senator Warren Green.
Pyle won a 28.3 percent plurality – 1.4 points ahead of Gunderson (26.9 percent) – but 6.7 points shy of the 35 percent threshold required to secure the nomination. Howell (19.2 percent) and Trygstad (18.1 percent) also received double-digit support.
But at the May convention it was Green – who placed last in the primary with only 7.4 percent of the vote – to emerge as the unlikely nominee when, after more than 10 rounds of balloting, Senator Howell withdrew from the race and gave the former state legislator his support.
Pyle would later win a special election to the U.S. Senate in 1938 and serve two months in the chamber, but it would take more than a half-century before Alice Kundert followed in her footsteps to become the second woman to launch a GOP gubernatorial bid.
Pyle's 28.3 percent still stands as the high water mark in a primary for a Republican woman running for governor in South Dakota.
Whether Noem wins or loses this evening, she is assured to break Pyle's mark.
Follow Smart Politics on Twitter.