Keith Ellison Launches Rare Attorney General Bid by Minnesota Congressman
Only one previous sitting member of Congress has run for the state attorney general post in the Gopher State – more than a century ago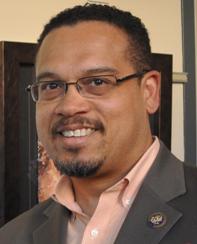 The DFL candidate shake-up continued on Tuesday as U.S. Representative Keith Ellison abandoned his plans to run for a seventh term to instead seek the office of state attorney general, following three-term incumbent Lori Swanson's 11th hour decision to run for governor on Monday.
Ellison had been contemplating a run for attorney general months ago and buzz about his likely entry into the race was renewed soon after Swanson's exit.
Representative Ellison was not alone filing on Tuesday on the DFL side with former two-term Attorney General Mike Hatch making the biggest splash, although he announced he would withdraw from the race on Wednesday.
Long-serving state Representative Debra Hilstrom also filed along with former Minnesota Commerce Commissioner Mike Rothman and former Ramsey County Attorney Tom Foley.
Minneapolis attorney Matt Pelikan won the DFL endorsement last weekend when Swanson withdrew from the race after failing to reach the 60 percent threshold on the first ballot.
Ellison, the first Muslim elected to Congress, is, of course, the most well-known candidate in the field, serving as deputy chair of the DNC and a frequent guest on national news programs.
Though Ellison is far from a shoo-in to win a statewide primary, just as he faced a rocky path to winning his first term to Congress in 2006.
Ellison emerged from the 2006 5th Congressional District primary with a plurality of 41.2 percent and received only 55.6 percent in the general election – the worst showing by a Democrat in the Minneapolis-based district since 1962.
Representative Ellison's bid is not only last-minute but also a rarity in the annals of Minnesota politics.
Over the last 160 years since statehood, only one sitting member of Congress and just two other former members have launched a campaign for attorney general in Minnesota electoral history.
Prior to Ellison, the only sitting congressman to run for attorney general of the Gopher State was Republican James Manahan in 1914.
An attorney from St. Paul, Manahan won the state's lone at-large U.S. House seat in the Election of 1912 – easily defeating Democrat Carl Buell by 30.2 points in the statewide race.
Two years later, Representative Manahan lost the 1914 GOP primary for attorney general by 15.8 points to incumbent and former Lieutenant Governor Lyndon Smith.
Prior to Manahan, just one former member of Minnesota's D.C. delegation had campaigned for attorney general –People's nominee John MacDonald in the early 1890s.
MacDonald was a Democratic state senator when he first ran for attorney general in 1871, losing to Republican incumbent Francis Cornell by 21.2 points.
MacDonald was subsequently elected back to the state senate and then as an eighth judicial district judge where he served until winning an 1886 open seat race as a Democrat in the state's 3rd Congressional District – a 3.6-point win over Republican Benjamin Herbert.
Congressman MacDonald lost his 1888 reelection bid by 7.7 points to former state legislator Darwin Hall.
MacDonald was the People's Party nominee for attorney general in 1892 and 1894, but placed third out of four candidates in both races (each won by Republican Henry Childs) with 15.0 percent and 21.0 percent of the vote respectively.
Following Manahan's failed 1914 bid, it would be nearly a century before the next Minnesotan to serve in D.C. ran for attorney general – DFLer Bill Luther in 2006.
Luther, a former prosecuting attorney, state legislator, and four-term U.S. Representative (1995-2003), placed a distant third in the 2006 DFL primary with 20.9 percent in a race won by current AG Lori Swanson.
Overall, Ellison becomes just the fourth of the 166 men and women to serve in Congress from Minnesota to run for attorney general.
It should also be noted that a few Minnesotans first served as attorney general and then were subsequently elected to Congress.
Republican Moses Clapp, an attorney from Fergus Falls, served three terms as AG – winning the elections of 1886, 1888, and 1890.
After a failed bid for governor, Clapp was elected to the U.S. Senate in 1901 and served in the chamber for 16 years.
DFL Minneapolis attorney Walter Mondale was elected attorney general twice (1960, 1962) but did not finish his second term after being appointed to the U.S. Senate following the resignation of Hubert Humphrey to become vice-president in December 1964.
In addition to the aforementioned John MacDonald, one other Minnesotan launched a failed bid for attorney general, but then later won a congressional seat.
Republican Oscar Youngdahl was defeated by Farmer-Laborite Harry Peterson in the 1934 and 1936 AG races, but was elected to the state's 5th CD in 1938 and 1940.
Follow Smart Politics on Twitter.