Horsford vs Hardy II and a History of Nevada US House Rematch Elections
The 4th CD race is the 10th rematch among major party nominees for the office in state history; each of the previous nine losers were unsuccessful in the rematch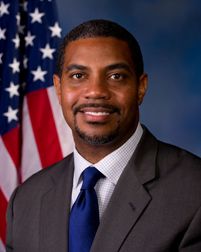 As expected, two former Nevada U.S. Representatives won their party's respective nomination on Tuesday – each hoping to win back their old job serving the state's 4th Congressional District.
Democrat Steven Horsford (pictured, 2013-2015) won 61.7 percent of the vote in a six-candidate field while Republican Cresent Hardy (2015-2017) captured a plurality win with 47.4 percent also against five other candidates.
The Horsford vs. Hardy contest will be a rematch of the 2014 race in which Hardy eked out a 2.8-point win to unseat the freshman incumbent with popular Governor Brian Sandoval paving the way in a blow-out victory at the top of the ticket.
When the two nominees square off in November, it will be the first time in state history that two former U.S. Representatives from the Silver State will meet up on the general election ballot – let alone in a rematch.
Prior to Horsford and Hardy, former U.S. House members from Nevada have made it back onto the general election ballot six times over the decades, winning four of them:
1884, At-large: Republican William Woodburn (1875-1877) – won
1894, At-large: Republican Horace Bartine (1889-1893) – lost
1924, At-large: Republican Ulysses Arentz (1921-1923) – won
1954, At-large: Democrat Walter Baring (1949-1953) – lost
1956, At-large: Democrat Walter Baring (1949-1953) – won
2012, 1st CD: Democrat Dina Titus (2009-2011, 3rd CD) – won
The Horsford vs. Hardy race also marks the 10th rematch among major party nominees for a U.S. House race in Nevada out of 112 contests since statehood.
In each of the previous nine instances, the candidate who lost the initial race was also defeated in the rematch:
1865, 1866 (At-large): Former Republican California state Treasurer Delos Ashley defeated Democrat H.K. Mitchell by 25.0 points in an 1865 special election and by 9.6 points as a freshman lawmaker in the 1866 rematch
1888, 1890 (At-large): Republican attorney Horace Bartine beat former two-term Democratic U.S. Representative George Cassidy by 9.0 points in 1888's open seat race and by 6.8 points as a freshman in 1890
1926, 1930 (At-large): Republican Congressman Samuel Arentz defeated Democratic Lieutenant Governor Maurice Sullivan by 15.4 points in 1926 and by 8.8 points four years later in the 1930 rematch
1952, 1954 (At-large): Republican attorney and Washoe County public administrator Cliff Young unseated two-term Democratic Congressman Walter Baring in 1952 by 1.0 points and won the 1954 rematch by 9.0 points
1982, 1984 (1st CD): Former Democratic Lieutenant Governor Harry Reid defeated nurse and former Republican state legislator Peggy Cavnar by 15.0 points in 1982's open seat contest and by 13.7 points as a freshman in 1984
1986, 1992 (2nd CD): Two-term Republican U.S. Representative Barbara Vucanovich defeated Democratic Reno Mayor Pete Sferrazza by 16.8 points in 1986 and by 4.6 points in 1992
2006, 2008, 2010 (1st CD): Four-term Democratic Congresswoman Shelley Berkley easily dispatched with Republican Gulf War veteran Ken Wegner by 33.6 points in 2006 and cruised to rematch victories of 39.4 points in 2008 and 26.5 points in 2010
2006, 2008 (2nd CD): Republican Secretary of State Dean Heller beat Democratic Regent of Nevada's System of Higher Education Jill Derby by 5.5 points in 2006's open seat race and by 10.4 points as a freshman lawmaker in 2008
The aforementioned Wegner is the only major party nominee to get a third chance at defeating an opponent for the U.S. House in Nevada.
In addition to the individuals listed above are two other notable failed third-party candidates who launched unsuccessful rematch bids.
Populist James Doughty failed to unseat Silver Congressman Francis Newlands in 1894 and 1896 with 26.7 percent third-place and 20.1 percent second-place showings respectively.
Two decades later, Socialist nominee Martin Scanlan captured 20.2 percent and 15.9 percent in failed 1914 and 1916 bids to defeat Republican U.S. Representative Edwin Roberts.
Follow Smart Politics on Twitter.