Record Number of Democrats Square Off in 2018 Maryland Gubernatorial Primary
The nine candidates on the 2018 primary ballot breaks a record that stood for more than half a century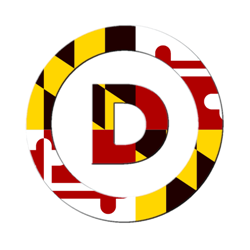 Despite the prospects of facing one of the nation's most popular governors in November, a record number of Maryland Democrats appear on today's primary ballot in hopes of securing their party's nomination.
Republican Governor Larry Hogan, who has boasted approval ratings around 70 percent, is running unopposed for the GOP nomination.
Meanwhile, the Democratic gubernatorial ballot lists nine candidates: former NAACP President Ben Jealous, Prince George's County Executive Rushern Baker, State Senator Rich Madaleno, former policy adviser to Michelle Obama Krish Vignarajah, former Montgomery County Councilwoman Valerie Ervin, attorney Ben Shea, former State Department adviser Alec Ross, perennial candidate Ralph Jaffe, and Baltimore police pastor James Jones.
[Note: Ervin withdrew from the race two weeks ago to endorse Baker. Ervin had previously been the running mate of Baltimore County Executive Kevin Kamenetz, who passed away in May from cardiac arrest].
The nine candidates on the 2018 ballot breaks the record of eight set during 1966's open seat race.
That contest saw millionaire paving contractor and perennial candidate George Mahoney eke out a 0.4-point win over Congressman Carlton Sickles with only a 30.2 percent plurality. State Attorney General Thomas Finan was just 2.9 points behind in third.
With nine candidates on the ballot this cycle – and no clear frontrunner polling well ahead of the pack – today's contest could also break Mahoney's mark for the least popular support garnered in a primary by a Democratic nominee.
In addition to Mahoney, one other Democrat has been nominated to the office with less than 40 percent of the vote.
In 1978, former state senator and state transportation secretary Harry Hughes defeated Governor Blair Lee III by 3.3 points with 37.2 percent of the vote. Lee is the only Democratic governor from Maryland to lose a renomination bid in the primary era.
During the first few decades after the state's primary law was enacted in 1908, party voters did not directly nominate candidates for statewide office via popular vote.
Instead, candidates would seek to win each of the state's 23 county units (plus the City of Baltimore's four legislative districts) – a system that favored rural parts of the state. Winning one of these units would instruct how delegates from the unit would vote as a bloc at the party convention, no matter how closely the county was won (or how sparsely populated the county was).
On rare occasion, the winner of the popular vote would not win the necessary majority of county units, such as in 1950 when Governor William Lane trailed the aforementioned George Mahoney by 4.6 points in the popular vote but carried 16 counties and one district in Baltimore to secure the nomination.
In addition to the 1950, 1966, and 1978 primaries listed above, three other cycles resulted in competitive races with the popular vote percentages of the top two candidates within single digits:
1938: State Attorney General Herbert O'Conor beat Baltimore Mayor Howard Jackson by 3.6 points
1946: Former state Attorney General William Lane defeated Comptroller of the Treasury J. Millard Tawes by 8.1 points
1954: University of Maryland President Curly Byrd nipped George Mahoney by 1.2 points in the latter's second of four bids for the office
Only two Maryland Democrats have ever received a free pass en route to their party's nomination in the primary era.
Attorney General Albert Ritchie ran unopposed during his first bid in 1919 and as an incumbent governor en route to his second and fourth terms in 1923 and 1930 respectively.
Baltimore Mayor Martin O'Malley also did not face any primary opponents during his 2006 campaign.
An average of 3.7 candidates have appeared on the Democrat primary ballot across the 28 primary elections for the office dating back to the first primary in 1911.
Follow Smart Politics on Twitter.