Will Both Democrats and Republicans Flip US Senate Seats in 2018?
The nation has seen an unusually large number of cycles of late during which only one major party flips U.S. Senate seats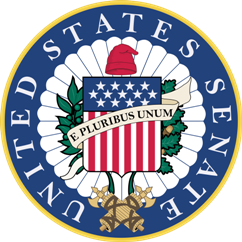 At the onset of the 115th Congress, it appeared that the electoral math spelled doom for the Democratic Party in 2018's U.S. Senate races, having to defend 25 seats in its caucus – 10 in states carried by Donald Trump in 2016 – compared to just eight for the GOP. [Now, including special elections, the updated numbers are 26 and nine].
Then, as Donald Trump's approval ratings sunk into the 30s last year, there was chatter of a potential Democratic takeover of the senate, with the party in a strong position to knock off Dean Heller in Nevada and pick up open seats in Arizona and Tennessee.
But with a sustained strong economy and Trump's marks inching above 40 percent once again, it appears that a handful of Democratic incumbents will remain in tossup races (e.g. Bill Nelson of Florida, Joe Donnelly of Indiana, Claire McCaskill of Missouri, Heidi Heitkamp of North Dakota) while each of those three aforementioned Republican seats remain in play.
In other words, it is certainly a plausible scenario for both parties to pick up seats this November – an electoral outcome that has been particularly unusual during the last decade.
During five of the last six election cycles, only one major party has flipped U.S. Senate seats – something never previously seen with this frequency during the direct election era:
2006: Democrats flipped six seats in Missouri (won by Claire McCaskill), Montana (Jon Tester), Ohio (Sherrod Brown), Pennsylvania (Bob Casey), Rhode Island (Sheldon Whitehouse), and Virginia (Jim Webb)
2008: Democrats picked off eight seats in Alaska (Mark Begich), Colorado (Mark Udall), Minnesota (Al Franken), New Hampshire (Jeanne Shaheen), New Mexico (Tom Udall), North Carolina (Kay Hagan), Oregon (Jeff Merkley), and Virginia (Mark Warner)
2010: Republicans flipped six seats in Arkansas (John Boozman), Illinois (Mark Kirk), Indiana (Dan Coats), North Dakota (John Hoeven), Pennsylvania (Pat Toomey), and Wisconsin (Ron Johnson)
2014: Republicans picked off nine seats in Alaska (Dan Sullivan), Arkansas (Tom Cotton), Colorado (Cory Gardner), Iowa (Joni Ernst), Louisiana (Bill Cassidy), Montana (Steve Daines), North Carolina (Thom Tillis), South Dakota (Mike Rounds), and West Virginia (Shelley Moore Capito)
2016: Democrats flipped two seats in Illinois (Tammy Duckworth) and New Hampshire (Maggie Hassan)
[In 2012, Democrats gained seats in Indiana (Joe Donnelly) and Massachusetts (Elizabeth Warren), Republicans picked off Nebraska (Deb Fischer), and an independent flipped Maine (Angus King). Technically, Democrats also flipped Connecticut with Chris Murphy succeeding independent-Democrat Joe Lieberman].
From 1950 through 2004, it was not common to see such partisan uniformity in senate seat pick-ups. During that 28-cycle span, both parties managed to flip at least one seat in all but six cycles: Democrats in 1958 (+13) and 1990 (+1) and Republicans in 1960 (+2), 1966 (+3), 1980 (+12), and 1994 (+8).
The string of three consecutive cycles with only one major party flipping seats in 2006/2008/2010 is a record never previously matched.
Single party gains in the U.S. Senate had occurred in back-to-back cycles four times previously – 1926 (Democrats)/1928 (Republicans), 1932 (Democrats)/1934 (Democrats), 1946 (Republicans)/1948 (Democrats), and 1958 (Democrats)/1960 (Republicans) – and one time since: (the aforementioned 2014/2016 cycles).
Meanwhile, it has been 20 years since the last time both Democrats and Republicans picked off at least three seats in the chamber during the same cycle – a feat seen eight times from the 1950s through the 1990s: in 1952, 1954, 1956, 1972, 1976, 1978, 1988, and 1998.
In 1998, Democrats knocked incumbents out of office in New York and North Carolina and captured an open seat in Indiana while the GOP picked off an incumbent in Illinois and flipped open seats in Kentucky and Ohio.
As highlighted in the recent election cycles above, when one party seems to have all the momentum (Democrats in 2006, 2008; Republicans in 1994, 2010, 2014), the other party fails to make any inroads in elections to the nation's upper legislative chamber and loses seats.
That was not always the case.
For example, even when Richard Nixon nearly ran the Electoral College table during his 1972 reelection bid and crushed George McGovern with 60.7 percent of the popular vote at the top of the ticket, the Democrats still managed to flip six U.S. Senate seats in Colorado (Floyd Haskill), Delaware (Joe Biden), Iowa (Dick Clark), Kentucky (Walter Huddleson), Maine (William Hathaway), and South Dakota (James Abourezk). Republicans, meanwhile, picked up just four seats.
Similarly, Democrats picked off four seats in 1956 during Dwight Eisenhower's decisive win over Adlai Stevenson – all in states won by the popular GOP president: Colorado (John Carroll), Idaho (Frank Church), Ohio (Frank Lausche), and Pennsylvania (Joseph Clark).
And during Ronald Reagan's rout over Walter Mondale, Democrats flipped three seats – all in states carried by the president: Illinois (Paul Simon), Iowa (Tom Harkin), and Tennessee (Al Gore).
But 2018 is a midterm cycle.
And so, the question is which scenario appears more likely to occur?
1) Only Democrats will flip seats, just like the party not in control of the White House did in 1990, 1994, 2006, 2010, and 2014

2) Republicans will flip more seats despite controlling the White House (e.g. 2002) due to having so few seats to defend

3) Each party will flip a couple of seats (e.g. 1998)
What do you say, November?
Follow Smart Politics on Twitter.