Ocasio-Cortez Fuels Campaign for Historic Defeat of Tom Carper in Delaware Democratic Primary
No incumbent U.S. Senator has lost a primary in the First State and 33 of 35 incumbents have won renomination over the last century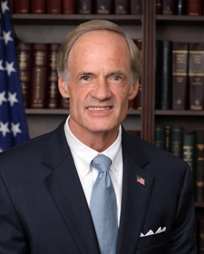 Political novice Alexandria Ocasio-Cortez has not yet been elected to public office, but the progressive upstart appears unflinchingly emboldened by her newfound fame following her decisive, upset primary victory over long-serving Congressman Joe Crowley in New York's 14th Congressional District last month.
So emboldened, in fact, that she is sending paid campaign staff to assist another political neophyte in what on paper seems like an improbable bid against a titan in Delaware politics.
Ocasio-Cortez has inserted herself into Delaware's Democratic U.S. Senate primary fight by supporting Air Force veteran Kerri Evelyn Harris against three-term incumbent (and reliably liberal) Senator Tom Carper.
Harris, like Ocasio-Cortez, is running to the left of her primary incumbent.
Carper, a former state treasurer, five-term U.S. Representative, and two-term governor, has won two-thirds of the primary vote during his two U.S. Senate reelection victories and provides Democrats with a safe seat in November.
But Democratic primary voters might want to consider whether they can hold the seat no matter how liberal of a nominee they suit up for the general election.
Although Delaware is considered a reliably blue state in presidential elections, the GOP has won 12 of 43 other statewide races since the turn of the 21st Century (27.9 percent) including the most recent elections for auditor and treasurer:
Insurance Commissioner: Donna Williams (2000)
US Representative: Mike Castle (2000, 2002, 2004, 2006, 2008)
Attorney General: M. Jane Brady (2002)
Auditor: Robert Wagner (2002, 2006, 2010, 2014)
Treasurer: Kenneth Simpler (2014)
Republicans have famously learned the pitfalls of nominating ideologically extreme candidates in U.S. Senate races in recent cycles, such as Sharron Angle in Nevada (2010), Richard Mourdock in Indiana (2012), Todd Akin in Missouri (2012), and Roy Moore in Alabama (2017 special) each snatching defeat from the jaws of victory.
An upset by Harris over Carper would make him the first U.S. Senator to lose a Delaware primary out of 14 attempts. [Delaware did not enact laws requiring direct primaries to select nominees until August 1976].
To date, 33 of 35 nomination bids sought by Delaware U.S. Senators have been successful.
Twenty-one incumbents were nominated and won their subsequent election: Republican Daniel Hastings (1928, 1930), Republican John Townsend (1934), Republican John Williams (1952, 1958, 1964), Democrat J. Allen Frear (1954), Republican Cale Boggs (1966), Republican William Roth (1976, 1982, 1988, 1994), Democrat Joe Biden (1978, 1984, 1990, 1996, 2002, 2008), Carper (2006, 2012), and Democrat Chris Coons (2014).
Incumbents were renominated but lost the general election 12 times: Republicans Henry du Pont (1916), T. Coleman du Pont (1922 special, 1922), Daniel Hastings (1936), John Townsend (1940), C. Douglass Buck (1948), Cale Boggs (1972), and William Roth (2000) and Democrats Willard Saulsbury (1918), Thomas Bayard (1928), James Tunnell (1946), and J. Allen Frear (1960).
Two incumbents opted not to run for another term: four-term Republican John Williams in 1970 and appointed Democrat Ted Kaufman in 2010's special election.
The only two incumbents who failed to win their party's nomination were Republican L. Heisler Ball in 1924 and Democrat James Hughes in 1942.
The Republican Party selected former Senator T. Coleman du Pont over the one-term Senator Ball in 1924. Du Pont held the seat for the GOP with a 18.7-point win over Georgetown Board of Education President James Tunnell that November.
Two decades later, Democrats chose Wilmington City Solicitor Ennalls Berl over one-term Senator Hughes. Berl went on to lose to former two-term Republican Governor C. Douglass Buck.
Over the last 18 cycles since 1982, just eight incumbents have lost their party's U.S. Senate nominations: Illinois Democrat Alan Dixon (1992), Kansas Republican Sheila Frahm (1996), New Hampshire Republican Bob Smith (2002), Connecticut Democrat Joe Lieberman (2006), Alaska Republican Lisa Murkowski (2010), Pennsylvania Republican-turned-Democrat Arlen Specter (2010), Utah Republican Bob Bennett (2010), and Indiana Republican Dick Lugar (2012).
Follow Smart Politics on Twitter.