Democrats in four states have never won three-fifths of the gubernatorial vote in electoral history – that could change in two states in 2018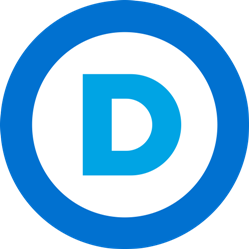 Signs still point to Democrats not only having a favorable year at the ballot box this November in U.S. House races, but also in top of the ticket races for governor.
The party is poised to gain seats but will likely not undo all the losses incurred during the Barack Obama years.
Of the nine seats that Democrats are defending – three are considered 'safe' by all of the nation's most prominent prognosticators: California, Hawaii, and New York.
An interesting fact about two of these states, however, is that they populate a list of just four states across the country in which Democrats have never enjoyed blow-out victories.
Smart Politics reviewed the gubernatorial election results across all 50 states since the formation of the Democratic Party nearly 200 years ago, and found the party has failed to win 60 percent of the vote in an election for governor in four of them: Alaska, California, Hawaii, and Wisconsin.
[Note: Alaska and Hawaii have only held 15 gubernatorial elections since statehood].
In Alaska, the strongest performance ever recorded by a Democratic nominee for governor was in the state's initial election in 1958.
Longtime territorial state legislator William Egan won 59.6 percent and no Democrat – or Republican – has bested that mark, due in part to the strong support recorded by independent and third party candidates over the years (averaging 16.4 percent per cycle since statehood).
Although Democrats landed their dream candidate in 2018 when former U.S. Senator Mark Begich entered the race early this summer, it is unlikely that either major party nominee or independent governor Bill Walker will win with even a simple majority this November.
In Hawaii, Governor John Waihee received the support of 59.8 percent of voters during his 1990 reelection bid to set the current Democratic high water mark.
Across 15 cycles, only Republican Governor Linda Lingle has reached this milestone, impressively winning reelection with 62.5 percent during the 2006 Democratic wave.
Democrats would seemingly be poised to be able to win over three-fifths of voters in Hawaii – a state where the party currently controls all 25 state senate seats and 46 of 51 state house seats. Over the decades, Democratic U.S. Senate nominees from Hawaii have eclipsed the 60 percent mark 16 times including each of the last nine elections since 1994.
Democratic incumbent David Ige may not survive a primary challenge from U.S. Representative Colleen Hanabusa, but the congresswoman may have a higher ceiling for the Democrats in November than Ige.
Also a factor: third parties have also averaged nearly 10 percent of the gubernatorial vote in the Aloha State since 1982.
In Wisconsin, the best showing by a Democrat across 74 gubernatorial elections since statehood came in 1982 when former assemblyman Tony Earl won 56.8 percent in an open seat race.
Republicans won seven of the nine subsequent elections with Democrats averaging just 43.9 percent during that span.
In 2018, a congested Democratic primary may leave the party fractured heading into the general election in its fourth attempt to try to defeat Scott Walker. If Democrats do unseat Walker, it will likely be by a narrow margin and Earl's record will remain intact.
Of these four aforementioned states, Democrats are perhaps most likely to reach 60 percent in California – where Jerry Brown set a party record when he won 59.97 percent for his fourth gubernatorial victory in 2014.
Brown is term-limited, but Lieutenant Governor Gavin Newsom is already polling in the high 50s against Republican nominee John Cox in a state where there are only two candidates on the general election ballot.
Those factors, combined with the aforementioned likely Democratic wave, spells a Newsom win north of three-fifths of the vote.
Democrats have reached the 60 percent mark just once in nine other states and in each case it was an incumbent who accomplished this feat.
For example, out of the 124 elections conducted in Massachusetts since Democrats first fielded a nominee for the office in 1832, the only cycle during which its nominee won 60 percent was in 1986 with Governor Michael Dukakis (68.8 percent, winning his third nonconsecutive term).
In Illinois, the only time Democrats reached 60 percent was 170 years ago in 1848 when Governor Augustus French was reelected with 86.8 percent of the vote against Whig and Free Soil nominees.
The remaining seven states are:
Connecticut (1958): Governor Abraham Ribicoff (62.3 percent)
Indiana (1992): Governor Evan Bayh (62.0 percent)
Iowa (1964): Governor Harold Hughes (68.1 percent)
Kansas (1972): Governor Robert Docking (62.0 percent)
North Dakota (1940): Governor John Moses (63.1 percent)
Oregon (1998): Governor John Kitzhaber (64.4 percent)
South Dakota (1972): Governor Richard Kneip (60.0 percent)
Several deep red states have fairly recently seen Democrats win overwhelming gubernatorial victories such as Arkansas Governor Mike Beebe in 2010 (64.4 percent), Oklahoma Governor Brad Henry in 2006 (66.5 percent), Tennessee Governor Phil Bredesen in 2006 (68.6 percent), and Wyoming Governor Dave Freudenthal in 2006 (70.0 percent).
Follow Smart Politics on Twitter.