Brian Kemp Records Biggest Gubernatorial Primary Runoff Surge in Georgia History
Kemp enjoyed the largest increase in support from the initial primary election among the 26 Democratic and Republican candidates to participate in a runoff for the office in state history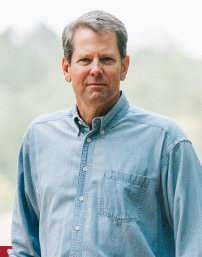 In what was not an unexpected victory, but was perhaps a surprising thrashing, Georgia Secretary of State Brian Kemp rode his growing momentum through the GOP electorate over the last several weeks to an astounding 39-point primary runoff victory on Tuesday evening over Lieutenant Governor Casey Cagle.
On Monday, Smart Politics discussed Cagle's impending collapse in the context of Georgia electoral history – noting it would be the sixth time the first-place finisher of the initial gubernatorial primary in the state would go on to lose the runoff, joining Democrats John Holder (1930), Ellis Arnall (1966), Lester Maddox (1974) and Bo Ginn (1982) and Republican Karen Handel (2010).
But the extent of Cagle's collapse – and the corresponding surge in support for Kemp – was one for the record books.
A Smart Politics review of Georgia gubernatorial primary election results finds that the +43.9-point increase in support for Brian Kemp from the initial primary to the runoff was the largest in state history – and Casey Cagle's -8.4-point drop in support the second worst.
Kemp placed second in the initial primary with 25.6 percent and won the runoff with 69.5 percent.
Prior to Kemp, only one other gubernatorial candidate had seen their support increase by more than 40 points in a Georgia runoff.
In 1930, Democratic state House Speaker Richard Russell gained 40.6 points from his initial 27.3 percent primary showing to the 67.9 percent he won in the runoff against Secretary of State George Carswell.
Four other Georgians increased their support by more than 30 points: Democrats George Busbee in 1974 (+39.1 points), Roy Barnes in 1998 (+33.7 points), Lester Maddox in 1966 (+30.7 points), and Joe Frank Harris in 1982 (+30.2 points).
Overall, the 69.5 percent won by Kemp is the second best showing out of the 26 candidates to participate in a Georgia gubernatorial primary runoff, behind Barnes' 82.9 percent in 1998.
On the other side of the coin, Lieutenant Governor Cagle is just one of two candidates to lose support from the initial primary to the runoff.
Despite three fewer candidates on the ballot, the vote share for Cagle dropped 8.4 points from 39.0 percent in May to 30.6 percent on Tuesday.
Only Democratic Secretary of State Lewis Massey fared worse when he fell from 27.9 percent in the initial primary to 17.1 percent in the 1998 runoff against Roy Barnes (-10.8 points).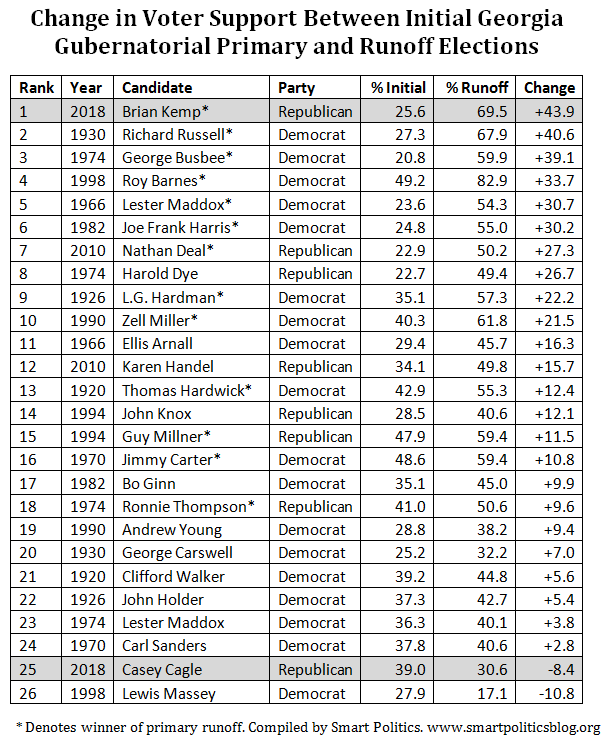 Only four of the 26 candidates involved in Georgia gubernatorial primary runoffs have won less than 40 percent of the vote: Massey in 1998 (17.1 percent), Cagle (30.6 percent), George Carswell in 1930 (32.2 percent), and Democrat Andrew Young in 1990 (38.2 percent).
Follow Smart Politics on Twitter.